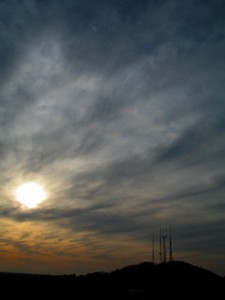 A view of Pinnacle Hill from Cobbs Hill Park by RUDY!
Pinnacle Hill is the highest point in Rochester, reaching 749 feet above sea level (or 506 feet above the city's lowest point at Lake Ontario). Originally referred to as Mount Monroe (in an 1829 deed), but by 1838, it was known as Pinnacle Hill. It is one of a range of four hills (originally five) collectively termed "the Pinnacle Hills" that runs along the city's southern and southeastern boundary. The four hills are Cobbs Hill, Pinnacle Hill, Highland Hill (in Highland Park) and Mount Hope (in Mount Hope Cemetery). The fifth hill, Oak Hill, was leveled for the construction of the original Oak Hill Country Club, which later became the River Campus of the University of Rochester.
In 1838, St. Patrick's Cemetery opened on the hill's western slope. By 1871, the cemetery had filled and the Roman Catholic Bishop of Rochester, Bishop McQuaid, urged families to remove the remains of their relatives and re-inter them at Holy Sepulchre Cemetery. The last remains were not removed until the 1930s.
Pinnacle Hill's elevation is augmented by five broadcast towers. While virtually the entire hill is privately owned, there is a network of trails accessible from Field Street just off of Clinton Avenue. There are some excellent views from the Southern flank of the summit.
On the Northeast side of the hill is the headquarters of the Hillside Children's Center, formerly the Rochester Orphan Asylum.
The broadcast towers atop the hill are the source of almost all of the over-the-air television service in the city, as well as a good portion (I dare say majority) of the FM radio transmissions. In 2004, the
National Radio Club's convention was held in Batavia and a day trip to Pinnacle Hill was undertaken — see
this page between "Pinnacle Hill gate" and "WXXI/WUHF, WOKR towers" for the pictures.
Pinnacle Hill was a significant landmark for the Seneca. Most of its pre-colonization usage is lost to history.