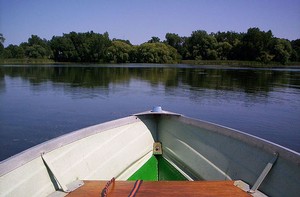 Lake Ontario Shoreline, near Edgemere DriveLocated just north of the city, Lake Ontario is one of the
Great Lakes. We used to have a Fast Ferry which connected us across this body of water to the city of Toronto-but it is gone now. Still, being so close to the city, the lake is a major area for recreation:
Geography
Lake Ontario (43°30'N, 78°00'W) is the eastern-most and smallest in surface area (7,340 square miles, 18,960 km²) of the Great Lakes, although it exceeds Lake Erie in volume (393 cubic miles, 1639 km³). It is the 14th largest lake in the world and has a shoreline 712 miles (1146 km) long.
Lake Ontario has an elevation of approximately 243 feet (74 m) above sea level - which is often a point of discussion between boaters and landowners. Its length is 193 miles (311 km), and its breadth is 53 miles (85 km). The average depth is 283 feet (86 m), with a maximum depth of 802 feet (244 m). —
Wikipedia
Major Tributaries