Former Location

Rochester's ship sailed twice daily during peak season.

1000 N River St, Rochester, NY
(North end of Lake Ave)
Status
The frivolity ended in 2006
Website - defunct
www.rochesterferrycompany.com
The Basics
The Boat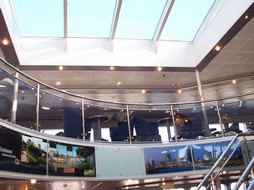 The Atrium aboard the vessel. Persons caught going up the steps to the Business Class area without authorization best know how to swim.
The Aftermath
Revival Proposals
In 2011 there was a proposal for a new ferry by businessman Harper Sibley, a millionaire descendant of Rochester's own Hiram Sibley, the founder of Western Union (no relation to the department store). This plan, which would've used entirely private funds, would have included either two smaller ferries or one smaller ferry with a capacity of about 150 passengers during Summer peak months. After pursuing the idea for over a year, Sibley abandoned the venture in mid 2012, citing the inability for find the proper boat.
As of 2015, there have been no future proposals to revive the ferry.
See Also