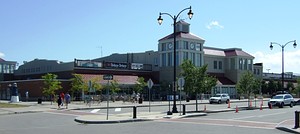 Port of Rochester - 08/2008 BradMandell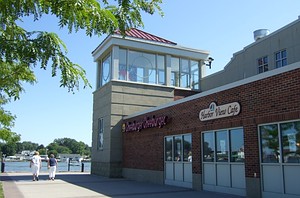 Port of Rochester 2 - Photo BradMandell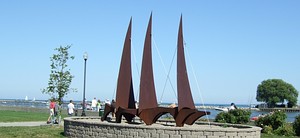 Sailboats Sculpture - Photo BradMandell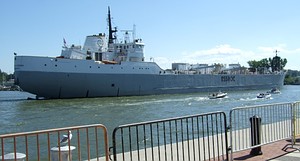 Steven B. Roman, ESSROC Cement Ship up the Genesee - Photo BradMandell
The Port of Rochester, in the Charlotte neighborhood of Rochester, once home to
commercial ship traffic, is undergoing development1 by the city as a year-round tourist destination. The new terminal, built to support the now defunct Fast Ferry to Toronto, is home to an assortment of restaurant and event spaces such as California Rollin', Arbor at the Port, a wedding/event space, Bill Gray's (and Bill Gray's Taproom), and Abbott's Frozen Custard. There are also a sit down restaurants, Jetty at the Port.
The Genesee River still carries large cement ships of the ESSROC Cement Company which dock upstream near Turning Point Park and feed the ESSROC plant on Boxart Street. The Stephen B. Roman is one such ship.
Attractions In the area

Fast Ferry Era
see Fast Ferry and the footnote for original plans.
News, Notes, and Updates
August 24, 2008 - Quote from Sneak peek at potential Port of Rochester tapas bistro Pier 45 D&C article


"The event: The spacious, second-floor patio at the unopened restaurant and nightclub Pier 45, which faces the mouth of the Genesee River, afforded a bird's-eye view of dozens of sailboats coming into port. — The host was Joe Floreano, executive director of the Rochester Riverside Convention Center, which has been hired by the city of Rochester to run the venue. Floreano of Greece said Pier 45 will be a tapas bistro. He had hoped to open this fall, but the new target is spring. — The upstairs Charter Room will be used for business conferences, and the Waterside Room downstairs will be available for parties, with access to the River Walk. — RBA President Sandy Parker believes "this space will remind people of the resources right in our city." She and Carlos Carballada, city commissioner of economic development, expressed their faith in Pier 45's ultimate success in the hands of Floreano."

Comments:
Note: You must be logged in to add comments
---
2008-01-28 13:29:16 What is the news with the Port of Rochester? I know they had proposed a bunch of different ideas, but did anything ever get decided on?
It seems if we could somehow get out of that wonderful lease agreement, we could turn the terminal building into a pretty nice attraction during the summer. —JohnJoseph

---
2009-04-17 17:52:04 A Port without a boat! Rochester waste at its finest! I know they are trying to add some new businesses to the Port, but, geez.. has the cost been worth it? —BatGuano