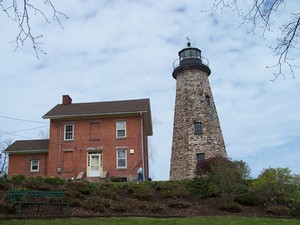 Uploaded - July 6, 2006, Fred Amato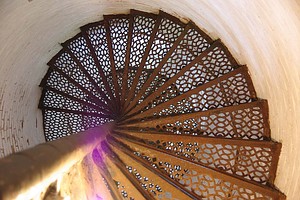 The staircase to the top, May 2009
Location
70 Lighthouse Street, Rochester, NY 14612
Hours (as of June 2014)
Saturday - Sunday: 1:00PM to 5:00PM
May through November
Plus Fridays and Mondays May through October
Plus Thursdays in July and August
Group tours can be arranged at other times
Phone
585 621 6179
Email
<info AT geneseelighthouse DOT org>
Website
http://www.GeneseeLighthouse.org
Facebook
The Charlotte-Genesee Lighthouse Museum is an historic lighthouse and museum on the banks of the Genesee River near where it meets Lake Ontario. Located on the Seaway Trail in Charlotte, the lighthouse City of Rochester landmark. It is also listed on the New York State Register and the National Register of Historic Places. The tower is the second oldest tower on the Great Lakes.
The lighthouse is open to the public seasonally and tours of the tower are welcome.
While there is currently a symbolic light in the lighthouse, by late 2014 it will have a replacement lens and LED lighting system that will allow it to be seen well out into the lake. Also fundraising is underway for additional restoration work.
History of the Lighthouse
Rochester has a history of being an important port on Lake Ontario, especially during the 19th century when it was considered the busiest port on the lake. It was important to have 24hr access to Carthage Landing just up the river near the Lower Falls and so a lighthouse was constructed at the river's entrance.
Construction began in 1822. Due to low marshy conditions at the shore, the lighthouse was perched a few hundred yards back on a 3 acre bluff (purchased from settler Mehitable Hincher for the sum of $400). The new lighthouse was 40 feet tall and was lit by 10 whale oil lamps. In 1829, a wide "V" swath was cut into the trees along the shoreline to make the light more visible from both directions on the lake. Around the same time, to stop sand bars from forming at the mouth of the river, two piers were built out into Lake Ontario.
In 1853 the tower was modernized by installing a fourth-order Fresnel lens that replaced the ten Argand whale oil lamps that powered the lantern.
After years of sediment filling the shoreline and marsh on either side of the lighthouse a second set of piers were built further out into the lake and the lighthouse became even farther from the lake shore. A short beacon was eventually built on the new pier to replace the tower on the hill. The lighthouse was retired in the late 1890's.
History of the Museum
"Declared surplus by the U.S. Government in the 1980's the lighthouse was turned over to the Charlotte-Genesee Lighthouse Historical Society. The tower was relit in June 1984. In 1991, the site was deeded to Monroe County, which leases the lighthouse to the Charlotte-Genesee Lighthouse Historical Society. The keeper's house and garage now house a museum and gift shop." (Flyer, Charlotte-Genesee Lighthouse Historical Society)
Notes
Comments:
Note: You must be logged in to add comments
---
2008-04-03 12:32:59 In your item about the Charlotte-Genesee Lighthouse you state that the light was last lit in the 1890's. This is incorrect. The light was officially turned off on Feb. 28, 1881. A new fresnel lens was found and installed in the tower for the Rochester Sesquecentennail in 1984. The light was turned on on June 18, of that year. My daughter and I researched all the lighthouses on the Genesee River last year and made a new display of many of the interesting facts we found. "FROM THE BEGINNING" —June Codding