Sailboats Sculpture - BradMandell
Dentzel Carousel - BradMandell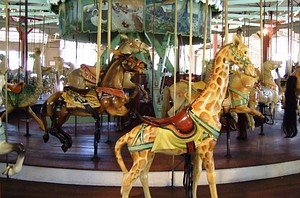 Dentzel Carousel - BradMandell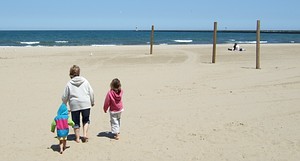 Barefoot on the Beach - BradMandell
"Whether taking a romantic stroll along its picturesque pier, riding the 1905 Dentzel menagerie carousel, swimming, or boating, Ontario Beach Park provides all that's necessary for a perfect summer day at the beach. Ontario Beach Park attracts tens of thousands of visitors annually. In the summer months, the park offers seven shelters that are available for rental, as well as a variety of free concerts and movies. The Roger Robach Community Center (the former beach house) has also been renovated and is available for rental as a banquet hall."
See all the detailed
Ontario park info on Monroe County website including information on the playground, restrooms, beach volleyball, fishing, and swimming.
The Park is immediately adjacent to the Port of Rochester and a local recreation and dining business area to create an extended recreational venue with many places to eat and drink within walking distance from the park. These include Abbott's Frozen Custard, Mr. Dominic's, Jose Joe's, as well as many others.
The beach area is also referred to as Charlotte Beach by many locals.
Recent History Note: When the, now defunct, Fast Ferry returned from Toronto, it created a massive wake as it entered the Genesee river. For about 5 to 10 minutes, the beach shores at this park used to erupt with ocean sized waves (2 to 3 foot) which were actually well formed and fun to body surf. When the ferry left the wake was not traveling in the same direction and did not create the same effect.
History
Ontario Beach Park became a city park in 1930.2
Awards
Ontario Beach Park was voted "Best Beach" in City Newspaper's 'Best of Rochester' awards in 2009.3

1Website verified - March 27, 2010
Comments:
Note: You must be logged in to add comments
---
2007-04-30 18:01:23 For Information about other parks in the area see AnaVillarreal —AnaVillarreal
---
2005-05-18 07:59:45 Don't plan on swimming at the park. Although it's the only public beach with lifeguards in the area, during most of the summer the beach is shut down because the algae plumes are so bad. The view I've heard espoused most often is that the algae is caused by too much fertilizer leaking into the water. Besides regular homeowners purifying their lawns, two probable culprits are the nearby golf courses, Lakeshore and Durand Eastman. But there's plenty more to do in Charlotte —ChrisMaj
---
2007-12-27 12:45:42 I love going to Ontario Beach Park in the summertime. I lay on the beach and read a book, or people watch. There's often volleyball games you can watch or join. I grew up swimming in the lake, so a little algae doesn't bother me. Then you can go have dinner, get some frozen custard and take a walk on the pier. What could be better than that? —SaraChristine
---
2007-12-27 15:26:54 Fertilizer contributes the algae problem but the main culprit is the pier, which blocks the lake currents and traps the algae. —JasonHaremza
---
2008-02-29 03:57:38 Wonderful place to swim when they allow it. One of my favorite places to read and picnic. —EllaBeeney
---
2008-08-11 19:32:21 The link to the park rules is inaccurate. Unlike other city parks, Ontario Beach Park does not allow leashed pets. —TedBrasky
---
2008-08-11 20:09:43 Rules links fixed to reflect Monroe County webpage, since this is a Monroe County Park. —BradMandell
---
2008-11-30 16:48:32 We love coming to Ontario Beach Park. It feels like you are somewhere else, another country, place, time... It's unbelievably pretty! How often do you see a wooded park next to a beach? The water looks more like the ocean. Lie on the grass under the trees, watch sailboats float by. Have a barbecue, bring a picnic, Abbotts ice cream,... there's even sushi. It's never too crowded, either. This place is a well kept secret. —FranceScullyOsterman