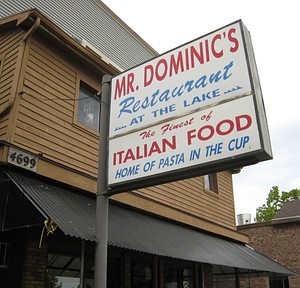 Mr Dominic's Sign, 6-2008
Location
4699 Lake Avenue, Rochester, NY 14612
Hours (as of June 2014)
Dinner
Monday - Thursday: 4:00PM to 9:00PM
Friday - Sunday: 4:00PM to 10:00PM
Lunch
Tuesday - Friday: 11:00AM to 2:00PM
Phone
585 730 5444
Wheelchair Accessible
Info Needed
Website
http://www.MrDominics.com
Mr. Dominic's (aka Mr. Dominic's at the Lake) is an Italian restaurant in Charlotte. They also offer catering services.
Originally established in 1976, the restaurant was renovated and reopened in July 2012. As of 2014 it has a sister location in Fairport called Mr. Dominic's on Main
Awards
Voted "Best Italian Restaurant" in City Newspaper's 'Best of Rochester' Awards in 2008, 2009 and 2015.1
Comments:
Note: You must be logged in to add comments
See Archive Page for comments prior to 2011.
---
2012-04-15 20:32:00 the best greens and beans and home made gnocci. ever. —xanthm
---
2012-04-15 20:32:29 PLUS - lovely walk on wide sandy beach just a stone's throw away! —xanthm
---
2012-07-15 18:29:19 Anyone have an update on the remodeling / reopening? —CraigMcGowan
---
2013-11-02 19:15:01 Always a hassle. We gave this another try, again had to wait a long time. Food is is not good enough to be seated at 7pm for a 6 pm reservation. Remodel looks good and was sorely needed, but seating is cramped. There are better choices. —JimP