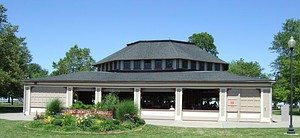 Dentzel Carousel at Charlotte Beach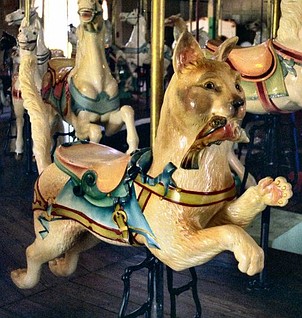 The enchanting animal menagerie at Charlotte Beach
"Lion and Cats - Oh My"
Built in 1905, "The Duchess" Dentzel menagerie carousel is situated at the east end of Ontario Beach Park. It has the distinction of being one of only fourteen operating antique menagerie carousels in the United States; it is also one of only a few that remain in its original location.
In 1980 the Preservation Board granted the carousel landmark status. In 1984 the
Parks Department began extensive restoration of the carousel, which lasted for many years and included improvements on the building and surrounding walkways. Until recent years, Wurlitzer Military Band Organ Style 165 paper rolls were used, but a
Stinson MIDI band organ system replaced the organ and continues to play the same music once heard on the original rolls.
This
Gustav Dentzel creation is a three-row carousel consisting of fifty-two animals and two chariots.
33 horses


3 rabbits


3 cats


3 ostriches


3 pigs


2 mules


1 lion, tiger, goat, giraffe and deer
The Duchess is a unique joy for Rochesterians and visitors. It celebrated its 100th year at Ontario Beach in 2005.
Photos
Ontario Beach and Charlotte Photo Album detailed shots of the carousel, animals, plaque, etc. from BradMandell on Flikr.com


Carousel Photos - from klw591 Scenic New York Album on WebShots.com
Other References
Dynamic Recording has Whirling Melodies CD of organ music from the 100 Year celebration available on CD


Whirling Melodies - another commercial site with sample mp3 downloads.
Comments:
Note: You must be logged in to add comments