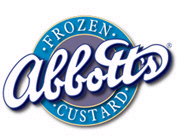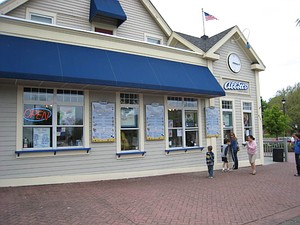 Abbott's on Lake Ave in Charlotte, 6-2008
Location
Phone
For All Locations - See Abbott's Locator
4791 Lake Avenue, Rochester, NY 14612
585 865 7400
1000 North River Street, Rochester, NY 14612
585 663 5666
1855 Monroe Avenue, Rochester, NY 14618
585 271 1980
100 Marketplace Drive, NY 14623 in Market Commons
585 424 1140
4848 Lake Road, Brockport, NY 14420
585 637 4333
1 Miracle Mile Drive, Rochester, NY 14623
in the Marketplace Mall Food Court
585 427 0460
2755 East Henrietta Road, Henrietta, NY 14467
Info needed
Also Available at the Following Bill Gray's Locations:
3240 Chili Ave, Rochester, NY 14624
585 889 8260
2987 Buffalo Rd., Rochester, NY 14624
585 247 3940
2050 Latta Rd., Rochester, NY 14612
585 663 7320
1225 Jefferson Rd., Rochester, NY 14623
585 424 2350
1650 Penfield Rd., Rochester, NY 14526
585 385 3450
4870 Culver Rd., Rochester, NY 14622
585 266 7820
Website
http://AbbottsCustard.com
Reviews
Evite user reviews
Abbott's Frozen Custard (usually referred to simply as "Abbott's") is a locally-based national chain serving locally famous custard, a variation on ice cream. Most stores have seasonal hours that cater to the spring/summertime. It is wise to call ahead and verify each location's hours of operation. Mall franchise locations typically operate year-round, following standard mall hours of operation.
The Abbott's Downtown location is unique in that it serves a full food menu, three meals a day.
Abbott's custard is also available in several local Bill Gray's locations.
They also offer catering.
On May 20, 2023, a drive thru store was opened at the previous Bruster's/Happy days on the go location.
Awards
Comments:
Note: You must be logged in to add comments
---
2006-01-25 10:38:08 not sure what the fuss about custard is all about and its seems really expensive... 2 sundaes (not their fancy ones either) in gates set us back $9.50 and they don't take credit cards! —JcPop
---
2006-02-16 19:22:27 The chocolate almond and the strawberry sundae are the big draw for many people. The Abbott's on Monroe is also certified kosher! —MariahBetz
---
2008-02-29 03:34:17 My husband liked it ok. Not a lot of options. —EllaBeeney
---
2008-04-06 15:05:33 The West Henrietta Road location is open for the season. —DaveMahon
---
2008-04-06 21:47:21 Abbotts has very good (in my opinion) ice cream cakes, and will personalize them for your birthday/graduation/other occasion. They're usually a layer of chocolate custard, a layer of vanilla, and a layer of crunchy cookie bits (?) with frosting on top. Yum! —ErinDorney
---
2008-06-02 00:58:21 I prefer the chocolate almond custard at Don's Original, personally. I do get a turtle on a stick from Abbott's at least once a year, though :) —MariahBetz
---
2008-06-05 14:31:09 I love Abbots, its still the best ice cream (custard) ever. But many of my friends, not native to Rochester, dislike the custard experience. To each their own. The Charlotte location is still the best! —MrRochester
---
2008-07-20 19:31:57 Forget robin sightings - the real sign that winter is over is when you see the neon OPEN light on at Abbott's.
I have noticed that nearly everyone else at Abbott's gets sundaes. I'm a conehead all the way, which I think gives me away as a non-native. —ZachSmalt

---
2008-10-19 00:20:09 The custard at Abbott's is below average and at high prices. Bruster's Ice Cream is preferred. I've received friendly customer service at the Henrietta Rd location, although the new Park Point-RIT location should really find more competent students to be employees. —JenFromDC
---
2009-03-01 15:55:24 I heard people got attacked here. Sounds unsafe to me. —betterthanthis
---
2009-03-01 16:27:12 I've never been attacked at Abbott's. I, however, have been know to attack those chocolate almond custard cones with a vengeance. Abbott's ice cream is king. Long live Abbott's. —BatGuano
---
2009-03-02 09:25:39 I absolutely love their sundaes, especially the peanut butter cup sundae. I'm salivating just thinking about it. —AlexanderGartley
---
2009-03-02 11:13:21 yeah its true, there was a viscious gang style attack on 2 patrons by 10+ hoods. A female was injured in an attack- who attacks women? Why didn't Abbotts do anything? I won't be taking my children there. —timhortonlover

---
2009-03-02 11:16:25 Note: betterthanthis and timhortonlover are the same person. Reverse shilling going here. —BadFish
---
2009-03-02 20:35:32 oh boy! A network techie who can't match i.p. addresses- better than this is 137.238.84.233 mine is different. Your comments log show you have a history of jumping the gun often Badfish-and don't you have a day job? That said- I see this is a trite and pointless blog that only wants to discuss what sugary sweets they can suck up. BatGuano's comment is in bad taste-who makes light of other people's misfortune- but I see he reaches a common demonator. Won't miss this deviant waste of internet space. —timhortonlover
---
2009-03-02 21:00:14 For the record, I didn't mean to harm anyone's sensibilities. I apologize to betterthanthis/timhortonslover. I'm sorry to hear that anyone was attacked. However, I don't think Abbott's could have prevented violence happening around their store. They can only react to what's occurring outside their store. I just don't agree with the premise of your posts that somehow it's Abbott's fault that people were attacked outside the store. I support Abbott's and think people should get ice cream from there. Thus, my response to your post.
Was my comment in bad taste? I really don't think so but I suppose my comments can be open to any interpretation. And if I keep hearing the same refrain that it was in bad taste, I'll remove it.. no problems. —BatGuano

---
2009-03-02 22:20:58 Thank you Batguano for your clarification. You did not have all the facts, so here you go and you can decide for yourself- but its always best to have the facts first: In reality, the perpatrators were friends of the workers on staff. They were hanging out with the girl employees. One of the guys tried to pick up a girl customer but was rejected soundly. He then proceeded to harass the girl. When confronted by the man she was with, he and 3 of his friends armed themselves with a tire irons, and surrounded them. More people gathered, until it swarmed to over 10 people armed with full bottles of beer, and other weapons. Only when one of the employees came out and broke it up saying "not at my work" did the altercation end. When the male victim demanded they call 911- she refused, stating he the victim needed to leave. When the police did arrive,(having been called from another location) she pretended not to know any of the perpatrators, infact she even refused at first to open the door to the police officer who needed to question the girls. Abbotts Corporate tried to deny the event even happened, even when the police had already confirmed the events, and there was an active search for some of the lead perpatrators. Side note- there was a conviction and jail time. Oddly,corporate told the victims "I was in a gang,this is normal what is the big deal?" and informed them that the marketing manager of Abbotts was too busy to deal with this! What is more important than protecting your brand, and ensuring the saftey of your customers? This is not a normal response from a corporation, and shows a lack of ethics/saftey on the part of Abbotts Corporate. Since it was the Abbotts employees who invited the criminals to the establishment and had them stay (even though none of them had purchased anything) then tried to protect their friends, and corporate refused to co-operate with the police investigation, or even invest in better lighting to help prevent future victims I have a hard time seeing that they really cared about customer saftey at all. Rather, I see it as an example of poor management and greed.
Was this preventable,sure it was. Hire better people. It should be noted even after the attackt they refused to fire the girls- why would you keep employees who let violent crimanals hang around your store?
Sure,their ice cream is tasty. But are they good corporate citizens? I think not. —timhortonlover

---
2009-03-03 08:13:47 So as a final thougth before I thankfully extricate myself from this site, I intentionally did not address my being lumped with betterthanthis in batgaunos clarification because there was a lot to say and felt it was addressed later. First, Badfish is apparantly a wikiadmin- and because I am a more careful person I would like to clarify this. Perhaps he is a network person- he can attest to his own skill sets. I was greatly surprised to find someone claiming seperate i.p. addresses as the same identity. I feel under no obligation to publish mine- even though I started to in my first response. Looking at the policy pages he made mention because he apparantly feels the two posts are "suspicious" despite seperate ip addresses and over 24s in time, which at best is heavy handed. Claiming in absolute speech that they are infact the same person with 100% certainity when this is an unverfiable claim speaks for itself. This type of abosulte speech as fact is dangerous without all of the proper and accurate facts- and is quite ironic on a wiki-by trying to "maintain standards" they propegate disinformation. Rather, its the stuff attorneys dream about. Its also illustrative of the damage that can be done from jumping to conclusions- something I have seen done on this site 2 in very short order. Certainly, everyone is entitled to their opinions, but I hope they are judicious in their judgements until the facts can be uncovered, processed, and analysed. Having said that I now happily end this journey into what is supposedly a wiki- but based on the pages I viewed a glorified shopping directy of local businesses. —timhortonlover
---
2009-04-19 15:31:29 The google map pushpin for the West Henrietta location doesn't accurately display the location of the shop. The actual location is about 1 mile north of the pushpin. Abbott's is on the west side of West Henrietta Road, between Jefferson Road and Brighton-Henrietta Town Line Road. —DennisWurster
---
2009-07-18 22:50:11 I have tried Abbott's numerous times and I just don't get it. Their custard just isn't good. Chocolate tastes like vanilla w/ choc. syrup in it. Will stick with soft ice cream or get my custard fix from Rita's. —Tori
---
2011-03-29 22:51:47 Best frozen custard ever. No one else can compete with Abbotts. Everyone should try the chocolate almond custard it is heaven in a dish. —Atlanta
---
2012-08-01 22:36:48 I have stop at one Abbotts in at the Bill Grays in Chili. It was alright but for the price I was hoping for more to be honest. I will go back when I have a coupon or there is a special. —bonnev659