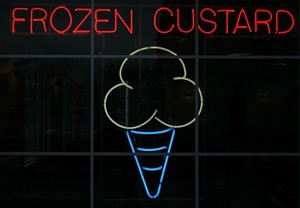 Custard neon at Don's Original in Brighton,
Custard is a subtly different variety of ice cream made with eggs. It is creamy and smooth, and usually soft. Custard is made fresh in the store where it is purchased, and you can usually see one or more custard machines forming a tube of fresh custard while you're waiting to be served. Since it is made fresh, most stores have only a few flavors available at any given time. Chocolate, vanilla and chocolate almond are common choices.
Though custard is soft, it is not soft-serve: it is not extruded directly from a machine into a cone. Many stores around Rochester call their soft-serve ice cream custard, but soft-serve has a different flavor and consistency than Rochester-style custard.
Custard is available at:
Comments:
Note: You must be logged in to add comments