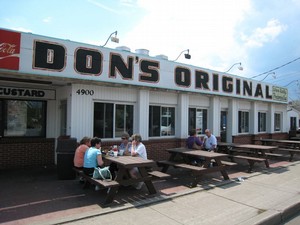 Outside - SeaBreeze Area location, 4-2008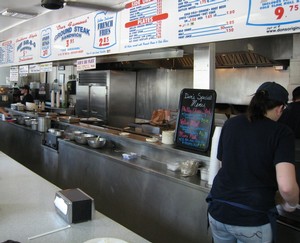 Inside - SeaBreeze Area location, 4-2008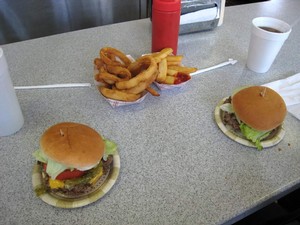 Don's burgers and wonderful onion rings, 4-2008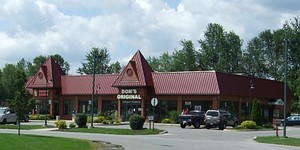 Penfield - Aug 2008 BradMandell
Seabreeze Area Location
4900 Culver Rd, Rochester, NY 14622
Hours
Sunday - Thursday: 11:00AM to 10:00PM
Friday & Saturday: 11:00AM to 11:00PM
Phone
585 323 1177
Monroe Avenue (Brighton) Location
2545 Monroe Ave, Rochester, NY 14618
Hours
Sunday-Thursday, 11:00AM to 10:00PM
Friday/Saturday, 11:00AM to 11:00PM
Phone
585 244 2080
Penfield Location
2055 Fairport Nine Mile Point Rd, Penfield, NY 14526
Hours
Sunday-Thursday, 11:00AM to 9:00PM
Friday/Saturday, 11:00AM to 10:00PM
Phone
585 377 1040
Website
http://www.DonsOriginal.com
Reviews
Rageburger Blog Review
2013-09-16 Food About Town
Don's Original is a diner serving hots, hamburgers, custard and other standard diner fare like hot turkey sandwiches and strip steaks.
Don's prides itself on retaining the same quality and feel, and pretty much the same core menu, for over 50 years. Judging from the pictures on the wall in every Don's, as well as on the website, your experience today is not all that different from what it would have been in the early 50's. Customers still order by lining up behind a large "All Service from This Counter" sign and choosing from a brightly-painted menu board. The food is cooked as you wait. Seating is either in a booth or on a stool at the counter. And Don's crowd still consists of a wide range of customers, including teenages, families with kids, and older folks.
Don's slogan is "Where Quality Predominates", and it attempts to live up to that standard by making fresh what is often pre-packaged at newer fast-food restaurants. For example, if you ask for onion rings, they'll be made from real slices of onion and hand-battered, and the custard is made on-premises.
Don's Original began life as Don and Bob's, with locations in the Seabreeze Area and on Monroe Avenue in Brighton. The original Brighton location was sold to another owner in the 70's and has now closed. The Seabreeze location remained under the control of Don Barbato, the original Don, who changed the name to Don's Original because of issues with the original Monroe Avenue location. The new Brighton and Penfield locations have opened in the last few years. The full, convoluted history of Don and Bob's and Don's Original is available on the website.
Comments:
Note: You must be logged in to add comments
---
ADMIN NOTE: Comments previous to 2008 are now located at Don's Original/Comments
---
2008-05-01 11:00:26 Of all the home grown greasy burger places in Rochester, I think Dons is the best.
Very similar to a Five Guys burgers and fries burger. (Not the 2 patty one.)
This is the least salty burger and has great fries. —MrRochester

---
2008-05-31 17:21:00 Had a BOGO coupon, so son and I stopped by the Penfield location for their cheese-burger. Way overpriced for a mediocre burger. Of all the local burger joints, Bill Grays or Tom Wahls burgers are better than don's. That's a fact—jack! —MrPhil
---
2008-07-20 19:13:19 I can see how Don's and Seabreeze bring out a lot of nostalgic feelings. The smell of the grill, and the lake - it's old school, and proud of it.
You enter, and there's a row of seats at the counter, a few tables on the side, and that's it. No line, no place to order, it's very cramped, and it seems unorganized. Credit to the waitresses behind the counter, who do a very good job at getting the orders in, and keeping track of them.
The burger's good - a little crispier than it's competition next door. So are the fries, and onion rings. Tasty, but nothing earth-shattering.
The real star here - echoing other posters - the chocolate almond frozen custard. I much prefer it to Abbott's. The salted almonds make a big difference. Try it! —ZachSmalt

---
2008-07-23 23:43:52 I hear that Five Guys in opening in Rochester next month. I heard that they will be opening next to the Moe's on Jefferson Road in Henrietta. —happyman
---
2009-03-01 09:27:12 Unlike Tom Wahl's and Bill Gray's, Don's Original has not gone down in quality since expansion to other locations like these other two previously mentioned. Look at how Tom's and Bill's have to offer a lot more coupons to entice people to come to their places, where Don's offers very few coupons to entice people to come eat at their locations. Around here, it seems that a lot of our local places decrease in quality once they start expanding (think McGregor's!). —DabeernFooddude
---
2009-08-07 15:00:28 I love the food and the atmosphere at the Seabreeze location, but check the prices as of today: Cheeseburger on a roll: $4.65. Onion Rings: $3.85. Fries: $2.85... Meowch! —RichardSchreiber
---
2010-03-01 09:28:28 Had a burger there last week (Monroe Ave) location. The meat was undercooked, the bread was stale. French Fries were undercooked. On the plus side, the servers were friendly and the pickles were good. Five Guys down the road in Pittsford Plaza had Don's beat, hands down. —MrPhil
---
2010-08-28 20:15:46 Went to the Seabreeze location today - the prices were way too high (16 dollars for two orders of fries, one cheeseburger and one hamburger), the burger was inferior to Bill Gray's or Tom Wahl's (although the hot sauce had more kick), and the fries were uninspiring. The sundae I purchased was a total ripoff - I was overcharged 50 cents for a total of 4.75 for an infinitesimal amount of ice cream. It should've been 4.25 (still terrible expensive for the volume), but the girl did not appear to know the prices on the sign. —SargtGrumbles
---
2010-09-26 19:15:12 Wow, what a burger! Don's hot sauce is not to be compared! we travel from FL to NY frequently, and Don's is a MUST!! Their milkshakes are amazing too :) —LaurieStrole
---
2010-10-13 21:39:26 Quite possibly my favorite place for a burger and fries in Rochester. every time i go there to eat it brings back many good memories. the wait staff at the locations i have been to are always nice and the food always taste great. Also, the beef Bar-B-Q is a must try. —Andrew88
---
2010-10-14 20:38:47 I love Don's. I've loved the place since I was a kid going to school at Brighton, walking across the fields at lunchtime to grab a dog at the old Don & Bob. I loyally followed the crowd down the street to the "new" Don's Original after Don & Bob closed, and I've been going there ever since.
But Terry Klee sold the Brighton location to his brother a little while back, and the place just isn't the same. They replaced Coke with Pepsi in the fountain dispensers, painted the interior an ugly shade of green and installed TVs in the dining area. They changed suppliers on their bread products, and the dogs are now served on an overly doughy roll that's just not the same.
I recently asked the new Klee (I think his name is Kevin) if they could at least put something other than Fox News on the TVs there, and he was downright rude about it, even after I pointed out that this was, after all, Brighton, and the odds are good that a majority of his patrons don't find Fox News to their liking.
"Well, it *should* be a Fox News town," said Mr. Klee.
And I think that I can probably get a ground round that's just as good at plenty of other places around town that might care just a bit more about what their customers are thinking.
Anybody know whether Terry Klee still owns the other Don's locations? —HotDogFan

---
2011-05-09 20:21:15 Went there yesterday for a burger and hots. have to say, the service was not very good and the place was a disgusting mess. The food was ok, not great but not bad either. Though I did watch the cook throw some fries that were sitting out awhile back into the fryer. Don't know if that was a normal thing they do or not. Just kind of turned me off there food a little. —rlsmith
rlsmith—there are 3 locations??? Where is "there"?? —PeteB

---
2011-05-09 21:27:50 Sorry about that Pete. I meant the Seabreeze one. I don't know about the other locations, have not been there in years. —rlsmith
---
2011-11-26 16:55:10 I think that the cheeseburger at bill grays is better than don's, but they did a really good pumpkin custard. —DamianKumor
---
2012-04-15 20:33:15 nothing like don's in the summer. burgers, ice cream, LOVE! —xanthm