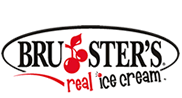 Company Logo
Bruster's is a national chain that has 140 flavors of ice cream; the stores had a rotating list of 30 that they make fresh daily. They have a lot of interesting flavors, including seasonal choices like pumpkin pie cheesecake. It's a creamy style of ice cream, somewhat unusual compared to the standard soft serve or hard serve fare you tend to find in Rochester. Because they make new batches every day it has a unique texture and the fresh cream stands out.
The Henrietta location had outdoor seating only. That location also carried Nathan's Famous product's including their hot dogs and crinkle cut french fries.
Comments:
Note: You must be logged in to add comments
---
2006-06-15 04:41:23 We went to the Webster location last week and my cone (chocolate rasp. truffle) was excellent. My husband got a Hot Fudge Sundae that was pretty measly considering he paid $4 for it... —JcPop
---
2006-09-28 20:12:52 the portions are HUGE. MY favorite is the chocolate raspberry truffle. Actually..I have never wavered from that flavor because I love it so much. My friends have tried the Butter Pecan and so on and really enjoyed them as well. —OneLove
---
2006-09-29 09:25:05 The chocolate raspberry truffle is my favorite as well. I felt the prices were a little high for serving size and that the employees seemed rather disorganized. —EllenKelsey
---
2007-05-11 17:31:15 I'm another fan of the chocolate raspberry truffle! Ice cream all has very good texture and flavor. And there are often $0.50 off coupons in the Sunday paper coupon sections! —AdrienneDahler
---
2007-11-10 16:11:41 I got the chocolate raspberry truffle two years in a row at the National Big Day out in Brighton. Delicious! Big shavings of dark chocolate and raspberry swirled in. —CatMagro
---
2008-06-06 20:26:26 Bruster's coming to Henrietta is just about the greatest thing to ever happen. —TarynKimel
---
2008-06-09 10:37:27 Eh, it think its ok ice cream. Not bad, but I dont go out of my way to go to Webster or Irondequoit for it. To me its like Cold Stone Creamery without the mix ins, its not great, but edible. —MrRochester
---
2008-07-12 22:43:08 We stood at the window in Webster, but when we stepped up the girl closed the screen and walked away, not a word. End of her shift? Everyone else ignored us. So we left, and found our way to Abbot's instead. We love to go out for ice cream, but won't spend a penny of our money here, ever. —DottieHoffmann
---
2008-12-04 00:24:41 I notice the comments for this ice cream chain aren't all that great, but I can guarantee you the Henrietta location is best of all the other locations!
I came here with a friend on a rainy night, a half hour after closing. The lights were out, and it seemed as though I wouldn't be fulfilling my rare ice cream craving...but the owner came out and noticed us and another couple wondering why they seemingly closed up early, and he notified us of the winter schedule, THEN went back inside, turned on his store, and patiently waited while all of us ordered taking up about 30 mins of his time!!! and the best part about it was that this was my first time at an ice cream shop and he not only was patient while I made my choices but also happily encouraged me to try a bunch of samples of the ice cream!!! W-O-W! The owner was so kind & friendly, it was a breath of fresh air to be treated *so differently* by native Rochesterians. I've been coming back here every week for rich, yummy ice cream and in support of our neighborhood friendly ice cream store and owner. —JenFromDC

---
2009-06-07 18:14:27 We went to the East Henrietta location last night. Great ice cream. Very cool that the Waffle Cones/Dishes are made on-site. We'll be back —PeteB
---
2009-08-26 14:05:23 I prefer this place over Cold Stone. I usually end up with the Blueberry Cobbler (if they have it, which is not always) in a waffle cone. Wife always gets the peanut butter cup sundae, and from the brief nibbling I can manage before I reach the car, is very good as well. —JohnBarry
---
2010-03-30 11:47:11 I don't eat ice cream, but now that Bruster's sells Nathan's Famous Hot Dogs and French Fries, I just had to try. (I grew up in Coney Island, and ate at the original Nathan's Famous regularly). These are very good hot dogs and french fries, and I will be a regular at Bruster's. By the way, I seem to remember the French Fries at Nathan's in Coney Island being crispier than the one's I got at Bruster's, but Bruster's french fries beat the crap out of Burger King/Arby's/Wendy's/McDonald's french fries. —Paige
---
2010-03-30 13:22:20 Pumpkin cheesecake
Best flavor in November, I double it up with Pumpkin Pie. —DamianKumor
---
2020-06-13 08:12:22 Webster Bruster's is still open. —abraxas