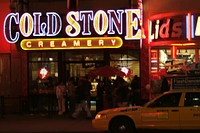 24 Hrs near Times Square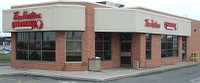 Tim Hortons in Irondequoit - BradMandell
Cold Stone Creamery is an ice cream shop with multiple locations in Rochester, including stations within select Tim Hortons restaurants.
Cold Stone serves ice cream with mix-ins. The server places your choice of ice cream on a cold stone and blends in your choice of mix-ins, such as nuts, candy, etc. Traditional ice cream shop fare such as shakes and sundaes are also served. They also offer a selection of ice cream cakes.
Pittsford Plaza location is kosher under rabbinical supervision of Rochester Kosher Services.
History
The first location opened in the Pittsford Plaza next to Pittsford Cinema but after a few years closed. The second location opened in Towne Center Webster. A third location opened across from Eastview Mall but closed in early 2009. Cold Stone started appearing in Tim Hortons beginning in February 2009.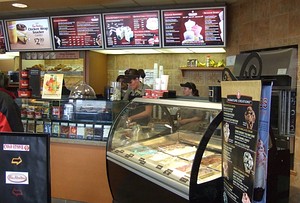 April 7,2009 - Irondequoit - BradMandell Co-Branding with Tim Hortons

Comments:
Note: You must be logged in to add comments
---
See Archive Page for comments prior to 2008.
---
2008-02-29 03:38:00 Tons of choices and mix-ins. The blended drinks are my favorites actually. I was thrilled to find out that there was a cold stone out here because they were all over the place out west. Tip the people. Be kind. —EllaBeeney
---
2008-05-14 12:36:00 In regards to locking the doors early, we lock them 10pm on the dot.
There are more than 3-4 good singers, though enough bad ones to make up for it ;)
Tip us, gas is expensive and our job pays less than yours.
Eat the best quality ice cream in town. Have a good summer. (Buy a cake or two or five) —MichaelPerrone

---
2008-07-14 15:59:11 I travel in the US from time to time with my Swiss business clients. Cold Stone is a great favorite of theirs along with Starbucks and
Ruth Chris Steakhouse (wish we had one closer than Toronto). See my photo above of the Cold Stone across from our Times Square Hilton Hotel —BradMandell
---
2008-07-14 16:15:33 Got an ice cream cake from them for my wife's birthday yesterday. It was AWESOME — but it was also $32. heh, so only for very special occasions! :) —JaySweet
---
2008-12-27 11:25:46 If the American Motto is: "The bigger, the better!" then this place defines America. The "Like It" (ie. smallest) size is a gi-f*cking-normous pile of ice cream and toppings that I have never been able to finish. This place just strikes me as being excessive. I remember when I was a kid, ice cream wasn't about volume but about a modest amount of ice cream, sprinkles, and a tasty cone. With Coldstone, they seem to think that if you can finish your ice cream without tossing a good amount in the trash, they have failed. I have sworn off Coldstone and get kiddie-sized cones from Abbott's, exclusively. —BatGuano
---
2009-02-14 23:25:28 As of February 6th, the locations in Victor and Webster are closed. Both are listed for sale in BizBuySell. —JohnAnderson
---
2009-03-23 14:42:19 We saw a Cold Stone sign on the Tim Hortons on Ridge Road in Irondequoit. Did not go in to check it out. —BradMandell
---
2009-04-07 19:12:05 Please note, the comment about Webster closing or being for sale is not true, the store changed its phone number but is still open. Talked to them by phone today and they are still on the website. Victor's phone is disconnected and they are no longer on the website. —BradMandell
---
2009-04-10 21:30:40 Best Ice Cream in Rochester, NY hands down! —ChefRamsey
---
2009-05-03 08:54:09 The mix ins are basically there to mask the flavor of a very mediocre tasting ice cream. If you crave a high quality incredibly tasting ice cream, please check out Corn Hill Creamery in Corn Hill Landing. Cold Stone is OK if you are in pittsford Plaza and want ice cream but if I crave ice cream we go to the Creamery. —NewtonNola
---
2009-11-30 14:25:50 They have a splenda ice cream for those looking to diet. —DamianKumor