West Henrietta Road is a heavily traveled north-south suburban route located primarily in southern Monroe County. It originates in the City of Rochester as Mt. Hope Avenue but turns into West Henrietta once it enters the Town of Brighton at the intersection with I-390. For the most part it is heavily commercial, especially in Henrietta north of the Thruway, but is largely farmland in Rush.
Traffic in the Marketplace Mall area can be very heavy, especially in the holiday season. The section of road that passes through Henrietta and Brighton - particularly between Jefferson Road and Crittenden Road - is designed to discourage pedestrians and bicyclists.
Businesses or Attractions on or near West Henrietta Road
Detractions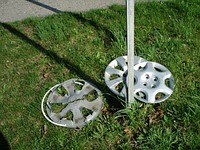 just a few of the many at the border
No sidewalks for most of Route 15 / West Henrietta Road, both sides of the road


No place for Bicyles on much of the road


No frequent bus service - #24 bus


Potholes at the City Line with Rochester lead to hubcap loss, other damages
West Henrietta Road as Route 15
You can stay on this road all the way to Wayland, where it turns into Rt. 390 at exit 3.
West Henrietta Road as Route 253
The roadway near the Thruway is also marked as Route 253.
See Also
Comments:
Note: You must be logged in to add comments