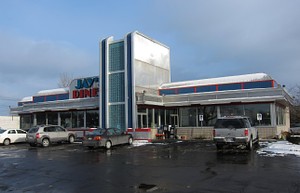 Jay's Diner, Jan 2011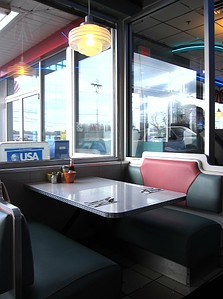 Retro Interior (sorta), Jan 2011
Jay's Diner, located on West Henrietta Road in Brighton, is a 1950's style diner serving fresh food, although not currently 24 hours a day. In the mood for a quick cup of coffee, a quick bite, or breakfast? Stop in to Jays when they're open and you can get these. All of the meals come with large portions, and all fountain drinks & coffee come with unlimited refills. It was originally built in 1966.
RIT students can receive a 10% discount here by displaying their RIT student ID card and paying their bill with cash.
Awards
Jay's was voted 'Best Meal After 1AM' in City Newspaper's 'Best Of Rochester' awards in 2009.1
Comments:
Note: You must be logged in to add comments
---
See Archive Page for comments prior to 2008.
---
2008-01-31 19:19:17 "Just because it's a diner or you're a poor college student does not give you the right to stiff your server!!" -MissGia
Agreed. I think if you can't afford to leave a good tip (as in 20%, assuming the service warrants it), then you shouldn't eat out in the first place. I've never worked as a waiter before, but I have friends who have, and I know that tips are most of what you make (on top of the $2 or so minimum wage for tipped employees).
As for Jay's, this is a good breakfast spot, especially if you work nearby (as I do, in Corporate Woods, just around the corner on Crittendon Rd.) You can't beat the prices - $5 for 2 eggs, choice of breakfast meat (ham, bacon, or sausage), 2 slices of toast, a reasonably-sized portion of hash browns AND a cup of coffee - all included in that price. Where else are you going to go to get breakfast that cheap? (except maybe Denny's, which I am not a fan of) —EricArdis

---
2008-01-31 19:20:18 Also, the servers here have always been friendly to me, and the service is FAST. They can cook your breakfast and bring it out to you in 5 minutes! —EricArdis
---
2008-03-11 18:22:45 Only for 3am meals. Even then, I prefer Plaka (formerly Mykonos-now closed. However, Jay's is closer (and 24 hours everyday) and at 3am, I like to drive as little as possible. Typical diner fare executed relatively well. But I am not a fan of the service in general. In my experience, servers tend to ignore their tables and take long cigarette breaks. However, I will argue that it is a crucial element of the RIT education. My friends and I have had many a memorable late night at Jay's!
I have tried them out for breakfast a few times and the service is usually better then. Still, I must say that there are many comparable (if not better) diners in the city to try.—OneLove

---
2008-03-14 19:53:43 I wouldn't go here at 8pm, but at 2am when Denny's is the only other option, Jay's is a great place to go. I've also never had trouble with the wait staff there. —NoahLeaf
---
2008-03-21 16:05:51 Great Diner. Anyone from Long Island will feel like they are at home, except Jays is cleaner than most of the ones on Sunrise Highway.
Even though Ive only eaten here at 3am, so I dont know how good of a judge I am, but I always enjoy my drunken pancakes or sobering hamburger. —MrRochester

---
2008-03-29 12:48:31 Great prices,great food,friendly waitresses,good location, catch a movie after words and last but certainly not least fast service. —EnishaCray
---
2008-04-11 14:24:32 This is one of our standby favorites but really only after dark. The food is cheap and as good as good diner food is expected to be and the unsweetened iced tea is absolutely the best (sometimes a little strong but never scummy like many places). Having lived right around the corner, this was a convenient place to catch a quick bite but I have to say the service is the best at night. The day waitstaff tends to be snappy if you ask them for anything other than the standard three trips per table for drinks, food and check. The nighttime waitstaff is always attentive, gets my order right and never fails to have a sense of humor. Just be a decent person and tip at least a heavy 15% or more. Seriously, would it kill you to say please and thank you, too? —StephanieTodd
---
2008-05-28 14:16:06 I am a Jay's regular. None of the servers or hostesses are racist. I can't speak for the customers, but the majority of folks going there are of many varying backgrounds.
Also, there are not only worse diners in the whole of the universe, but there are worse diners in this city. Clearly MisterElkington has never been to Marks 2 on State St.
The food is good 85% of the time, and all but one of the servers is prompt and attentive. Keeping that in mind, late at night, Jay's is better than during the day. —EugeneCain

---
2008-05-29 21:09:05 Used to be a regular here, but for the past year, it's just not been the same. Not sure what the difference is. The menu is fairly diversified. The clam chowder is great!— Very creamy with lots of clams! As for the staff, it's hit or miss. Sometimes you get a really great waitress, sometimes you just get slapped in a booth and service with a grunt, but that's not really the point. If you're hungry at random times of the night, pulling an all-nighter, or want a cheap place to get together with friends, then it's a great place! Jay's is a very down-home diner and I love it for its despite-itself charm. :) —jramey
---
2008-07-06 13:59:57 I really enjoy the atmosphere of Jay's with the colorful neon lights and decor, and the folks in there tend to be a lot of fun—especially in the late hours of the night. Sadly, despite this, I give them the award for the worst food around. I've tried several things over time, and have never found anything that makes me really want to go back. The burgers are dry, and even the deserts are missing something. Still, if you're looking for a meal in the middle of the night, it's Jay's or Denny's. As sad as it is, you might be better off with Denny's. —LincolnComet
---
2008-08-07 23:29:36 I really like Jays diner. I had a VERY friendly server, Debbie. She was very fast and always gets my order right. You can tell she has years of experience! —melaniehanna
---
2008-08-12 10:27:25 I read the comments below.
Food is average to above average for a diner. Nice variety on menu. I recommend the fruit and vegetarian plates. Malt milkshakes are good too.
I used to be a regular at Jay's until I received a sandwich plate with pieces of broken ceramic in my sandwich. It almost chipped a back tooth, and Jay's did nothing to apologize for the health issue. This happened once before, but I thought nothing of it, but a second time...is just not right.
I do agree that I have seen servers stick their fingers in the water cups and serve food which was put onto plates by dirty hands. Not a diner for the germaphobic. —JenC

---
2008-12-10 20:49:40 The country-fried steak and eggs breakfast brought my heart-rate down to approximately 5 beats per minute. This is a good thing. —BatGuano
---
2008-12-14 16:34:32 Was here for a meeting on Saturday afternoon, and was quite happy. My coffee was kept full and my corned beef on rye was tasty. Their fries are above-average. My wife's quesadilla was made with a non-standard tortilla (I'd guess whole wheat), which is a nice touch of flair. Hadn't been there for *years* before yesterday, but it's back on the A-list. —Users/RyanTucker
---
2009-03-03 18:25:33 Really good, but it doesn't have diner prices. Priced more like a restaurant than a local diner, it is great late night and you can pretty much get anything any time of day. Service is disappointing considering the price, but it's acceptable. —Fetou
---
2009-03-20 19:29:25 I was highly disappointed with Jay's Diner. I go out to eat frequently and I have never been treated as poorly as I was there two nights ago by one of the waitresses. I feel this waitress is a representation of this establishment, and I refuse to spend my money where it is not appreciated. I am a good tipper, I was a waitress for 5yrs (at Denny's) when I was in college so I know what its like. This was my third time at Jays Diner and before that I was pleased with the low fat choices on the menu, but after being verbally offended I will not be back. —Julie
---
2009-05-17 09:54:44 Jays is my home away from home! I know all the servers and the owners. We are literally treated like family! The food is consistent and there is nothing bad on the menu. They also serve a pretty darn good variation of a Rochester classic - the Jays Plate. The clam chowder is the BEST. They do a Friday night fish-fry which is consistently good as well. The desserts there are to DIE FOR! They are all home made, not mass produced, and the selection is incomparable. If you're a night owl, they're open 24/7 so come on down and say HI. The only time they close is Thanksgiving day and Christmas day. I'll probably be there tonight, so maybe I'll see you! —PickleCelli
---
2009-08-21 18:05:27 I was wondering if you have any opening for a job because I need a job really bad because I can not find a job at all. And I was hoping that you have a opening at jay's diner. —babygirl
---
2009-08-21 18:07:23 Babygirl—staff from Jay's Diner do not run this page. Please call the diner directly @ 424-3710 or stop by in-person to apply. I believe they have a sign up saying they are hiring —PeteB
---
2011-10-07 23:47:25 Went with a group of people tonight and had very terrible service. This is far from the first time this has happened to me at Jay's, but after tonight, I will not be returning. —Kyara
---
2012-12-27 15:30:14 I went here one busy Sunday, and ordered an omelette with well done homefries. When my food was brought out, my homefries were lighter than my friend's, who did not order them well done. The server said upon placing down my plate "This is as well as they can make them. The cooks said they are too busy back there to cook them longer." I work in a restaurant, and have no problem waiting for my food and don't understand why they couldn't just leave them on a bit longer. They could literally ignore them because I like them burned. Never in my life have I had a waitress tell me, "Too bad, we can't make it the way you want it." I told her "Ok, I'll just eat the omelette then." She just walked away and then returned in a few minutes to ask how everything was as she obviously saw all of my homefries untouched and never asked if I wanted something different. Maybe they have so much business that they don't need to worry about pleasing their guests, but I sure won't return. When I told the manager, he said to personally come find him next time to make sure my homefries are well done but made me pay full price for my half meal of a butter drenched Western. I won't be returning, but if I owned a restaurant I would want the cooks to satisfy guests requests without having to be told by the manager to do it, and servers who truly care about guest satisfaction. High volume should not be an excuse for sub par food. —ClarissaBrown