Home of the "Badaboom Plate", one of the many Rochester variants of the original Garbage Plate.
They have all the standard plate choices (mac salad, homefries, baked beans, french fries, salt potatoes, and/or eggs ($.75 apiece)) but meats include a variety of nonstandard choices, including steak and chicken fingers.
Menu scans as of May 12, 2007: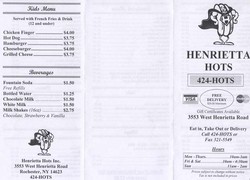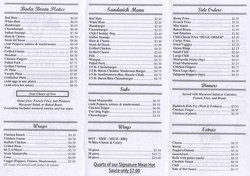 Comments:
Note: You must be logged in to add comments
---
See Archive Page for comments prior to 2008.
---
2008-02-07 20:52:04 I had a grilled chicken sandwich there and I liked it. —TatyanaLee
---
2008-03-10 20:49:02 Pretty good if you're in the area. —LincolnComet
---
2008-03-14 19:56:56 It's only value is to get into fights with random groups of kids at 2am when drunk. You're more likely to see cops interrogating college students there than you are to enjoy the food. —NoahLeaf
---
2009-03-12 13:53:55 One of the better Hots places for late night cravings (also one of the safer hots places imho). My friend loves their plates and I've always had good chicken there (fried and grilled). Sometimes it's a bit of a wait for food but worth it if you're in the area. —JaimeTe
---
2011-01-30 03:01:00 As of 1/30/2011 They no longer deliver. Not sure how accurate the prices or other parts of the menu scans are. —MrRight
---
2011-02-21 13:58:56 Plates are ok, the young girl who sometimes works the counter during the day is miserable. If you're in the area, it will do, but don't make a special trip. —WestSideB
---
2011-12-31 18:44:46 Not impressed with this place at all, much better burger joints in the area. Got our order to go and found out when we got home that our daughter's burger didn't even come on a bun, think they took "plain" to the extreme. And my husband's plate was minus the onions and mustard. Plus their salt potatoes tasted like they were days old :-/ Wouldn't recommend unless there aren't any other restaurants open. —Arketekchic
---
2012-02-26 21:12:08 Years ago, I used to enjoy coming here and getting the occasional plate during my attendance at RIT. I decided to go in on a whim for dinner tonight, and it's the last time I'll ever do that. I ordered the grilled chicken sandwich special which was listed on the board. When I got home and opened up my bag, I found a slightly re-heated slab of chicken breast and 2 pieces of bread. Apparently if you don't go out of your way to mention you want something other than chicken on your sandwich, that's what you get.
I saw a sign that said "Free delivery" while I was waiting for my food, so I decided to call and inform them of their mistake, hoping for a new order to be delivered. Instead of apologizing and offering to remedy the situation, they argued with me, insisting that I ordered a plain chicken sandwich. I was informed that I was only charged for the sandwich, not the special. If that's true, it was the worst $6.50 chicken sandwich in the universe.
I truly believe in voting with my dollar, and for that reason I will not be coming back, and suggest that you steer clear of this poor excuse for a business. —MattM

---
2021-02-23 14:24:52 Under new management as of 2/1/2021. —peteb