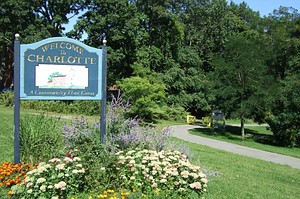 Lake Ave Entry Photo: Sep 2008, BradMandell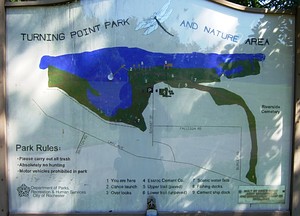 Sign Photo: Sep 2008, BradMandell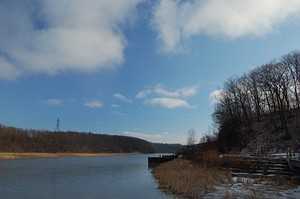 Genesee River at Turning Point Park- by Andrew88
Turning Point Park is a park within the City of Rochester operated by the city and located along the Genesee River between Riverside Cemetery and Charlotte. There is a pedestrian entrance on Lake Avenue right next to the Welcome to Charlotte sign after you pass Riverside Cemetery heading north. Vehicles are not allowed in the park, there is a small parking lot at the end of Boxart St, across from the ESSROC Cement Company. The park has
275 wooded acres along the banks of the Genesee River. Hiking and biking trails will help you discover the park's distinct areas from the wooded oak forest called "Bullock's Woods" to the cattail lined shores of the river. Enjoy the nature watching and beautiful river views from its trails. 1


Also features boat docking/launching (not via auto) and fishing. The Stephen B. Roman is one of the many ships that often dock here.
There are two seasonal waterfalls within the park: Red Falls and Brown Falls.
Notes and References

Events