Robert Duffy was the Mayor of Rochester from 2006 to 2010. He is currently the Lieutenant Governor of New York.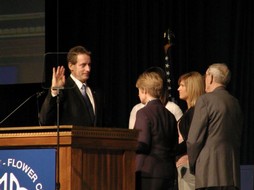 Mayor Duffy Takes the Oath of Office, 2006 (courtesy rocpic.com)
Personal Information
Duffy was born in Rochester on August 21, 1954. He grew up in the Maplewood neighborhood and graduated from Aquinas Institute, a Roman Catholic High School, in 1972. Duffy has Associates' Degrees from Monroe Community College, a Bachelors' Degree from RIT and a Masters in Public Administration from
Syracuse University.
In 1985, Duffy moved to Fairport and married his wife, Barbara. He moved back to Rochester in 1992 to satisfy the residency requirement for his promotion to deputy chief — a position open only to city residents. He and his wife have two daughters, Erin (born 1987) and Shannon (born 1989).
Mayoral Career
Duffy had named Robert Warshaw, a former Chief of Police in Rochester and Duffy's old boss, as the leader of the transition team as he prepared to assume the office of Mayor. Duffy created ten transition committees to assist in this process, with some of the committee chairperson positions going to campaign contributors. According to the latest October Board of Elections campaign financial disclosure statements, an RIT criminal justice professor, John Klofas, contributed $500 towards Duffy's election. Klofas is now heading the public safety transition committee.
Duffy
appointed Patricia Malgieri to the position of Deputy Mayor on December 16th, 2005. Malgieri is the former president of the non-partisan Center for Governmental Research (CGR), a consulting and research agency. She has a Masters' in Public Administration and 27 years of experience in the analysis of governmental affairs. Malgieri is married to Duffy's campaign treasurer, lawyer Patrick Malgieri. Patricia contributed $2,500 to Duffy's campaign, currently lives in the suburb of Brighton, and plans to move to the city to fulfill the residency requirement for the position. Outgoing Deputy Mayor Richard Hannon has commented "I don't know who would be better prepared for something like this than Patty Malgieri."
2005 Mayoral Race
Duffy retired as Chief to run in the Democratic Primary for Mayor in 2005. Duffy won the Democratic party primary in September 2005 and the general election in November 2005.
Also during the campaign, it was revealed by Duffy's opponents that both of his daughters attend a private Roman Catholic high school. Because of the state of the Rochester Schools, this became an issue. Although his opponent who targeted Duffy's daughters for attending private school then enrolled his own child in private school after Duffy won.
Duffy defended it as a family choice rather than a comment on the quality of education in Rochester.
Duffy outspent all other general election opponents by almost 10 to 1, raising over $760,000 in his campaign as of the last December filing, including a last-minute pre-primary personal loan of $60,000 to his campaign. His fundraising set a new record for a Rochester Mayoral election.
Campaign Websites
Platform
Endorsements
Organizations
People
Endorsement Controversy
During the campaign, Duffy did not receive the endorsement of the police workers' union, the
Locust Club, which endorsed Wade Norwood. The Locust Club also ran anti-Duffy advertisements.
Duffy's opponents argued that this showed that Duffy's ideas and platform were not well-accepted by rank-and-file because the endorsement vote was taken against him by hundreds of members of the union. Many also noted that positive reports generated after the elimination of neighborhood precincts (or redistricting) were proffered by the Center for Governmental Research — the same organization that had advocated redistricting to Duffy in the first place.
Duffy did not seek the Locust Club endorsement, and he alongside supporters argued that there are major reasons that it should not be given much weight. Duffy blamed a personality clash between him and the longtime head of the union, Ron Evangelista, as the real reason that the endorsement went to Norwood. Since his investigation into the use of excessive force in the department, Duffy has clashed with the union. Supporters also noted that Norwood himself had voted for a budget measure that allowed for funding of Duffy's most controversial structural reform (redistricting) while serving on the city council.
In The Media
Campaign Interviews and Debates
General Campaign Coverage
Campaign Rhetoric and Aftermath
In the last few weeks of the campaign, it was charged by fellow candidate John Parrinello that contrary to claims made by Duffy, the latter took flight to the suburbs and only came back to the city to fulfill the residency requirement when promoted to deputy chief. Duffy was a Fairport Republican from 1985-1992. Parrinello warned the audience of the final televised debate, "he [Duffy] is not who you think he is."
Parrinello also made claims during several debates that Duffy was already handing out jobs to supporters, including the position of Deputy Mayor to Patricia Malgieri. These allegations were denied by Duffy at the time. However, in December 2005, Duffy
appointed Patricia Malgieri to the position of Deputy Mayor.
To promote transparency in the new city government, fellow candidate Chris Maj and members of the Shadow Cabinet are planning a collaborative local political blog at
DuffyWatch.com
Police Career
Duffy joined the Rochester Police Department in 1976.
In 1990, Duffy led an investigation into the use of excessive force in the department. All officers charged were acquitted at trial. One of the officers was defended by John Parrinello, who later became Duffy's opponent in the 2005 Mayoral Race.
Duffy was promoted to Deputy Chief of Police in 1992.
He was promoted to Chief in 1998.
As Chief, Duffy was generally viewed as a structural reformer and strict disciplinarian. The most controversial of his structural reforms was probably the re-organization of the department to into two sections, one on each side of the river, which required the closing of many of the neighborhood precincts.
Perhaps the most widely-publicized disciplinary issue during Duffy's tenure was the firing of a police officer who was linked to a racially charged memo in early 2002. Two other disciplinary incidents, involving an on-duty officer fondling women at traffic stops, and an off-duty officer's road rage, also made front-page headlines at the same time.
At the end of Duffy's time as chief, Rochester had the highest murder rate in New York State. There were also 40-50 unfilled, budgeted positions in the Rochester Police Department. One explanation offered for the openings was the creation of cost-cutting window-dressing at the Department. Another was the longstanding practice, pre-dating Duffy, of offering Civil Service exams only once per year. Duffy has pledged to address this issue as Mayor.
Awards
Duffy was voted "Best Politician" in City Newspaper's 'Best of Rochester' awards in 2009 and 2010.23
Comments:
Note: You must be logged in to add comments