Bio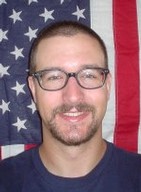 Chris Maj with the flag of the country he loves.
A wiki contributor and former candidate in our 2005 Mayoral Race. He received 412 votes, or 1% of the vote in the general election on the local
Red White & Blue Party line.

2005 Mayoral Race
Platform
Endorsements
In The Media
Interviews
General
Amusement
1Education and Quality of Life forum.