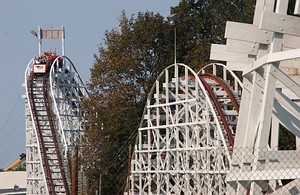 The Jack Rabbit Rollercoaster at SeaBreeze
Seabreeze is a great medium size amusement and water park for kids and adults. The Irondequoit park is close to Lake Ontario and Irondequoit Bay (you can see them from some of the rides). The park is a focal point for businesses in the Seabreeze Area and lead to the creation of Hot Dog Row.
The park may have updated quite a bit in the past few years, but it remains an old-fashioned (and less expensive) alternative to the mega-amusement parks like Six Flags, etc. (Due to its location, it can't really get any larger, so it probably won't get taken over by one of the franchises.) It's got a great mix of old classic rides (the Carousel, the Jack Rabbit, Bumper Cars...) and new rides, plus a really nice waterpark. The waterpark has fun stuff for really little kids, plus huge slides and a wave pool for the big kids and grownups, and also has a 'Lazy River' ride that's nice for parents with a baby.
See also
Seabreeze
PHOTOS and VIDEOS
Comments:
Note: You must be logged in to add comments
---
2007-04-17 09:55:51 I adore Seabreeze and its old-timeyness. I try to make it once a year by planning a date that includes loafing around on the beach and catching the cheap Night Rider passes because, as we all know, amusement parks are always cooler when bathed in neon. —RochesterGuy
---
2007-04-17 14:20:35 It is a great place and if you can get in on their spring deal it's a great price, although it's EXTREMELY crowded that day. It's great if you want that old-tyme spin. But for a water park, I much prefer Roseland Water Park because Seabreeze has a crazy policy that a second person cannot use a water ride until after the previous person has exited the ride. This policy causes the lines to take a massive amount of time. —TravisOwens
---
2007-06-18 09:30:14 Just went to Seabreeze this weekend for the first time since 7th grade (I'm now a college senior) and had a great time...the lines weren't long at all, and the park is small enough to walk from one end to the other in about 5 minutes...they must have changed the waterslide policy because we didn't hit any lines..it also helped getting there at 12 and hitting the waterslides first...the great views of the bay and the lake, relatively cheap prices, and minimal lines make seabreeze a must-visit —GreatWhite
---
2008-07-07 05:31:18 Favorite Destination for our visiting grandchildren. Nice place to take the younger children, with quite a few smaller rides, the water attractions, and relatively calm on a weekday. Kids also loved the acrobat show "Cirque de Vol". —BradMandell
---
2010-06-03 17:42:39 A wonderful place. A wonderful place that, unfortunately, seems to be tainted more and more by people who are rude at best (cutting in line, pushing, shoving), and dangerously violent at worst (the park was closed Memorial Day 2010, by design, because of rumors of some of Rochester's finest bringing a riot or gang war there that day). Having a great time at Sea Breeze used to be a given, yet lately it's more of a relief to leave the place without incident. Sad. —bionicsimmons
---
2010-06-03 19:16:54 Have always been a fan of Seabreeze but am really dissapointed at the Memorial Day Closure. Enough security should've been able to have been setup to handle anything. —PeteB
---
2016-08-26 18:06:30 Every visit is like a "Worst Tattoos in Rochester" convention. Nothing beats the water park on a hot day. —Cretinx
---
2016-08-26 18:14:04 Every visit is like a "Worst Tattoos in Rochester" convention. Nothing beats the water park on a hot day. —Cretinx