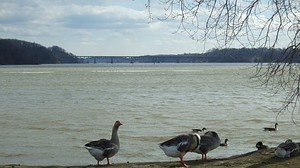 Winter Geese - Mar 2009 by BradMandell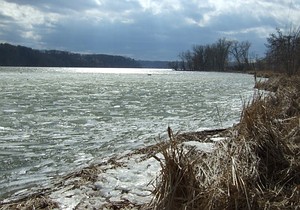 Winter Ice - Mar 2009 by BradMandell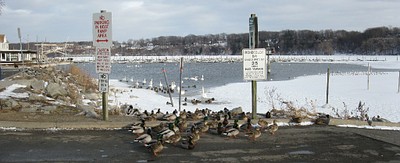 Winter Feb 2010 by BradMandell Irondequoit Bay is a large bay on the southern shore of Lake Ontario in the Rochester area, approximately four miles long and 1/2 mile wide. At its deepest, the bay is around 75 feet deep. The bay is fed from the south by Irondequoit Creek, and is spanned by the Irondequoit Bay Bridge which carries Route 104. The outlet to the bay is closed during the winter months by the Irondequoit Bay Outlet Bridge.
Other than the parks noted below, much of the land around the bay is covered with private homes sitting up on the bluffs in Irondequoit, Penfield and Webster. Public access to the bay is best from extreme Northern Culver Road, Empire Boulevard or the Western end of Lake Road.
It's fun to go canoeing, kayaking, boating and fishing in Irondequoit Bay during the summer.
The bay is used for ice fishing, ice skating, and snowmobiling in the winter months.
Attractions include:
Notes and references