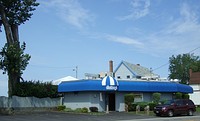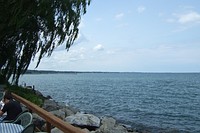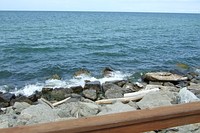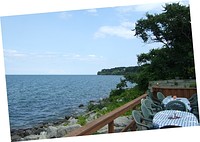 Photos: Aug 2008 - BradMandell
Location
244 Lake Road, Webster, NY 14580
Hours (as of April 2010 per Website)
Winter:
- Tuesday - Thursday: 4:00PM to 9:00PM
- Friday - Saturday 3:00PM to 10:00PM
- Sunday 3:00PM to 9:00PM
Summer:
- Monday - Thursday: 11:30AM to 10:00PM
- Friday - Saturday 11:30AM to 11:00PM
- Sunday 12:00PM to 10:00PM
Phone
585 323 2943
Accessible
Yes
Alcohol
Yes
Website
http://www.CastawaysOnTheLake.com/
Castaways On the Lake is a seafood restaurant. Drink and dine outside (or under cover) directly on Lake Ontario with views of the Irondequoit Bay Outlet and spectacular sunsets (checkout the website video and
Photo Gallery). Features a
Lunch and Dinner Menu including seafood and appetizers.
They also provide catering.
Docking provided across the street on the Irondequoit Bay side of the road for the boating diners.
Entertainment on Saturday nights during the summer season.
Comments:
Note: You must be logged in to add comments
---
2008-08-30 22:31:18 My wife and I had lunch with a friend there on August 13th - everyone was really pleased. My Chicken Sicilian Wrap was excellent and their Castaways Homemade Potato Chips were fantastic. The Philly cheesesteak was very good. You pay a bit for the ambiance, but it was what we were looking for. —BradMandell
---
2009-07-27 15:09:07 had lunch there on Saturday, the food was good and so was the service —MatthewVanHook
---
2009-07-31 23:50:26 I really did not enjoy my dinner here. The sunset was indeed nice, but the food, beer, and service were not. The Fish fry was decent, clam chowder was too peppery and goopy, the fries had black rotty spots, the beer selection was terrible, and the prices were rather high given the poor quality. —BrianBoucheron
---
2009-11-26 07:06:24 A lakeside lunch is on My Bucket List for 2010. —BradMandell
---
2010-08-09 11:13:17 Just awful. My husband's parents took our family here for dinner one night. My crab legs were bendy - yes, when I went to crack them, they didn't crack, they just bent. They tasted as though they had been frozen, cooked, refrozen, and then maybe microwaved. And they were served with melted margarine — what's the point of ordering crab legs and having to dip it in margarine? Ew. I would've been better off with a package of fake crab from Wegmans. The other food that our party ordered was also decidedly lackluster. The ambiance and setting are fantastic, but it seems like the restaurant is resting on those laurels and compromising the quality of the food as a result. —ZeldaPinwheel
---
2010-08-25 21:42:26 The owner is an inconsiderate and non-customer oriented jerk!!!!!
I took my mother out for dinner and we started out with steamed clams and calimari and both ordered an entree, In addition, we ordered an entree to go for my father (Filet Mignon $23) that was bed ridden and un-able to join us. My mother ordered the Prime rib and lobster to the lovely tune of $43 (which I do not mind paying) and I got the seafood sampler (Not so much only $22). Our food came out cold and dry like it was sitting under the heat lamp for over twenty minutes. I expressed my dissatifaction to the waitress who was so curteous to replace our meal. When we got our meal again it was what I expected the first time around. (FYI This was after an additional 30 minutes). My fathers meal on the other hand was over cooked. I told the owner my disatifaction and that I was unable to wait any longer for this problem to be correct (We were at the restuarant at this point for two and half hours). He proceeded to tell me he would take half off the filet. I was ok with that and he told me the waitress actually didn't charge me for the filet and my total bill that was originally $133 was now $145. He tried to make excuses while he proceeded to charge my credit card $145. I asked him if he would make the waitress pay the difference if she messed up at the end of the night and he said no. Him and I went back and forth for almost ten minutes and he forked over a $40 gift certificate to make amends after I finally got my point through. The worst part is I don't even live in the area and will never use it. So in other words I was better off accepting the crappy service and food and not saying anything. The only reason why I ate here tonight was because my mother wanted seafood and there was good reviews on google. Well I personally will not and cannot give this place a good review and others should be warned. —des7171

---
2011-08-25 12:59:54 Went here once over the summer. Really nice outdoor setting, breezy, sunny. Service was slow despite the restaurant only being about 1/3 full. I had a BBQ chicken sandwich that was decent, not the biggest portion I've ever seen, but the fries served with it tasted fishy. Likely won't be back unless it's just for drinks. —JohnBarry
---
2011-08-31 12:23:47 Went there this past Saturday evening. My wife had the filet mignon which she enjoyed. I had the NY strip steak which was not very good. It was extremely tough even though it was not overcooked. —DaveT