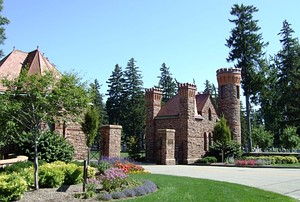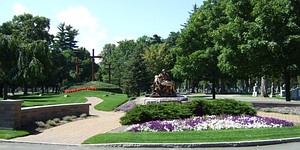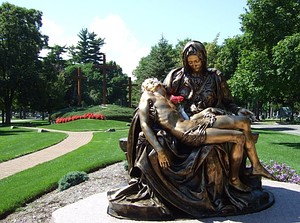 Photos: Aug 2008 BradMandell
Location
2461 Lake Avenue, Rochester NY, 14612
Cemetery Gates Open
April thru October 8:00AM to 7:00PM
November thru March 8:00AM to 5:00PM
Phone
585 458 4110
Website
http://www.HolySepulchre.org/
Holy Sepulchre Cemetery is a huge (332 acres) Roman Catholic cemetery located on both sides of Lake Avenue and adjacent to Riverside Cemetery (to the north) in Rochester, NY. The cemetery was conceived and developed by Bishop McQuaid, Rochester's first Catholic Bishop and namesake for McQuaid Jesuit High School. The east side was dedicated in 1871. The cemetery has many fantastic monuments, and is home to the final resting place of many bishops, priests, and deacons; as well as many women religious and other lay faithful.
To find a more recent gravesite:

We have two grave locators in the entrance to our Family Services Center. The locators have the ability to print out maps to assist you in locating burial sites and is available for public use during the normal gate hours. You also have the option to stop at our Family Services Center for directions and maps. 1
Holy Sepulchre now has an online locator at their website:
http://www.holysepulchre.org/locate; [Locating a Loved One]
To find historic graves within the cemetery consult
RootsWeb Rochester page and scroll down to Holy Sepulchre. There are a number of pages containing entries.
Notable people buried here are Louise Brooks (silent film star), Ralph Quattrociocchi (former New York State Senator), and Rattlesnake Pete (charming eccentric?).
Notes and References

Comments:
Note: You must be logged in to add comments