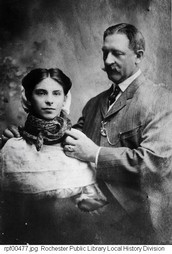 Rattlesnake Pete wrapping a snake a around woman's neck to treat goiter. Credit: Rochester Public Library Local History Division Rattlesnake Pete (1858-1932) was born Peter Gruber, and a case can be made for describing him as either sophisticated con man or charming eccentric. Regardless of which is label more accurate, he is a much loved figure in our city's history. He could charm a snake, literally, and using that ability he made a lucrative career of providing Rochester with ample doses of snake oil, both figuratively and (more or less) literally.
He was born and raised in Oil City, Pennsylvania where he learned to catch snakes from the local Indians he befriended. As word of his skill spread the name he is known by today began to stick: Rattlesnake Pete.
After moving to Rochester in 1890, he opened a museum and saloon that met instant success. It operated for over forty years as a showcase for his snakes, odd collections1, and above all: his personality.
According to Betty Meyer, the bricks from Rattlesnake Pete's establishment on Front Street now reside at Betty Meyer's Bullwinkle Cafe.
He is buried in Holy Sepulchre Cemetery. View his grave at findagrave.com by
clicking here.
1The first electric chair used by New York State, for example.