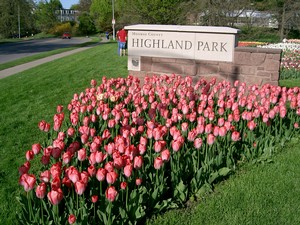 Spring in the park
At over 110 years old, Highland Park is one of Rochester's oldest parks. In fact the initial gift of 20 acres from Mount Hope Nurseries in 1888 caused Rochester to form a Parks Department, which hadn't yet existed.
A little pre-history: Started in 1840, Mount Hope Nurseries quickly grew into the area's largest nursery and ultimately the world's when it peaked in size in 1888 at over 650 acres on the city's south side. During that same year the owners
George Ellwanger and
Patrick Barry decided to donate a small parcel of their land set on the side of a foothill to the city to create a public area to view all of what the duo could offer.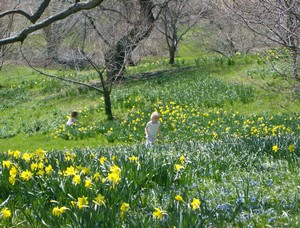 Beginning with a pair of everything they carried and handfuls of hardwoods the parks landscape was started. In 1892, under the direction of the new superintendent of parks Calvin C. Laney, horticulturist John Dunbar began the park's Lilac collection with 20 varieties, some of which were descendants of native plants brought over by early settlers. Overseeing the park's design was Frederick Law Olmsted (of Central Park fame); his goal was to give the park a naturalistic feel. For those who wish to gain a little more knowledge about the wide variety of lilacs on display in the park, there is a short walkway among a series of lilac bushes that have numbers and names attached to each type of plant. The path begins just west of the flower bed that sits on the north side of Highland Ave and features about 20 plants with labels that give both their common and scientific names.
Almost immediately people started gathering at the park when the lilacs would bloom and in 1898, Rochester held its first official Lilac Festival for a crowd of around 3,000. Today over half a million people visit the 1,200 specimens that make up about 500 different varieties of lilacs covering about 20 of the park's 155 acres.
Of course Highland Park is not just about lilacs. There are many other reasons to visit including other plants like azaleas, cherry blossoms, forsythias, rhododendrons and more! In fact there are over 35 varieties of magnolias alone. Visit in spring for the thousands of bulbs and wildflowers and in the fall for the large number of trees. Don't forget to check out the big rock garden with little evergreens, the Lilac Arches, Lamberton Conservatory and the Sunken Garden. A small field of sunflowers is one of the newest editions to the park. Located on the the southwest corner of the intersection of Goodman and Highland, this section of the park allows visitors to stroll amid a sea of sunflowers that are often as tall as those enjoying them.
Some of the several interesting attractions at the park:

Awards
Notes and References

Links

Photos
Comments:
Note: You must be logged in to add comments
---
2009-05-17 16:02:53 You may wish to add a reference to web pages devoted to the Iris Friendship Garden in Highland Park in Rochester. Go to:
http://zydecoirises.com/Inspiration/IrisFriendshipGarden.html —PatrickOConnor
---
2011-05-25 04:10:31 This park is one of the beautiful hidden gems we have here in the city of Rochester. The botanical garden (Lamberton Conservatory) is a delightful way to spend time looking at the many beautiful plants and flowers within the park. The rolling hills dotted with lilac bushes,trees,greenery, walking trails and benches create a nice haven for park visitors to sit and relax and enjoy. If you are new to rochester or just visiting...make sure you stop here and visit. —RobertStar