From the 2009 Festival, May 2009
Located in Rochester's scenic Highland Park, this festival is widely regarded as the kick-off of summer and usually starts around May 10th and runs through about the 20th. There's plenty of blooming lilacs to see, as well as a host of other things, including live music, and Dan Quilty, the shirtless guy with the grey beard who dances in front of the main stage.
Getting Involved
Contact information is available on the
Official Lilac Festival website for those who wish to become a sponsor, vendor, or exhibitor, or to participate in the parade in future years. Applications are required to become eligible to win the title of Lilac Festival Queen. Girls 15-18 who are enrolled in Rochester area schools were eligible to apply. The application can also be found on the website.
History
In 1892 under direction of the new superintendent of parks Calvin C. Laney, horticulturist John Dunbar began the park's lilac collection with 20 varieties, some of which were descendants of native plants brought over by early settlers. Overseeing the parks design was Frederick L Olmstead (of Central Park fame), his goal to give the park a random and natural feel.
It was around that time that people started gathering at the park when the lilacs would bloom and in 1898, Rochester held it's first official Lilac Festival for a crowd of around three thousand. Today over half of a million people visit the 1,200 specimens that make up about 500 different varieties of lilacs covering about 20 of the parks now 155 acres.
While the name focuses on lilacs the festival is about so much more. There are lavish arrays of flowers and attractions, special events and people, drinking and food. The celebration as a whole is the largest of it's kind in America and at the same time one of the last free festivals in the country.
There is something for everyone as it's a family festival, there is everything from school bands and local speakers to parades and live music like rock, jazz, blue grass and more. For the kids there is juggling, sing a longs and plays. For the energetic there is an annual 5k and 10k run.
While the festival may be free, there are ways to spend money. Pick from food and drinks to crafts and local art. Of course no self respecting festival of flowers would be complete without vendors with flowers.
Of course Highland Park is not just about lilacs. There are many other reasons to visit including other plants like azaleas, cherry blossoms, forsythias, rhododendrons and more!
For more information please read about the history of Highland Park.
Photos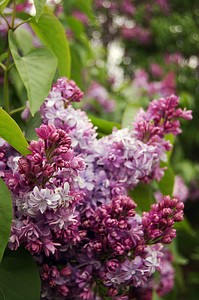 photo by Matt DeTurck, 2008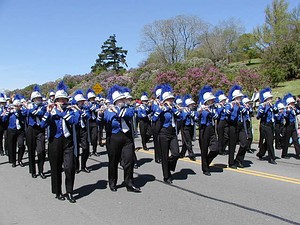 Photos: Lilac Festival Parade 2002 by RocPic.Com
Photos: Highland Park Lilacs April 20th 2002 by RocPic.Com
Photos: Highland Park Lilacs April 27th 2002 by RocPic.Com
Photos: Highland Park Lilacs May 4th 2002 by RocPic.Com
Photos: Highland Park Lilacs May 11th 2002 by RocPic.Com
Finding Quiet Places
Sometimes you just need to get away from the throngs of people. The vendor area is absolutely packed, but there are some quiet spots to be found.

From the Handicapped Parking area ($5 in 2007 and 2008) off of South Avenue, go behind the first batch of food vendors on your right. This puts you in the Carnival/Kid's Area. The War Memorial is quiet. People are generally respectful, but the atmosphere can be a little... well, somber.


Continuing from the Carnival/Kid's, look for the AIDS Memorial Garden on your right. Its only indicator is a large flagstone in the ground. It's reasonably quiet, but teenagers sometimes wander in. However, if you skirt the edges of the garden, you'll see small dirt paths that veer off. Take the paths and you can enjoy just about as much quiet me time as you need. Some of these paths appear to be maintained by a local scouting troop.


The Conifer section of the park, by Goodman Street, is nice and quiet, particularly if you wander off the paths.


The Poet's Garden, just west of the Magnolia trees and south of Lamberton Conservatory is a little tough to find and in ear shot of the concerts, but is still largely untraversed by your fellow festival attendees.


It's outside of the Lilac Festival boundaries, but the portion of Highland Park between South Avenue and Mt. Hope Avenue is also quiet, with the notable exception of the area round the Castle.
Awards
The Lilac Festival was voted "Best Festival" in City Newspaper's 'Best Of' Awards in 2008 and 2009.12
Comments:
Note: You must be logged in to add comments
---
2007-03-27 13:20:26 Parking can be a nightmare. Does anyone know if there are shuttles running from far away parking lots and if there are any sort of accomodations for those who can't walk? The festival coincides with my graduation this year and I would like to bring my grandparents to the festival, but they can't walk very far. —RachelBlumenthal
---
2007-03-27 13:23:31 There were some shuttles last year from the downtown area. Frankly, I park over near The Distillery and walk. This year Mike Doughty is playing in the big performance area. —KimBee
---
2007-05-09 16:23:57 Hello All, Im not sure where to post this so I'll start here and if I need to post elsewhere please let me know! I was wondering if anyone had any information regarding the memorial tags on many of the lilacs trees. How does someone go about getting a tag, and are the tags all registered somewhere so that people can find a loved one...
Thanks in advance for your responses.
Nick Lucci —NickLucci

---
2008-03-28 22:45:53 The Kettle Corn stall at this festival sells one of the tastiest kettle-corns I have ever had. I bought the mega-size bag and had it for breakfast, lunch and dinner for about five days and still didn't get tired of it. It's addictive! Don't miss it! It's definitely worth standing and waiting in the long queue for! —TinyPliny
---
2008-03-29 18:17:34 Oh my goodness, I love the kettle corn. It's like the official beginning of festival season for me! —SaraChristine
---
2011-11-21 19:21:58 This is a review I originally posted on Yelp:
I used to live very close to Highland Park, and every year it was 10 days of hell, with closed streets, cars parked across the driveway, trash dropped on the lawn, and having to listen to lousy music blasted far too loud, enough to be heard inside the house, with closed windows.
As with most local festivals, it started out as a good thing, a single Sunday festival held in Highland park, with no vendors permitted. But, now, it seems to exist solely for every manner of food purveyor, salesman, huckster and travelling carnie to make a few bucks off the event. Tour busses come to see the lilacs on the weekdays (when Highland ave. is open), and all they do is dive slowly once around the park, never stopping, then off they go to wherever the next stop is.
Quite possibly the WORST part of this 10-day long vendor-fest is the placement of food vendors right in the lilac gardens. You try to actually SMELL the flowers, but all you can smell is animal fat burning on the grill. Oh, and the inebriated people at the beer tents really add a bit of crassness to an already low-brow affair. It seems that NOBODY actually cares about the lilacs.
If you're lucky, the lilacs will be in full bloom the weekend BEFORE the festival starts, and that is the best time to see them. By monday, though, the first tents will be appearing, the electricians will be laying down wire, and the place will already be transforming into a circus. Thwe week AFTER the festival, there are still trampled lawn, broken lilac bushes and trash needing attention, so if you didn't see the flowers the week before, you've lost your chance.
We finally had enough of this pandemonium, and moved away from the Highland Park area 5 years ago. I haven't been back to the festival since, and I don't miss it one bit.