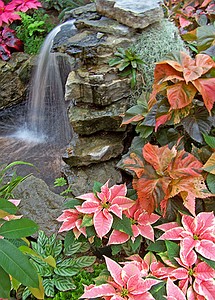 Tropical Dome, December 2009. Photo by CntyParks
Location
171 Reservoir Ave, Rochester NY, 14620
Hours (as of January 2010)
Daily 10:00AM to 4:00PM
Phone
585 753 7270
Accessible
Yes, and Wheelchair available in lobby to borrow
Website
Highland Park
Admission
By Age: 0-5 = Free 6-18 =$2; 19-61 =$3; 62+ =$2
Annual Pass: Individual = $10; Family = $30; Institutional = $50
Located in Highland Park, the Lamberton Conservatory displays exotic flowers and foliage plants from around the world in lush tropical settings.
Originally constructed in 1911, the Lamberton Conservatory was named in honor of Alexander B. Lamberton who was the President of the Parks Board from 1902 to 1915. Original funding from the relatives of Lamberton provided for the building costs and allowed for continuous specialized exhibits of diverse plant species. Already a nationally renowned arboretum designed by Frederick Law Olmsted, Highland Park's horticultural status was certainly heightened by its construction. The conservatory also contains numerous turtles and quail throughout the display areas.
Special events and exhibitions of far off floral wonders continued to delight generations of Rochesterians. The structure would expand over time and its interiors would become known as a tranquil destination or even a tropical respite to Rochester's chilly winters.
Among the popular attractions at the Conservatory are seasonal floral displays. Exhibits are changed five times throughout the year; the spring flower display is always a highlight for visitors to the Lilac Festival.
The Parks Department rents the conservatory for wedding ceremonies and other events before and after normal public viewing hours on Friday, Saturday, and Sunday for $100/hour (see
Monroe County Reservations).
Renovation
By 2006, deterioration to the original building could not be repaired cost effectively; like most historic structures of that period, time had just gotten the better of it. More than 80% of the original steel and glass were still in the structure and high temperatures and humidity, required for the tropical displays, had taken quite a toll on them.
In 2007, the Parks Department sought one million dollars for a complete tear down and historic reconstruction, maintaining every possible detail of the original design.
Workers dis-assembled the original Conservatory right down to its foundation and reconstructed it with modern materials, as an exact replica of the historic structure. The previous steel framework became a pattern for the new galvanized steel framing system. The project included salvage, refurbishing, and reuse of the original interior cypress gutter system, the operable ridge-vent, the exterior cast iron gutter system, and the memorial to Alexander B. Lamberton mounted over the front doors.
As a result, the newly restored section of the Conservatory has approximately 1,800 square feet of floor area and boasts nearly 1,000 brand new panes of glass specially formed for the structure.
Photos
Tropical Dome, November 2009. Photo by CntyParks
Desert Environment, November 2009. Photo by CntyParks
Mid-renovation, Spring 2009. Photo by CntyParks
Lamberton Conservatory - prior to reconstruction, Dec 2007. By RachelBlumenthal
Lamberton Conservatory, February 2008. Photo by MariahBetz
See Talk Page for discussions about the content of the page.
Comments:
Note: You must be logged in to add comments
---
2007-02-12 20:38:16 I'm sad to see that they are now charging $2.00 per visit! I remember when it was once free, and I railed against the county's decision to charge admission b/c I knew that once they started to charge, increases would be inevitable. So, I can only assume that as the county's budgets become tighter, and redder, it will eventually have an admission fee that rivals the Zoo, which was once free as well. —CarlGo
---
2007-11-30 11:46:49 The Conservatory is starting to show some serious decay. Still, this is one of my favorite places to visit year round. —JasonWilder
---
2007-12-04 11:11:51 A lot of the flowers seemed to be dying, but there were still plenty of pretty and interesting ones when I went there a few days ago. I took a bunch of pictures—check out my album
here if you're curious about what kinds of things you can see at the conservatory! For just $2, it's definitely a nice place to spend some time once in awhile. —RachelBlumenthal
---
2008-02-06 20:00:48 I would go in and warm up when slding as a kid it was so nice in the tropical area but te fee maybe to keep out people who are homeless so the better off don't have to look or smell them so they can just die of the cold because their are no places nice for them to go.It should be open to all, all times I would pay $500 for life time pass I love horticulture but they need more non-CACTUS Succulents but it is the best we got and more than alot of communities.I would love to volunteer tthey sould have days when the community comes in and help maybe get rid of the $2 fee. —N8Riley

---
2008-06-02 03:08:41 I had my wedding here and it was absolutely amazing. They ended up letting us hold the ceremony for free and were very accommodating. Highly recommended if you're having a smaller ceremony and want to blow your guests away :) —MariahBetz
---
2008-06-02 03:21:53 I have to add a comment about the dying flowers that Rachel observed on 12/07... they seem to have corrected the issue and everything was flourishing beautifully when I visited in the spring of this year. —MariahBetz
---
2008-06-29 15:11:23 The conservatory is undergoing a massive reconstruction project at the moment. It's worth a drive by to see, if only for the sight of a palm tree growing in the open air in Rochester (presumably relocated from inside the structure for the duration of the renovations). —JoeAnderson
---
2012-12-17 13:34:11 Went today for the Poinsettia show... What a great little jewel in Rochester!
---
2013-03-05 08:12:36 The conservatory is a wonderful place! It's my winter mini-vacation get-away. By Feb. or March I am just DONE with winter, and longing for warmth. The tropical room with the babbling brook, the sweet little turtles and birds, the exotic plants towering overhead and the so-welcome humidity and greenness...that's my secret to surviving late winter! I can't believe anyone complains about the price of admission. $10 per YEAR is a DEAL! Well worth it. As for those who are unable to pay that fee, maybe a "random acts of kindness" center could be set up, where people could choose to sponsor a free membership, which could then be given to someone coming in who is unable to pay. —BarbaraHealy

---
2015-03-23 12:27:53 This is such a wonderful little hidden gem in Rochester. Despite being a poor graduate student, I make a point to buy a membership every year; its well worth the money. Visiting year round is great, but I make a point to go sit in the cactus room in the middle of winter, when I'm really getting some seasonal blues. —LauraShum