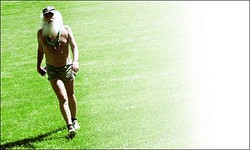 Dancin' Dan Quilty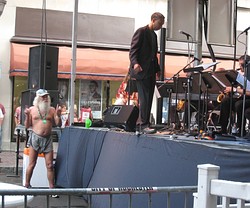 Another Sighting, at the 2008 Jazz Festival, 06-2008
Dan is the ubiquitous shirtless guy who dances at all our local festivals, commonly known as "Festival Guy."
Age: 69 (in May 2014)


Residence: Rochester, NY


Education: Bachelor of Arts in economics, Fordham University; Master of Divinity, St. Bernard's School of Theology and Ministry


Occupation: Retired Monroe County parole officer.
Dan was also featured in an article in the
Democrat and Chronicle on May 4, 2008 (article likely expired).
According to
Channel 13 Dan was arrested on June 21 around 10am for sunbathing nude on the sidewalk outside his home. The report states he was intoxicated and refused to go inside. He was arraigned on Misdemeanor charges of disorderly conduct and public lewdness. On July 21, Rachel Barnhart of Channel 13
received a letter from Dan in jail, stating that he wants to change his life, get sober, and wear clothes more often.
Sightings!
He's also been seen fairly often during the colder months at Spikes and JD Oxfords on Monroe Avenue.
I have seen him at many of Rochester's clubs for the 7 years that I have been going out, including club red, club vibes, centers and others.
I've seen him several times at a bus stop on Mt. Hope, right around the corner from the Ford Street Bridge, around 9am on weekdays. (He was fully clothed.)
Ebaum's World has this
video.
Festival Guy to the MAX! Dancing Lilac Fest 2007
to The Buddhahood - Worry Tune
When I was a kid, my father used to sing with Dan in the choir at St. Andrew's Church on Portland Ave.
Saw him walking around the East End in his classic attire frequently throughout the summer of 2015. Friendly guy.