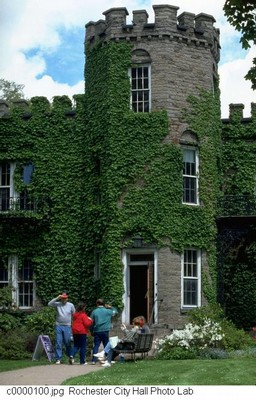 Warner Castle is an actual castle located in Highland Park and home to the Rochester Civic Garden Center. It has a library and sunken garden. Admission is free and it is also available for rental as a special events venue. Located off Mt. Hope Avenue in the Lilac Neighborhood.
History
"The Sunken Garden ... is one of Rochester's landscape architectural treasures .. designed by noted Landscape Architect Alling Stephen DeForest, 1875-1957.
Warner Castle was designed by Horatio Gates Warner and built as his private residence in 1854. In 1912, Frank and Merry Ackerman Dennis, owners of the Dennis Candy Factory and candy stores purchased it. They commissioned DeForest to design gardens for the site beginning around 1920. His plan for the grounds included the Sunken Garden completed in 1930, a courtyard, rose and woodland gardens.

Alling Stephen DeForest,... contributed to a wide variety of landscape designs, both public and private, during the early 20th Century. ... early training at the prestigious Olmsted Brothers firm in Brookline, Massachusetts. Frederick Law Olmsted, considered the father of landscape architecture in America, was the founder of the firm. DeForest's most notable projects were the original landscape of the George Eastman House on East Avenue in Rochester ...

Frank Dennis died in 1927 and Merry Dennis continued to live in the castle until her death in 1936. Dennis' relatives contested her will and the estate was not settled until eight years after her death. The castle became a sanitarium in 1944 when it was purchased from the estate by Christopher Gian-Cursio a self-styled naturopath.

The City of Rochester bought the property in 1951 and the castle and grounds became part of Highland Park... " 1
Civic Garden Center
The Rochester Civic Garden Center, a not-for-profit horticultural education center, is chartered by the Board of Regents of the State of New York. Our mission is to improve the quality of life in the Genesee Region by fostering knowledge, providing information, increasing interest, and promoting all aspects of gardening and horticulture. 2
Catacombs?
There had apparently been at one point a catacomb entrance located in the sunken garden that has since been sealed. If anyone has any information pertaining to them, please add what information you can share (size, appearance, exact location, access). There is an open Q and A on this topic.
Comments:
Note: You must be logged in to add comments
---
2019-11-09 10:40:09 I know someone who is a wedding photographer and was taking pictures of a bridal party I the sunken garden. When she looked back at her pictures there was, along with the bridal party, the spirit of a little girl between 4 and 10 years old, dressed in a white lacy dress, standing close to the bridal party and just looking at them. I have been trying to trace who this girl could be....Does anyone know if Frank and Merry Dennis had any children? Or the name of the Sanitarium that Christopher Gian-Cursio changed the castle into? —KristinaNiemiec