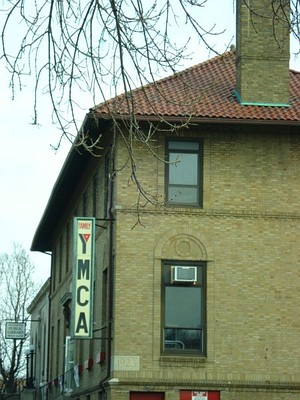 Monroe YMCA (4/2008)- Photo by Tricia Seymour
Location
797 Monroe Avenue, Rochester, NY 14607
Hours (as of April 2009)
Monday - Friday: 6:00AM to 9:30PM
Saturday: 7:30AM to 6:00PM
Sunday: 12:00PM to 5:00PM
Phone
585 271 5320
Website
http://www.MonroeYMCA.org/
Monroe Family YMCA is a branch of the YMCA of Greater Rochester housed in an older building on Monroe Avenue next to the library, near I-490. There are a lot of activities in the building, despite it's small size, including a Montessori preschool, childcare, a pool, a weight room, a new Cardio Theatre, Aerobics, yoga and other classes.
Parking can be hard, but there is usually plenty of street parking within a block or two.
Comments:
Note: You must be logged in to add comments
---
2011-08-29 14:35:22 Based on my needs for a gym membership for myself to get access to treadmills & weights this place is small but convenient if you live close-by. It is difficult to get a treadmill in the evening during the winter. Weight room is small but well maintained & usually not too overcrowded.
They do a lot of stuff for kids here & the staff in very nice and good with kids so if you're looking for stuff for your kids in the neighborhood check this place out.