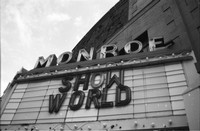 Monroe Avenue location.
Show World is an adult book store and head shop1. There were two locations, one on Monroe Avenue in the old Monroe Theatre (which is now closed) and another on Brighton Henrietta Town Line Rd.
Awards
Show World was voted "Best Adult Bookstore" in City Newspaper's 'Best Of' Awards in 2008 and 2009.23
Comments:
Note: You must be logged in to add comments
---
2008-06-02 01:20:50 This is a landmark building with a rich history. Someone expand this section... I don't know enough about it to do it myself. —MariahBetz
---
2008-06-02 09:56:55 Mariah is right, but I'm only vaguely educated about this building. While the Cinema down the street was a rather modest theatre in days of old, the Monroe was stunning. It was I know at one point converted to a Cinerama theater and many Rochesterians have fond memories of seeing The Sound of Music here (one of the few successful Cinerama films, it apparently ran at the Monroe for years). I did manage to brave the interior a few years ago and the screen is still in the back and there are several speakers remaining. The owner/manager realized I was one of "those" people and started yelling at me to either purchase pornography or leave. The beautiful wrought iron relief has been spray-painted black by said owner as well, so we know where he stands with historic preservation. The city was rumored to at one point purhchase the theater in order to convert it to a performing arts house (Garth Fagan was apparently interested in this becoming a potential permanent home), but like political maneuvers it was half-hearted and therefore never came to fruition. There was bad blood between the city and the owner of Show World, which apparently prompted him to paint it these atrocious colors and plaster an American flag on its side.
It looks like that at this point Rite Aid may bulldoze all but the building's facade, ruining any hope of historic restoration. —RochesterGuy

---
2008-07-07 20:59:10 Work crews started to dismantle the awnings and signs now that the owner has moved out of the building on Monroe Avenue. The apartment building next door at the corner of Goodman Street is now vacant and will razed in a few weeks with the back of the Monroe Theater. The facade of the theater will be sandblasted to remove the ugly green color and stay. Plans are to build a new Rite Aid, parking and condos in the area. —ScottHendler
---
2022-10-27 14:11:05 Working on a Comedy Theater here. —monroecomedy
1'Head shop' meaning nothing related to its context in this instance. That would be illegal. Instead we should understand 'head shop' to mean the almost illegal practice of selling ornate and elaborate tobacco smoking paraphernalia. They are also rumored to sell nitrous oxide canisters for your culinary needs, and amyl nitrate substitutes in case you ever find emergency need to dilate your blood vessels or clean old video tape heads. Really though, their tobacco accessories (not to be mistaken as recreational drugs or paraphernalia) just occupy one small counter of the store. Show World is first and foremost a porn shop.
2http://www.rochestercitynewspaper.com/entertainment/guides/2008/11/BEST-OF-ROCHESTER-2008-Readers-choice/