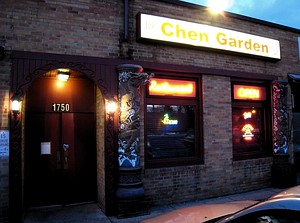 Chen Garden, Early Evening, 12-2008
Location
1750 Monroe Avenue, Rochester NY, 14618
Hours (as of April 2011 per website)
Monday - Thursday: 11:30AM to 9:30PM
Friday & Saturday: 11:30AM to 10:30PM
Sunday: Noon to 9:30PM
Phone
585 241 3070
Email
<chengarden AT rochester DOT rr DOT com>
Website
http://www.chengarden.com/
Reviews
2008-12-13 Rochester Food Blog review
Chen Garden is a Chinese restaurant on Monroe Avenue in Brighton, near Twelve Corners. A lunch and dinner menu is available on their website.
It opened in 2002. Previously owned by Scott and Sam Chen. New owners took over in late 2022.
Awards
Chen Garden was voted "Best Chinese Restaurant" in City Newspaper's 'Best Of' awards in 2010.1
Comments:
Note: You must be logged in to add comments
---
ADMIN NOTE: comments previous to 2008 are now archived in Chen Garden/Comments
---
2008-02-16 22:25:05 Can't believe we have been driving by this place for years and never tried it. Changed that tonite. Really a step above most other Chinese restaurants. Service more relaxed, not so hurried. Surroundings also nicer than the average Chinese place. The food was great, they have all the usual dishes plus some more unusual stuff, there was a special Chinese new Year menu when we were there. Their spicy wings, while not really all that spicy to my taste, were still excellent. We tried four dishes and were pleased with them all. After all that, our bill was very reasonable, we had one appetizer (the wings) four entrees, and four drinks from the bar, and total was $80 so $20 per person, that's good in my book for what we had. —DottieHoffmann
---
2008-03-01 16:33:39 The atmosphere is fantastic, but the food isn't anything spectacular. That's not to say that it's bad, but it isn't anything very special as far as Chinese goes. —LincolnComet
---
2008-09-19 15:07:40 Easily the best Chinese food in Rochester. —MarcusKroll
---
2008-12-10 12:29:23 Good, not great, Chinese food in a classy setting. —BatGuano
---
2008-12-20 19:43:15 An above-average, not great, Chinese restaurant — say a 6.5 out of 10. We've eaten there occasionally, including tonight. Tonight we had: Stir-fried Shanghai noodles w/ vegetables: Good texture, although a bit too sweet.
Sauteed string beans: ok.
Crispy boneless chicken: a disappointment, as the breading was very thick and doughy, and the chicken and accompanying sauce relatively flavorless.
While not our favorite restaurant, it is quite respectable. —LePetitChien

---
2009-04-10 21:37:55 You cannot beat there lunch special. For under $7 dollars you can get (Chinese noodles, hot tea, fresh spring roll, soup of your choice, and an entree of your choice). The quality of the food is amazing and the service is always friendly and prompt. We patronize the restaurant often! —ChefRamsey
---
2009-07-04 19:22:36 The Grateful Dead of restaurants. By far the best restaurant experience I've ever had. —PeteButtrill
---
2009-07-18 22:53:24 Went for the first time and it was wonderful. This is our new go to place for Chinese food. —Tori
---
2009-08-23 02:48:28 It is a nice place. If you know what to order, you can actually get some pretty authentic Chinese food that you would not find in other places in Rochester. —lil.lyn
---
2009-12-20 11:39:21 My favorite Chinese restaurant in Rochester. Excellent food in a very relaxing setting. Picky eaters like me can get any chicken dish with all white meat for an extra 75 cents. —TimCrist
---
2009-12-31 12:01:17 Went on XMAS evening for the 1st time with about 500 other people. Could not believe the size of the menu. Thought the food was very good and considering the size of the crowd thought the service was excellent.Plan to try again but probably not on the busiest night of the year. —almorinelli
---
2010-03-09 13:27:20 We used to love Chen Garden. The food was good — including great MaPo tofu, which my husband loves. A few times our takeout order was screwed up - an item missing, or wonton soup instead of the noodle soup we'd ordered, but on each occasion we called, and they made good by giving us a free order of that dish the next time. So this was our default Chinese place - until recently.
The last time (and I mean LAST time), my husband called in the order and I stopped by to pick it up on the way home. While I was waiting for the food to be ready, the counter woman rang up my order and I paid. She went back to get it, then realized that my husband had already paid when he ordered. She started to refund my money, and said, "It's not a big deal." I told her - politely - that it was a bit of an inconvenience, as I had to wait for her to process the refund, and my family was waiting for the food. She proceeded to argue with me about whether or not I felt inconvenienced, even going so far as to say that it was MY FAULT she double-charged me - because I had come at 5:10, and the order wasn't supposed to be ready until 5:15. Now, I've had some craptastic restaurant experiences in my life, but I've never had an employee insist on blaming me for their own screw up.
Possibly she didn't realize what good customers we were (we used to patronize Chen's several times a month, and had done so for 8 years), but I'm simply not going to keep paying money to an establishment that treats me so poorly. Yeah, their food is good, but not great. Ming's on S. Clinton, or New Ming, are both equally good and much more friendly. Sorry, Chen's Garden, but with one bitchy, self-righteous, defensive employee, you've lost several hundred dollars' worth of business per year. —ZeldaPinwheel

---
2010-09-19 12:13:43 My go-to place for Chinese. The picture menu makes ordering simple. I enjoy spicy food; last time I went I asked for my dish to be "extra spicy" - but being a young white female, ethnic restaurants often translate my request into "scatter a few miniscule bites of jalapeno throughout the entire entree" - however, my meal was actually very spicy - yum! I could even go here just for the bar, with their unbeatable mixed drink menu - garnished with a tiny umbrella, their tropical and traditional concoctions strike the perfect balance between sweetness and strength for only $4-$6 each. —AJH
---
2010-11-17 19:48:41 Delicious! I tried the tofu vegetable clay pot and was thoroughly impressed with the way the vegetables and tofu were cooked as well as the flavor of the sauce. They have excellent vegetarian selections and a huge menu of meat and seafood dishes. The scallion pancakes were delectable! The food is delicious, prices are very reasonable, the atmosphere is nice, and the service is great. Can't believe it took me this long to try this place- I think it definitely deserves the City paper's "Best Chinese Restaurant" award. —TrishHeckmann
---
2010-11-27 20:18:14 I really tried to like this place. The first time we ordered was about a year ago, based on the recommendation of a neighbor. The food was literally so salty it was inedible. We threw it out and had pb&j.
---
2010-12-27 01:34:32 Fantastic chinese restaurant. Atmosphere is great, and the food is very good for it's price. —DE
---
2011-01-06 14:07:19 Have eaten here several times now and everything that I have ordered has tasted very similar. Ordered an order of General Tso's chicken to go and it smelled exactly the same as Schechwan Pork that I had just finished. There is some overriding "burnt" wok flavor that permeates everything I have tried there. I prefer China Garden Kitchen on Winton. —DominicFeira
---
2011-02-19 19:32:11 took over an hour and 45 minutes to get a delivery….wow —Dsmith
---
2011-04-30 14:47:03 I have had lunch at Chen garden a few times and mean to try different dishes. But I always wind up going back to jumbo shrimp with Szechuan sauce. I think I could eat that every day. It is very good. 4 Large shrimp, broccoli and other veggies. Love it.
---
2011-05-23 13:53:37 Used to like this place, but recently not the greatest experiences. The service is definitely NOT the best and some of the more authentic offerings I used to enjoy here are slipping in quality. Heard a rumor their chef has moved to open his own restaurant which could explain a lot. Don't get me wrong, the food here isn't bad, it just isn't as good as it once was... —sieats
---
2011-11-21 15:24:17 By far the best Chinese restaurant in town! ***** —PatrickLippa
---
2011-11-21 16:21:05 This is a review I originally posted on Yelp:
I live very close to Chen's, so I eat there a lot. The menu is fairly wide, encompasing all the traditional Chinese dishes, as well as Thai dishes. All the food is cooked well, although many of the ordinary Cantonese dishes are a bit bland. They do make a stellar hot & sour with chicken soup for 2, but the regular H&S single serving soup is just adequate. Still, the prices can't be beat...
My biggest beef with the place is the awful interior, and the haphazard service. I usually just order takeout, but when I do eat in the dining room, there is usually something annoying that happens.

---
2012-01-23 15:58:46 Without a doubt, the best Chinese food in the area! —HonestReviewer
---
2012-04-15 21:40:57 My favorite chinese restaraunt. Their duck sauce is delicious, and I am a huge fan of their shredded pork in brown sauce. So delicious!
---
2012-06-19 12:48:14 Update to my earlier post, tried it again recently and food was back to excellent. The clay pot dishes are unbelievable. Alex-C did get it correct when he said that service isn't so great and there is ALWAYS something that annoys whenever I eat there. —sieats
---
2012-06-19 16:45:28 FWIW, I've given up on Chen's for lunch. That 'crabby woman' who takes your orders ALWAYS screws up something, and never gets you the condiments you need (c'mon, give me some mustard for my eggroll, and don't give me any lip, either!) Last time, she had to 'make over' my food because she wrote it down wrong, so I sat there for 20 minutes. While I was there, some poor woman came in, iPhone in hand, and explained that she'd been on hold for 20 minutes, and had just given up and driven over. They weren't even busy at the time!
I suspect that the crabby lady is part of the family, and that is a problem. I suspect they are getting burned out on the business. At the very least, SHE should retire before she destroys what's left of the business. I've given up on them, and I'm sure others have as well. —alex-c

---
2012-07-23 15:52:34 I like the Chen Garden better than the other Chinese restaurants in Rochester, but then again I haven't found Chinese restaurants to be one of Rochester's culinary strengths. I've found the food at the Chen Garden to be nicely prepared but not special, satisfying when you want a nice moderately authentic sit-down Chinese dinner but not generally memorable. —GeorgeOliver
---
2012-09-06 19:31:54 Haven't been here for a while. The food in a word: downhill. Placed a takeout order. Unless the chef was not in, the chef was having a bad day as the food was to be honest- not good. Even the pan fried dumplings were not worth eating: thick wrappers with just barely a golden tone on the wrapper where they should have "stuck" to the pot. The filling- solid insipid pork without any juiciness. The remainder of the dishes were over sauced and over cooked. The shrimp in particular were rubbery. For a five dish order, they said it would be ready in 20 minutes. Even for Chinese food, that is a litle quick. As others have mentioned, the front staff were not very welcoming. What happened to the owner who always used to be there? As opposed to previous visits, my son also noticed that there were no Chinese patrons which is usually a sign that the food may have changed. —LikesFood
---
2012-11-20 00:02:08 last week i ordered a chicken dish for lunch take-out and was in the middle of eating but bit into something really hard and i spit out a piece of metal staple. I threw the order out. —Irene