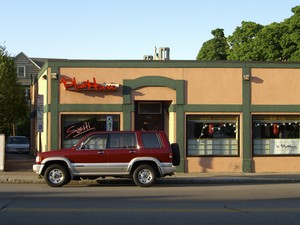 Plum House (w/ illegally parked SUV out front)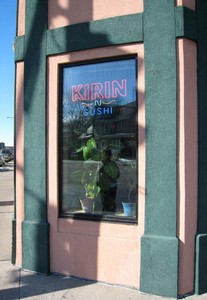 Kirin and Sushi - 2-2008
Location
686 Monroe Avenue, Rochester NY, 14607
Hours (as of February 2013)
Monday - Thursday: 11:30AM to 10:00PM
Friday & Saturday: 11:30AM to 10:30PM
Sunday: 4:00PM to 10:00PM
Phone
585 442 0778
Accessible
Yes
Alcohol
Yes
Website
http://plumhouserochester.com/index.php
Plum House is a Japanese restaurant in the 'Monroe Village' area of Monroe Avenue, at the corner of Oxford Street and Monroe Avenue. Delivery available.
The owners also own Furoshiki on Park Avenue and Revolution Karaoke in Henrietta.
Comments:
Note: You must be logged in to add comments
---
2007-03-31 23:04:23 Went here for lunch, the sushi was fine and I love the presentation of the lunch box trays. —TravisOwens
---
2007-04-11 19:16:57 oh man this place is expensive but goood. i get chicken teri. and an eel roll or two. it is so good. i can not afford to eat there as often as i would like to. rolls come ala carte so mix it up. trustworthy real food. —JadeRaven
---
2007-09-29 20:05:58 I've been here twice already and I'm happy. I'm not a sushi expert, but everything was great. The staff was very friendly and I found the prices reasonable (even better with a coupon from the Entertainment Book!). —DianaRodz
---
2007-10-21 12:40:30 Had a really good lunch experience recently. The chicken teriyaki was well seasoned and they let you substitute another roll (instead of the tekka and California that come with the box lunch) for an extra $1. The spicy tuna was delicious. It is on the slightly pricey side for lunch. But I would definitely go back. —OneLove
---
2007-10-22 08:31:59 I went here on a date this past weekend. The lighting was much too bright but the wait staff was friendly and the sushi was average to above-average. Total came to $60 with drinks, lots of sushi, tax and tip. —TerryVanHise
---
2008-04-18 13:46:35 A little pricey, but extremely satisfying portion-wise, presentation wise, and taste wise. I will probably return. —RoryGordon
---
2008-04-18 17:12:47 Meh. The maki were okay but didn't knock my socks off. The spicy tuna roll was pretty good but had a slightly fishy aftertaste. —OxfordWriter
---
2008-09-14 20:16:58 Their website says they deliver for orders of $20 or more, but they actually don't deliver for anything less than $30. —RyanTucker
---
2008-10-06 19:11:53 I love this place. Also, it's not true that the minimum must be $30. It needs to be $25, and I know this because I order delivery from them frequently and have been for about 2 years. Personally, I don't think it's a bad deal at all. I go to the U of R and love that they deliver because I don't have a car.
Spicy tuna, MMMMM. They have so many other good rolls too. Beef negimaki is also very good. I get it every time. —RochesterCalifornia

---
2008-10-23 13:01:46 Dined here on a rainy Wednesday evening and was surprised at the lack of nearby parking. Myself and another ordered a great deal of food for ourselves - a bento dinner box, nigiri sushi (raw fish on rice), and 4 specialty sushi rolls.
Bento box - I haven't eaten one of these outside of my own kitchen since I was young. Plum House's was average, but good. Lots of variety.
Nigiri sushi - We specifically stated we did not want these as a sushi roll, yet that's how they came out. When we pointed this out to them, they served us the corrected order but not without discourtesy.
Specialty sushi rolls - Again, there must have been a misunderstanding in the order, although this time, they would not correct the order.
Background information on reviewer - Grew up in family eating and making traditional sushi. Very interested in Rochester's specialty sushi rolls. —JenFromDC

---
2009-04-10 12:24:46 Undergraduate student from the U of R. The food here is a little pricy, but definitely worth it. I don't usually order out Japanese, but the wasabi shumai and their tempura lunch combos are all pretty tasty and fairly filling. They don't deliver unless over $25 though. —theGreenKnight
---
2009-06-17 17:34:48 The confusion regarding the delivery minimum is due to the constantly changing minds of the employees. Depending on whether the driver feels like driving that day (other than Monday, when they don't deliver), Plum House delivers. Don't, however, live 4.97 miles away, the equivalent of a 7 minute drive. They will ponder it, then call you back and say it's too far and that they do not actually know what their delivery limits are. This is interesting, because I used to live within walking distance of the restaurant, and the driver would do the same dance then, too. Your delivery depends entirely on his mood that day, and I say this only after repeated instances. This restaurant does, however, have DELICIOUS sushi at extremely competitive prices. I am not an expert, but I know yummy when I eat it, and this place is yummy - that's probably why I make such a fuss over delivery, because I've been spoiled on the Plum House and now I need it. —SarahP

---
2009-08-13 00:29:14 Has this place changed owners recently? I was there a few weeks ago and the vibe (and all the plates) were completely different. —OneLove
---
2009-10-27 17:15:54 This is the best sushi I have ever had. They have really amazing prices too. I recommend the Yummy Yummy Roll and the Amazing Roll —PaigeAllison
---
2009-11-24 18:21:18 Went for dinner with friends recently. Menu has changed, sushi chefs seem like the same guys but maybe somebody new bought it? The sushi selection, preparation, and quality were better than any previous visit. Very good with the more traditional stuff, and some really neat exotic offerings as well. Hope this trend continues. It was fair to good before, and is certainly above average now. —DottieHoffmann
---
2010-08-25 22:08:00 Went here for lunch with a friend. Service was friendly and very quick considering it was the lunch-time hour. I ordered the miso soup and the spider roll (one of my "tester" rolls for sushi places that I am trying for the first time) and both were DELICIOUS! Prices are much more reasonable than Piranha! I am eager to return to try more of their sushi! YUM! —Acarp
---
2011-02-13 23:43:54 This place is now owned by the owners of Sakura Home and Shogun Palace. I was here with a Groupon recently (which helped me feel less guilty about trying their more expensive rolls.) They have some interesting and creative rolls - my favourites were the BFF (yes..their roll names could use some help), Red Dragon and Spicy Crunchy Hamachi. The sushi chefs were friendly and well trained as the rolls came out rapidly but well prepared. The service was average - the server forgot twice about my Groupon and charged the incorrect amount on the credit card but it was rectified. I will be back! —OneLove
---
2011-09-30 21:49:33 food was ok. i know now that i like sushi for its simplicity. i ordered some house special that had a bazillion ingredients and it just didn't do it for me. service wasn't very good. the girl was distracted by flirting with the guys next to us anytime she was supposed to be helping us. she also had no knowledge of the beer menu. the kitchen staff were a riot, though. —IanNorfolk
---
2012-04-15 20:27:09 Best sushi in Roc. Monroe Ave FTW! —xanthm
---
2016-08-26 22:04:21 It's Sushi. —Cretinx