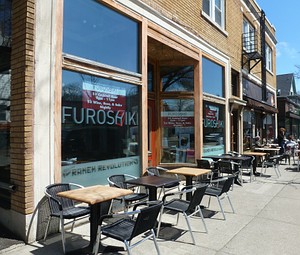 Location
682 Park Avenue, Rochester, NY 14607
Hours (as of January 2016)
Daily: 11:00AM to 10:00PM
Phone
585 771 0499
Wheelchair Accessible
No
Alcohol
Yes
Email
<info AT parkavenoodles DOT com>
Website
http://www.ParkAveNoodles.com
Facebook
Ramen Revolution
Furoshiki Kitchen & Cocktails is a Japanese fusion restaurant and noodle bar on Park Avenue. They describe their menu as "pan-Asian comfort food" with a focus on "real Ramen." They also serve brunch every Saturday and Sunday from 10:00AM to 2:00PM. They offer different types of ramen and extra toppings (kimchi, peppers, corn, etc.) can be added for additional cost. They also have a "gaijin" menu that includes sandwiches.
Delivery is available for orders of at least $20.
They opened in early December 2013.
The owners also own Plum House on Monroe Avenue and Revolution Karaoke in Henrietta.
Comments:
Note: You must be logged in to add comments
---
2014-01-05 18:21:50 Tried to go here about 8:30 last night, which was a Saturday. Hours on door said open til 11. Underneath was a handwritten sign saying "Closed." Since there were people inside, I went in and asked, and they said they were closing early because they "ran out of ramen." Hopefully this was a one-time mishap and won't recur... —ajh
---
2014-01-12 00:31:56 Went back around 8:30 tonight and this time they were not out of ramen. I had the chicken ramen and my husband had the pork, with extra spices added to both; both were delicious. Kale salad was excellent as well. Will definitely be back! —ajh
---
2014-02-09 08:56:28 I went here last night and was very impressed. Good food and a very nice bartender. Will be back. —EileenF
---
2014-02-09 19:27:00 We have been here several times, a couple just us and a couple times with friends. Very pleased each and every time. Pleasant and efficient service, nice variety on the menu, good execution of everything we have tried, and reasonably priced for the type and quality of the food. Will become one of our regular places, highly recommended if you are in the area. One recommendation, they do the "spice bomb" adder for the ramen soup bowls, we suggest asking for that on the side, so you can add only as much as you want. It is strong and you might not want the whole thing in your bowl. Other than that, enjoy ! —DottieHoffmann
---
2014-02-19 17:51:16 Myself and a group of friends went here last night for dinner. AMAZING! It was very very busy (good for them) but the service was still excellent. The food is so fresh and delicious! I will be coming back here for sure! —jcs3636
---
2014-10-26 21:55:37 I've been back twice since my first review. Have tried multiple varieties of ramen bowls now and all are consistently amazing. Huge portions for the price, too — I always end up taking at least 1/3 home. What is not such a good value, however, is the beer — $6 for a 12-oz bottle of Sierra Nevada Pale Ale or CBs Caged Alpha Monkey. I don't think I've ever even seen those beers on draft anywhere for prices that high. —ajh
---
2014-11-23 20:47:06 We have been there at least 4 times but this last experience was the worst we've ever had (well, it was the only bad one— the other 3 were quite good). It was pretty much all due to the waitress. We normally have the same waitress/bartender every time and she is great. She wasn't there last night, but whatever, no big deal.... Or so we thought. My husband ordered a sake bomb, described on the menu as "a 16-ounce PBR + a shot of sake." Instead of what was described on the menu, the waitress brought him a pint glass 1/4 full of beer (about 4 ounces). My husband pointed this out to her, and showed her the menu, and she said "oh I know; I'll be right back." She returns 2 minutes later, with the shot of sake.... but the (majority of) beer is still missing. My husband then points this out also, and she responds, "right, I'm coming back with that." Obviously she didn't have a clue how the drink was made, even though it was described clearly on the menu (it wasn't like she was carrying anything else that would have prohibited her from carrying the beer). She returns with the other 12 oz of beer, and soon after, with our food, which was excellent, as usual. But, she never stops back to check on us. I needed some water and my husband wanted some siracha sauce, but we had to flag down the bartender to get these things. (Noticed that the table next to us had to do the same, because the waitress didn't come back to them, either. Which was odd, cause the place wasn't crowded in the least— only about 4 tables in the whole restaurant.) So anyway, we got our water and siracha, and enjoyed the rest of our meals.... Until the bill. Instead of being charged for the sake bomb, my husband was charged for a sake + a beer (more expensive). Also, we were charged a $1 for the siracha, which is hysterical... what restaurant charges a dollar for hot sauce?!? Certainly, Furoshiki never had before! We decided not to mention the siracha thing to the waitress, but we did mention the drink thing, because that was clearly a mistake. When we did (pointing to the menu while describing, to show her the exact description and price), the waitress responded, "Well, we don't normally give the full 16 ounces." I said, pointing to the words "16 ounces" on the menu, "But it SAYS 16 ounces!!" (What the heck would they do with the rest of the can anyway, go back there and drink it themselves?!!) She said "Fine!" grabbed the bill and stormed off. When she returned, it was corrected. However, I don't think I'll go back there if I see that waitress is on again— she either did not understand the menu and/or did not understand mathematics, was lazy, and could not admit a mistake and instead was nasty about it. I hope to go back because we love the food (and normally the service is great), but if we see her there again, we will probably just keep walking and choose a different Park Ave restaurant instead (of which there are many good ones). —ajh
---
2015-05-26 16:53:23 Been there twice now - ate in once and took out once. I've had really great food both times. —DE
---
2017-01-28 18:55:33 I have been here about 5 or 6 times and been impressed every time. I've never had bad service. The pork belly steamed buns are very good. I was there with 2 people who this is really not their style of thing to like and the loved them.