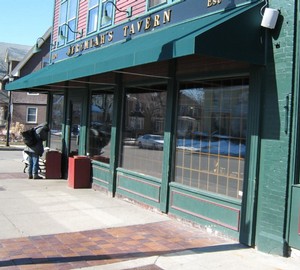 Jeremiah's Tavern, Monroe Ave 3-2008
Locations
Phone
1104 Monroe Avenue, Rochester, NY, 14620
585 461 1313
2200 Buffalo Rd, Gates, NY, 14624
585 247 0022
2164 Fairport Nine Mile Point Road, Fairport, NY, 14450
585 377 2233
1175 Jefferson Road, Rochester, NY, 14623
585 434 3338
Hours (as of August 2016)
Bar
Varies by location
Kitchen
Varies by location
Accessible
May vary by location
Website
http://www.jeremiahstavern.com
Facebook
Twitter
Reviews
2008-03-21 Insider review
Jeremiah's Tavern is a bar/pub with noted chicken wings and 20 beers on tap. They have a full menu, going well beyond typical bar food. The dining room is child friendly. They were founded in 1978.
It has 4 locations: one on Monroe Avenue in Rochester (flagship location), one on Buffalo Road in Gates (opened June 11, 2012), one in Fairport (opened in 2013) and one on Jefferson Road in Henrietta (opened August 22, 2017).
Awards
Comments:
Note: You must be logged in to add comments
---
ADMIN NOTE: Comments from before 2008 are archived in Jeremiah's Tavern/Comments
---
2008-01-05 20:39:34 I've actually been to eat here quite a few times, usually ordered a burger and a beer and it was decent. We went to eat on this past Friday night and they had a much fancier menu, no burgers on it, although I overheard the waitress tell someone else they could still order it. We had a $50 gift card and we had an appetizer, a pitcher of beer and two main entrees. It still wasn't $50! Not too shabby. I got the 10oz steak, with mashed potatoes on the side. It was cooked exactly to medium rare, but slightly less flavorful than a cut at an upscale steak house. The mashed potatoes were garlic and very tasty. My boyfriend got a stuffed parm chicken, with rice, and it was impressive looking. He really enjoyed it. We split mozz sticks (perfect) and there was also bread on the table. Besides being quite loud, it was a great and fairly cheap date! —SaraChristine
---
2008-03-26 15:36:59 Pretty much live there... been there so many times I can't even count. Never had a horrible experience & the wings are one of the best in town. Plus, they have Rohrbach's Scotch Ale on tap which is a beautiful thing! —TriciaSeymour
---
2008-04-05 12:22:14 Possibly our visit a few weeks back for a Friday fish fry was an anomaly for Jeremiah's always seems to get great reviews. Since moving from the neighborhood I hadn't been in for a few years. My dining companions and I were surprisingly and sorely disappointed with our food and experience. Our beer-battered fish was over-fried and oozing grease (the fries and slaw were OK, nothing great). On top of this we were rushed through our meal by the waitstaff so as to turn over the table. Probably won't be back for a fish fry any time soon. —LizDee
---
2008-04-07 02:16:28 The chicken wings I had at Jeremiah's tonight were pitifully small. Too bad, I used to enjoy the wings here. —NathanHenderson

---
2008-04-24 14:09:09 Jeremiahs has some of the best wings and pub grub in the area.
The inside is the typical dive bar, but dont let that turn you away, the wings are excellent. —MrRochester

---
2008-06-02 01:24:54 I really think the wings here are SEVERELY OVERRATED. Every time I get them (standard hot wings) they're soggy, cold, have no depth of flavor, and are barely spicy. I want a semi-crispy buffalo wing with bold flavor and these simply aren't up to par. The wings at MacGregor's are way, way better in every possible way. —MariahBetz
---
2008-07-31 16:50:33 Great place for affordable bar food. Their burgers and sandwiches are all very good, especially their French dip and Lori's Sizzler. I agree with others about the wings being overrated, though. I've had better wings at a number of other places in town. —JohnHavard
---
2008-09-19 15:11:16 This bar really depends on what time of day and what day of the week you go. At night, its generally filled with meatheads and skanks. Their beer and liquor selection is adequate, though their drinks tend to be overpriced and weak. The bartenders are solid and great to talk to when the place is quieter. The food is typical bar food, I've never been impressed but I've never really been let down either. Its something to put in my stomach when I'm drunk. Overall mediocre, so if I didn't own a house within walking distance I would pretty much never go here. —MarcusKroll
---
2009-01-26 18:49:17 Great place to hang out a have a few beers with friends. Awesome wings and a good karaoke night on Fridays, —ChristinaD
---
2009-02-01 12:29:17 Two words: Lori's sizzler —Nikkrey
---
2009-04-05 21:56:39 Definitely disagree with whoever said the wings were overrated. They're terrific, some of the best I've ever had. Buffalo Wild Wings, I disagree, it is a cool restaurant but the wings aren't this good. And Dinosaur BBQ, I dunno, because I'm a normal person and I've never had their wings b/c you don't go to Dinosaur BBQ to get wings! —NickCassaro
---
2009-05-15 00:51:24 The wings here are quite good if you like the saucy style instead of the crispy. The "Bee Sting" sauce is probably my favorite. The pub food (lots of sandwiches and burgers to choose from) is also pretty solid, at least for the price. One time I went on a weekend night (can't remember which) and they didn't have the typical pub menu and were instead serving more of a casual dining menu. The swordfish I got was a disappointment, and I suspect they don't do much well here other than the basic wings and bar food. The service can be a bit shaky during busy times, but that's par for the course at this kind of place. Overall this place has a lot going for it. —JohnHavard
---
2009-07-19 18:31:22 I tried catatonic and Wiseguy wings which were supposed to be really hot and spicy was reviewed to be the best in town. I beg to differ ;their wings were neither hot nor spicy had no flavor, other than vinegar and turmeric!!!!. I do have a comment about their hottest wings the "Wise Guy" the only thing you will wise up after eating those wings are not to order them again. —WingAddict
---
2009-07-31 00:30:08 While I've had awesome wings there many times in the past, I was disappointed tonight. I ordered the Wise Guy wings, and they were somewhere between medium and hot. The wings themselves were good, so that wasn't the issue, but if they say their wings are their claim to fame, and if they claim to make them hot (note that Wise Guy is two levels above hot), then I should be suffering (good suffering, of course) while eating them. In the past their Wise Guy wings have included fresh peppers (and they've truly made me suffer - good suffering, of course), I wonder if they're trying to cut costs. Bring back the heat!
Nice beer selection, especially the two house beers (from Custom Brewcrafters), Rohrbach's beers, and the Victory HopDevil Ale. —PlateMan

---
2009-10-26 19:46:37 best wings in rochester —NipsyRussell
---
2010-02-27 14:34:50 Went here last night with a group, the staff was nice and service was excellent. We order medium and BBQ wings. They have a very unique BBQ flavor, must be a secret ingredient. —DamianKumor
---
2010-06-28 16:26:01 Catatonic. That is all. :) —cbcritic
---
2011-03-04 06:55:36 Went here last night, and they have totally changed (screwed up might be a better description) their French Dip sandwich. It used to be a reliable delicious staple on the menu, but they've changed the meat, which now is a microwaved rubber product that is inedible. WTH? The wings tonight were fine; the bacon cheeseburger was very good, and the curly fries also. I've heard that their wings are not always consistently great: wonder if the kitchen crew is experiencing too much turnover for regular quality. —KatieSchmitz
---
2011-11-21 16:57:14 This is a review I originally posted on Yelp:
We used to be regulars at Jeremiahs back before it changed owners, usually going to there for the Friday fish fry. Unfortunately, a few months after the new owners took over, the quality of ingredients went downhill, as did the waitstaff. After 2 dreadful meals there about 1 year ago, we decided to never go back. What was once a good restaurant is now just a bar that serves mediocre food.

---
2012-07-17 10:32:46 The first time I came to Jeremiahs was maybe 5-6 years ago after hearing about the rumored fantastic wings, and I was thoroughly disappointed. However, In the last 2 years I've become a routine customer due to being in the area and have given the wings another shot — they've been fantastic. The wise guy sauce has a fantastic flavour, I love it. It's a little of a downer that they've taken away some of the heat from the sauces, but the flavors are so good that it's not that much of a deal breaker. Because I generally go weekly, I've had a huge array of service. I was served by a young server who was terrible, messed up our order after taking forever, then disappeared for the longest time when we needed our check. On the other hand, I've had a middle aged woman who was quite possibly the best waitress I've ever had in my whole life - pleasant, extremely accomodating, quick, and went above and beyond for my party. All and all, I'd recommend Jeremiah's for the wings and for a bar to warm-up your night of drinking at - it's generally not as crowded as other places on weekend nights. —AlkalineOm3n
---
2017-08-21 23:04:44 Another branch opens Tuesday at 1175 Jefferson Road. —markjackson