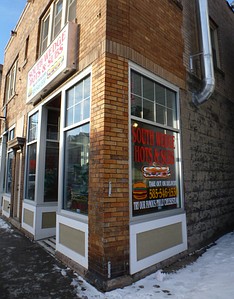 Location
492 Monroe Avenue, Rochester, NY 14607
Hours (as of September 2014)
Monday - Wednesday: 11:00AM to 10:00PM
Thursday: 11:00AM to 12:00AM
Friday: 11:00AM to 2:00AM
Saturday: 1:00PM to 2:00AM
Sunday: 3:00PM to 9:00PM
Phone
585 546 1530
Wheelchair Accessible
Yes
Alcohol
No
Website
Facebook
South Wedge Hots & Subs is a take-out restaurant offering hots, subs, hamburgers, sandwiches, and a variety of Garbage Plates named for streets in Rochester. They are well known for their Philly Cheese Steaks. Delivery is available every day except Sunday.
Despite the name, they are in fact located in Monroe Village.
They opened on November 27, 2013. South Wedge Hots & Subs was previously known as Sicily Subs and Deli at 489 Portland Avenue.
Links
Comments:
Note: You must be logged in to add comments
---
2014-01-03 23:31:07 I really like this place but there isn't too much to say about it. Big greasy delicious cheese steaks and garbage plates. The ceiling is nice too. —Rufus
---
2014-01-13 17:55:24 I got a sub from here tonight. Very much a no-frills place with a flatscreen TV to watch while you wait. Very cool tin ceiling painted black. Sub was very good and the price very agreeable. —EileenF
---
2016-05-22 10:47:54 Horrible subs, the chicken finger sub wasn't chicken fingers - it was pancake shaped chicken nuggets fried on one side (it looked and tasted like the inside of a chicken nugget.) The "famous" cheese-steak was bland as shoe-leather, even with boss sauce. I think they used steak'ems.
There's a lot of food on monroe ave, any other choice would be a better one. —ginsuguy585