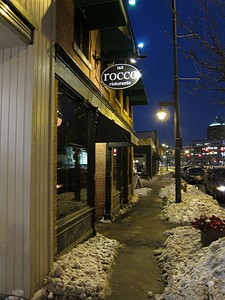 Rocco on a snowy evening, 02-2011
Rocco is an Italian restaurant on Monroe Avenue.
Local Chef and restaurateur, Mark Cupolo along with partner Dan Richards, have put a local spin on the Italian Osteria.1 Chef Cupolo has a long history with Rochester restaurant patrons from his previous venture,
Victor Grilling and as Exec Chef of Max Chophouse. The menu is simple and seasonal but the flavors focused and robust. Choose from a selection of salads, brick oven pizzas, pasta, risotto, and grilled meats as well as nightly specials. The exclusively Italian wine list serves the tradition of "Osteria" as a place to relax and gather with a little food and a little wine.
Rocco opened in 2008. Before that, this location was home to the Olive Tree Restaurant.
Comments:
Note: You must be logged in to add comments
See Archive Page for comments prior to 2010.
---
2010-01-01 17:04:28 A quick note to those considering their first meal here based on recommendations from this board: all (very) negative reviews are from posters who are NOT part of this community, but who have specifically created accounts it appears to leave bad marks for Rocco and Rocco alone (one user did leave clumsily glowing remarks at 2vine, more than implying that he/she worked there and/or had a vested interest in the business). I believe the RocWiki community refers to these users as "trolls". Please pay them no mind. Rocco's food and service are some of the best in Rochester. I've dined their dozens of times and have had nothing but good experiences. It's a shame that people, for whatever reason, feel the need to bash a business and not offer valid critiques. —RochesterGuy
---
2010-03-10 12:55:20 On the recommendation of friends, we went to Rocco last night for dinner. We had a reservation, which even on a Tuesday night seemed like a good idea as the restaurant was full by 7pm. Our server was very knowledgeable about the menu and answered all of our questions. Our starters included the caesar salad, and the arancini (fried risotto and cheese with a nice breadcrumb crust served with marinara.) Both were excellent. For our entree's, we had the cheese pizza, farfalle with meatballs, and the fish of the day which was shark. I'd never had shark before, but it was similar to swordfish, served in a tomato-based sauce that looked very spicy but was not at all. The food was excellent! For dessert we had the almond and butterscotch custard. The presentation of the dessert was very strange, but it tasted great. A little secret for those that are not thrilled with the breadsticks, ask your server for some grilled bread. They brought it right out, and used it to sop up the plates. I would recommend this place to anyone, and we will return hopefully soon. —Petey
---
2010-05-12 15:11:12 We went there for dinner on a Friday night. It was quite when we arrived (5:30), but soon was completely filled. The restaurant is cozy and, when we first arrived, would probably be a great place to take a date. Unfortunately, when the restaurant is packed, it can be noisy. We started with calamari fra diavolo. It was grilled, not fried, and didn't appeal to me. The sauce didn't stick to the calamari at all. Eating rubbery squid rings with no batter and little sauce to disguise it is not my thing. Next came the pizza. This was by far the highlight of the meal. If you order just one thing at Rocco, make it pizza. You won't regret it. For dinner, I ordered the seafood of the day (tuna with fingerling potatoes). The tuna was yummy but the potatoes were nothing special. In the future, I think I will try something from the regular menu. My boyfriend got the spaghetti and meatballs. I have yet to find a restaurant that serves truly memorable spaghetti and meatballs. I would rate Rocco's spaghetti and meatballs as better than average. The meatballs were crispy on the outside which is definitely a plus, but there was nothing "better than homecooking" about the dish. All in all the food was pretty good and I would go again. The biggest disappointment was the lack of bread. Packaged, dried breadsticks is not something I would expect from any Italian restaurant. —ChristineH
---
2010-05-26 13:36:56 Another great evening on the patio. Started with the chilled shrimp with lemon mayo, a rocco salad consisted of roasted peppers, a health portion of radicchio, and greens, some soppressata, also Home made Ricotta, and the house marinated olives. Enjoyed the special which was Shrimp with greens and beans while my gf satisfied her craving for Linguine & clams. Could not resist the new dessert of Chocolate Budino with Raspberry sauce. Lemon ice, and some biscotti to compliment my espresso. A couple of bottle of wine in the moonlight made for a perfect evening. —GordonAnderson
---
2010-06-04 20:02:18 This was my second time to Rocco's and it will not be my last. Thea, our server, is very knowledgeable about the menu as well as the wines. The apperizers of grilled octopus, the ricotta, and crispy french fries are all divine. The pizza is out of this world. So is the steak. The service was great and we have enjoyed this restaurant completely. —RocDiner
---
2010-06-15 17:27:27 This is our favorite place to eat period. The octopus is my favorite, grilled to a char without being rubbery, and covered in an addictive green sauce. The chicken, cooked under the weight of a brick, was crispy on the outside and tender on the inside, served with a light, spiritually-pleasing broth. I had a side of eggplant parmesan this time, and I called it "whipped eggplant" because it was like eating an eggplant parmesan cloud, so light and fluffy with an intense eggplant flavor. I guess the best way to describe the food here is that it is always fresh and flavorful and expertly cooked. —StellaRegulus
---
2010-07-30 20:00:08 Does anyone know if the menu listed on the website is current? It says Fall 09, and given that it's now Summer 10, it seems like they may have made changes. Trying to plan a special night out and love to review menus beforehand. Thanks! —ZeldaPinwheel
---
2010-07-31 16:53:38 The menu is almost the same. The desserts have changed. The budino is now a chocolate budino. The salads have changed according to the seasons. The rest is essentially the same plus specials. Highly recommended. I have eaten there many times and have never been disappointed. —RxScabin
---
2010-11-08 21:17:17 So I was recommended this place by some local friends who are chefs... they spoke nothing but good things about this place. So a few weeks ago I gave it a chance, sad to report I was very let down. The food was ok and the service was ok... nothing that blew me away..... so today my girl friend and I were in the mood for Italian food, and she had never been there so I figured we would go. We called and made reservations for 2ppl at 5 since we knew they opened at this time. We were in the area and arrived 10 minutes early... 10 minutes! We walked threw the back door entrance where we were greeted by the smell of a garbage dump... since the garbage cans are all out back... we walked in and the hostess looked at us like we had ten heads, we said we knew we were a little early but had reservations at 5.. and only being 10 minutes early we were hoping to have a pre dinner drink at the bar... instead she informed us they weren't yet open and we cant sit at the bar... wow... we were stunned... we walked out both appalled at the fact that we weren't served.... I will never go back to this restaurant and would never recommend it to anyone... I tried to give them another chance and was very let down.... sorry Rocco but I don't see what all the hype is about you... turned away because we were 10 minutes early.... and all we wanted was a glass of wine before are dinner... —ChefBoyRDD
---
2010-11-26 15:12:04 We love Rocco! Every time we go, we love the food, and love the service! Jeff is an awesome host and, quite honestly, one of the reasons we consistently return. We always have a margarita pizza, and at least one side of rapini. I do admit, some nice fresh bread would be great, but everything else about the menu keeps us coming back. Do not miss the budino dessert! It's incredible. So glad that we found this Rochester gem. —Jahniqua
---
2011-01-05 13:28:10 In response to ChefBoyRDD- Most restaurants keep their garbage cans out back. And most restaurants open at a certain time. You can have it your way at Burger King, pal. Grow up. —EatAtTheBarGuy
---
2011-01-27 16:27:08 Also in response to ChefBoyRRD - your review sounds suspect. The weather was in the 40s. The garbage comment seems over the top. —GordonAnderson
---
2011-01-27 20:42:12 Went there last night before a show at the RBTL...food was great as was the service. The octopus appetizer is insanely good. —sjgray8
---
2011-03-10 19:18:48 I have dined at Rocco's several times in the past few months, and loved everything about the experience, as did my dining companions. Cozy, warm atmosphere— just really pleasant. Not pretentious like some of the other high-end restaurants in town— just good food and a good feeling. Very friendly, genuinely enthusiastic service. I have enjoyed the ricotta appetizer, the arancini, and the meatballs. I am looking forward to trying the octopus next time. My entrees were delectable both times I visited— not one flaw. Good portion size. Good prices. Only problem with my most recent visit to Rocco's? I ate too much (could not resist dessert) and fell into a food-induced stupor when I got home. —Heidi
---
2011-03-13 21:07:35 So far it has the best food I've tried in Rochester. Service was well above average also. —Sage
---
2011-03-20 01:16:23 This is in response to EatAtTheBarguy. I don't know if you are familiar with the term hospitality, but the root word is hospitable and that is what you should be if you are in this industry. If you can't allow guests in your dining room to sit at the bar and enjoy a glass of wine or a drink 10 minutes before their reservation, even if you aren't officially 'open' you shouldn't be in this business. It's very unfortunate but there are too many of you out there that actually own and work at restaurants who need to consider a career change. —MWonderingRoc
---
2011-03-24 11:41:07 I disagree with all comments regarding allowing patrons into your restaurant prior to opening. The goings on just prior to service create an environment in which no one could truly enjoy a glass of wine at the bar. If you do indeed enjoy drinking wine to the hum of a vacuum cleaner and enjoy the aroma of cleaning products call ahead and we'll make the arrangements. —markcupolo
---
2011-03-24 16:17:57 Rocco is one of Rochester's most outstanding restaurants. Mark has hit on a simple but difficult to achieve formula: great unpretentious food in a casual atmosphere. If only it was a larger space or perhaps a Rocco 2? —LikesFood
---
2011-03-25 08:45:51 This is a "cute" little place, cozy and warm. I agree with most here this little place does a good job with service and ambiance. Next time we will stay for dinner. In addition, hospitable means welcoming of guests and does not mean being a doormat or meeting unreasonable expectations of everyone coming in the door. Why do people believe they can run over or make ownership of restaurants solely because it is the "service industry". If people started coming early to your employment and expected to be "served" pre or post work hours I'm sure things would not be set up appropriately either. Not an attack, just a point. :) I've been gone for a while! —NightlifeCher
---
2011-04-22 13:13:10 Tried this place last week after many recommendations. It was expensive, high end and 100% delicious. If you're ready to spend a bit and want an outstanding meal, Rocco is a great option. I agree that many or ROC's high end restaurants lean too heavy on pretension. At this place, the food speaks for itself. And it's nice and simple. Just excellent ingredients prepared with skill and care. Try the pizza. —jonitkin
---
2011-06-20 09:37:20 My waitress, Katie was knowledgeable about the specials and was very attentive.She was friendly and welcoming! I love the stuffed clams and the food is fantastic.They restaurant is small but the patio out back is nice. it has a real "homey" feel and again the food is great! —gxb0483
---
2011-06-20 09:54:34 Just wanted to take a quick moment to say that the service at Rocco's is fantastic. Especially a big shout out to Katie! She has made our nights there always an enjoyable experience. Friendly and professional service. Good recommendations. I will most definitely come back. —Arend
---
2011-08-12 00:01:34 Rocco is one of my favorite restaurants in Rochester. I've brought out-of-towners here with great results. I think it's reasonably priced for what you're getting, which is a high-end meal. Do not miss the homemade ricotta appetizer. I've also had good service, even without reservations (although I wouldn't recommend trying that on a weekend!) —SarahR
---
2012-04-15 21:48:29 Hands down my favorite Rochester restaraunt. Everything on the menu is incredible, the gnocci are amazing, light and pillowy and delicious, as is the pork served with tasty rappi and fried polenta. We had the butterscotch boudino (sp?) for desert, a spectacular pudding topped with salted almonds. The staff is friendly and unpretentious unlike so many other hyped up restaraunts. I would however reccomend making reservations in advance even on an off night as the place is small and seems to fill up quickly.
---
2012-08-24 08:38:13 On the basis of a great first time experience, we chose this as a second as a destination for our anniversary dinner and made a reservation. We arrived there on Wednesday evening and immediately had issues with the server. I have worked in the restaurant industry as a server for 4 yrs throughout college and have been to many restaurants and this was the worst service experience I have had. My girlfriend and I waited for approx. 5-10min before being greeted. Once we were greeted, our server (an older blonde woman)took our drink order (I ordered a chocolate martini - which I had the first time I came there) and she told me they did not make that (?). So I took a second look at the menu while she went to put in my girl's order. I then ordered a glass of wine once the she came back at which point she also took our food order. Our food came out about 5-10 min later which was great (kudos to the kitchen staff and food runner). She forgot about my drink so I politely reminded her 5 min into eating dinner. I then had to prompt her server assistant 5 min later at which point the assistant brought it out. There was a gnat swimming in the wine which freaked out my girlfriend and thanks to her because I would not have noticed it. I then politely prompted the server assistant and told her that the wine had a insect in it. We then waited another 5 min for another glass at which point I had to prompt our server that we were still waiting. By this point, I was kind of numb of to the experience and could not believe what was going on. On the bright side, the food was amazing and made the night worthwhile. —Roch7yrsin
---
2013-02-19 19:50:25 One of the best meals I have ever had in Rochester! This place is outstanding! The appetizers, salads, pizzas and entrees were all fantastic. This is a must try restaurant! I really can't say enough good things about the food. —markrizz
---
2013-05-18 16:58:31 This is real-deal Italian food, not the Rochester-Italian you get most other places in town. The homemade ricotta and charred bread app is inspired. My corvina special was delightful and my wife's pork shoulder was succulent and delectable (and we took home enough for another meal later in the week). Service was helpful and professional. The down sides are that the room is crowded and noisy, and the prices are not cheap, but the food is well worth it! —jgerek
---
2016-08-26 21:58:21 Of all the "Italian" restaurants in Rochester, this is the only one serving actual Italian food. Eat here. —Cretinx
---
2016-09-25 18:41:39 Ate here with my spouse two weeks ago on a Friday evening and had a meal to die for. Wow. So so so very good. The menu at the time was a two-week seasonal special, and now I'm sorry I didn't write this review sooner, but from memory my spouse had a pork loin with peach dish and mashed potatoes. Delicious. I had a vegetarian eggplant boat dish stuffed with delicious food I can't remember, but do remember thinking how unreal it tasted. I also had a fantastic big red wine, not a cabernet, but that type. Great server, even better food, nice environment, well worth the money we paid. —KatieSchmitz