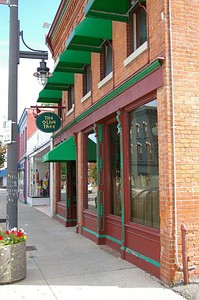 Olive Tree on Monroe Ave, exterior 8-2008
Former Location
165 Monroe Avenue, Rochester, NY 14607
Status
CLOSED on September 9, 2008
A Democrat & Chronicle article on September 9, 2008 stated that The Olive Tree was closing in early October. The 29-year-old (age given in article) restaurant is being sold. The article states that another restaurant will be moving in, but it will not be Greek. No word on what cuisine it would be.


The Olive Tree Restaurant served classic Greek cuisine in Rochester since 1979. The menu was a refreshing combination of well known Greek favorites and innovative dishes. Appetizers included Taramosalata (blended cod-roe with olive oil), Tzatziki (homemade strained yogurt with garlic and cucumber), Skordalia (blended garlic dip with olive oil and vinegar), Saganaki and Bougourdi (broiled feta cheese with roasted red peppers). Price ranged from $4.50 - $8.00. Signature entrees include Arni Mavrodaphe (grilled leg of lamb in a sweet wine gravy, Solomos Exohikos (filet of salmon in filo pastry with spinach and feta cheese), Kota Exohike (chicken breast with artichoke hearts and Kasseri cheese in filo pastry), and the only homemade Moussaka in town. Lunch price range was $7.50 - $10.50. Dinner entree price range was $7.50 - $21.00. The wine list consisted of carefully selected, high-quality Greek wines.


The Olive Tree was housed in a brick storefront built in 1864. For its renovation, it received an Excellence in Design award from the American Institute of Architects in 1980 and a recent special citation from the Landmark Society of Western New York (2003).The Olive Tree was conveniently located on Monroe Avenue near the downtown cultural district.
Comments:
Note: You must be logged in to add comments
---
2006-01-24 22:41:28 My favorite in Rochester. They have a great deal usually for about $20 you get an appetizer, salad, main course and dessert. For each item you get 2-4 selections to choose from. So far none of my choices have been bad! —JcPop
---
2006-05-20 15:59:42 Consistently good food, a pleasing space that includes a quiet outdoor patio, and also child-friendly. —EricLarsson
---
2006-07-14 23:25:33 have gone three times and have had an exceptional meal every single time. Romantic, reasonably-priced, middle-to-upscale food in a great location. There isn't anything like it in Rochester, and it trully is a gem. I have to second the above nomination for Saganaki and Bougourdi - they redefined my conceptions of cheese. —RochesterGuy
---
2006-09-18 07:57:54 Excellent food and service in a romantic setting. Highly recommended! —ZedOmega
---
2007-04-24 16:20:40 The only homemade moussaka in town? I doubt that. I believe that Jine's makes their own, and would be surprised if Aladdin's Natural Eatery ordered pre-made moussaka. —GrahamSaathoff
---
2007-08-05 17:03:07 Had an excellent dinner last night. We started with an appetizer that consisted of 4 dips with pita bread. All were nicely done, but we thought the skordalia stood out. They had a strip steak on special, so I took a chance on it, even though it seemed like it might be outside the restaurant's area of expertise. I was happy to find a nice cut of meat, cooked perfectly rare (as I had requested), with a fragrant dry rub that was still subtle enough to let the flavor of the meat take center-stage. It was served over wilted greens alongside spiced and broiled potato wedges, and an eggplant and tomato concoction that the owner described as being similar to ratatouille. My companion ordered the moussaka, which she found delicious and beautifully presented alongside pilaf and the aforementioned eggplant side. Both entrees came with a simple greek salad with a tangy vinaigrette. Every bit of our meal was well thought-out and executed.
Our server was attentive, knowledgeable, and friendly, and the hostess/owner was also very pleasant. We took home some baklava, which was good, but we thought the filling to phyllo ratio was a bit too high. Prices were pretty reasonable for the class of restaurant this is, expecially considering that the entrees all come with salad and sides. Dinner for two with appetizer and dessert came to around $70 —EastSideStephen

---
2008-04-22 16:35:37 The Olive Tree was the best Greek restaurant in town. I miss it immensely. Awesome food and great location. Its been there forever, it must have been good! —MrRochester
---
2008-09-09 22:00:12 Sad to see it go. I was just there the other day and had a very nice meal. Please don't put another chicken french place in there! —ThomasPawlik
---
2008-10-29 15:57:59 Damn. Damndamndamn. I'm really going to miss this place. Many special memories and many delicious meals. Rochester lost a little bit of class the day they closed their doors for good. —RochesterGuy
---
2009-06-29 03:04:38 oh no. —JcPop