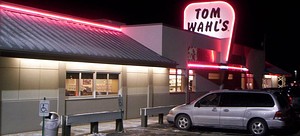 Tom Wahl's Avon Location
Tom Wahl's Bushnell's Basin Location
Locations
Phone
283 E. Main St., Avon, NY 14414
585 226 2420
671 Maiden Lane, Rochester, NY 14616
585 504 7470
2510 Rochester Rd., Canandaigua, NY 14424
585 393 9170
643 Pittsford-Victor Rd., Pittsford, NY 14534
at Bushnell's Basin
585 586 4920
1333 Fairport Rd., Fairport, NY 14450
585 377 8420
585 West Union St., Newark, NY 14513
315 331 9112
2545 Monroe Ave., Rochester, NY 14618
585 441 9620
Hours
Restaurant Location Hours
Monday - Sunday: 11:00AM to 9:00PM
Websites
http://www.TomWahls.com
Menu
facebook
Tom Wahl's is a Rochester area chain of diner-style restaurants described by their website:

"in Avon has been a family tradition for upstate New Yorkers since 1955. Customers have been known to travel great distances just to enjoy a juicy Wahlburger, hot crispy fries and a frosted mug or two of our delicious handcrafted root beer. Today we still handcraft the root beer in each store the same as Tom's first batch, but we now have 9 upstate locations.


The reasons that Tom Wahl's has thrived are numerous. No matter what, Tom would never cut back on the quality of the items he sold. Tom is not a man that would ever bring this up, but a huge reason the business grew year after year was Tom himself. Tom had the unique ability to surround himself with talented people that followed his lead in taking care of the business.

"
1986 brought a new chapter as Tom sold the business to a small group of local business owners. Using the methods and principles that Tom established continues to provide a road map for success.
Tom Wahl's is owned by the same company as Bill Gray's (Bill Gray's, Inc.)
Brighton location opened February 26, 2014.
Free Wifi and catering available.
Comments:
Note: You must be logged in to add comments
---
2005-09-19 14:15:50 Personal favorite is the blue cheeseburger. Mmm cheese. —JenniferRamsey
---
2006-06-03 04:55:56 i noticed that the Tom Wahl's that was in the Marketplace mall food court is now an Abbott's (at least the ice cream is....) didn't notice if the Tom Wahl's burger joint became a Bill Gray's! —JcPop
---
2008-01-19 18:19:29 I went here once couple of years ago and got the fish fry and i really liked it. My second time was at the mall in Greece and i got the fish sadwich for lunch, and it was not good at all and it was very pricey for a fish sandwich even though i bought it with a coupon. And my most recent visit was the one in Bushnell's Basin and this visit was bad also. I don't know what the hype is about on Tom Wahls. I got grill chicken sandwich (it was kind of cold and it wasn't breaded) and the bread was really small, didn't fill me up at all. This place is in my opinion is very overpriced for the amount and the quality of food they offer. —DougAvery
---
2008-05-27 17:41:20 DougAvery - of course food is not going to be quality at a mall location. additionally... grilled chicken is not supposed to be breaded. hence it being better for you. i've never had a bad experience at tom wahls, besides the fact that i don't care for their fries, but that's just a personal preference, there's nothing wrong with them. i highly recommend. much more variety than bill grays. —EJay
---
2008-07-20 19:19:15 Root beer.
Tom Wahl's is all about the root beer. It's caramel, buttered rum, a Werther's original. It doesn't taste harsh or overly carbonated. It almost demands to be sipped and savored rather than guzzled.
Root beer that's too good for a bottle. —ZachSmalt

---
2009-01-31 16:09:19 My fiance and I love Tom Wahl's although we rarely go because it's so far away. If, by chance, we are out near Avon or Bushnell's Basin, we will almost always stop, no matter how hungry we are. I love the Wahlburger and the root beer. —BatGuano
---
2010-02-09 20:48:13 The one on Empire in Webster closed up in December, just not business I guess —DamianKumor
---
2010-10-27 01:06:17 IMO the best Rochester burger around, slightly edging out Bill Gray's. —SargtGrumbles
---
2011-02-22 14:38:58 I eat at the one in Greece Mall frequently and it's always spot on. I know it's the same owners as Bill Grey's but Wahl's is better...My fiancee and I think Bill Grey's burgers are dry compared to Wahl's. —CJM8232
---
2012-03-10 09:05:30 Good for fast food, would go to a Tom Wahl's instead of a Burger King or McDonalds —AGoldman
---
2015-03-24 14:17:21 I purchased food on Friday March 20th. Once I arrived back to work I notices a hair was in the macaroni salad. I called and spoke with a manager who was very polite he told me I could come back later that day or anytime and he would replace the meal. However when I arrived today he refunded my money and said we are going to part ways today and I can no longer eat there. This was rude and unsatisfactory. They young lady still did not wear a hair net and she was still serving food. I am very polite and I did not cause a seen or use any unsavory words. I do not understand why I was denied food due to your mistakes. I have never seen Tom Wahl's do this to any Caucasian customers why are you discriminating against me. There was better ways to deal with this. —Melba