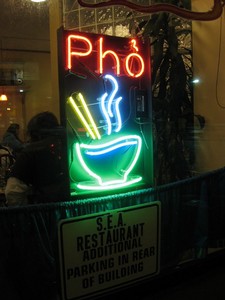 Pho Neon, 2-2008
Locations
Phone
741 Monroe Ave, Rochester, NY 14607
585 473 8031
1675 Mount Hope Ave, Rochester, NY 14620
585 461 4154
Hours (Monroe Ave and Mt. Hope Plaza) (as of January 2020)
Monday - Thursday: 11:00AM to 9:00PM
Friday & Saturday: 11:00AM to 10:00PM
Wheelchair Accessible
Yes
Alcohol
Yes
Website
Facebook
Reviews
Yelp Reviews
SEA Restaurant is a Vietnamese restaurant on the corner of Monroe Avenue and Rutgers Street that serves a variety of dishes mainly from Vietnam and Thailand. In August 2013, a second location of SEA Restaurant opened in Mount Hope Plaza (former location of Thai Taste). Third location in Brockport opened September 30, 2019 but closed in 2021.
Photos
Comments:
Note: You must be logged in to add comments
---
See Archive Page for comments prior to 2008.
---
2008-01-05 20:45:18 I have been there twice so far (lunch and dinner)and have been satisfied each time. Once I had the seafood pho (yum!). The other time, chicken with wide noodles (tasty). Good, inexpensive food. I wonder if they continue to do well, if they will need a bigger space? —ScottHendler
---
2008-02-05 15:32:14 Ate here on Saturday evening. The PHO (I had beef flank) was very flavorful, inexpensive, and well portioned. The spring roll appetizer was quite simple but still hit the spot. My 2 suggestions for this place are: a) Get some real seating, NOONE wants to sit on a hard plastic chair for dinner. b) Have a few better meat selections (or do a better trim job), some of the meat was extremely fatty and unappetizing. Other then that, the food was tasty and I will be back. —DarrenKemp
---
2008-02-17 19:39:42 Yummy food (the Pho broth is amazing) quick, pleasant service (even though only one waitress handled the entire place) and dinner for two (Pho, Bun, and spring rolls) came to $22 including a nice tip. Can't beat that. —DottieHoffmann
---
2008-03-07 10:29:50 Ordered Lunch yesterday. The Chicken bun was rather bland - old lettuce, old chicken thighs re-warmed, and a watery sauce. The spring rolls were decent with a good dipping sauce. The chicken with soft yellow noodles was average at best as well. I'll try the Pho next time. —GordonAnderson
---
2008-03-17 12:41:50 The pho is very good - generous portions, very tasty. Not the best place for a vegetarian. Very good service, though. —SmitaRao
---
2008-04-09 20:44:07 What a deal! The extra-large pho soups ($8) must be the best value in town. A single bowl makes for at least 2 meals. This is really a take-out kind of place, though; there's little seating, and the atmosphere is nothing special. Just a really, really good bargain in a town sorely lacking them. —OwenThompson
---
2008-08-03 3:44:07 The beef special has tendon, tripe, brisket and balls and it isn't dumbed down. Nice clean broth with a complex set of flavors. I'm now three bowls in and still slurping. I was not particularly impressed with the other pseudo American/Asian muck on the menu. Stick to Viet which is what they do well. —ColinRhodes
---
2008-09-06 13:49:31 I can't believe I hadn't been here before. The experience was great. We started out with the fresh spring rolls that were delicious, and I had a very refreshing jasmine limeade. The pho was the best part, and I really enjoyed the broth; it was very complex and had loads of flavor in it. I will definitely be back here soon. —MaryaKaszubinski
---
2008-11-18 14:52:33 I absolutely love this place. We go there about once a week because it is so tasty and cheap. The brisket pho is fantastic, and the fried squid appetizer is some of the best I have ever had. —KatyHanson
---
2008-12-02 11:53:37 one of our favorite restaurants. the pho can't be beat- it's flavorful, light yet filling, relatively healthy and inexpensive! the squid appetizer and the jackfruit smoothie are also delicious. You can also try some Asian beer. we live in the neighborhood so we indulge in SEA at least once a week. —CleverG
---
2008-12-05 20:55:19 Fantastic! Best thai(ish) food I've had in Rochester- and walkable from most of the grad student parts of town (lots of places on the Wiki are pretty dang hard to get too on foot.) The pad thai is sweet and not super peanutty. I like it that way, but I know some don't. The Pho is good. The Squid appetizer is exceptional. The quality per dollar is outstanding. Tiny place is the only downside - seating is limited. —CamDube
---
2008-12-22 23:46:20 ok my and my girlfriend who is from LAOS both love this place.. everything is good and authentic. while its not as good as hers, its as close as i have tasted. they have beef tendon which i love and all of the dishes are well prepared and FULLY unamericanized!
that means, REAL fish sauce, spicy chilis and good fixing including basil and bean sprouts and limes.
One thing i have found. a big bowl. does not mean.. more food..its just a bigger bowl... and ask for the freshly ground dried chili powder if you REALLY want to sweat! —wahili69

---
2009-01-06 20:23:25 Vegetarians, stay away! One of the few veg items that I could order was Pad Thai. It was probably the worst Pad Thai I've had in Rochester (aside from Aja Noodle). It was dry, extremely sticky, overly sweet, and there were very few vegetables. I felt like I was eating the equivalent of Americanized sesame chicken. From what I hear from my carnivore friends, the Pho is great, but if you're veg then I would definitely NOT recommend going to SEA Restaurant. If you want to try excellent veg Pad Thai, head a bit further down Monroe Ave to Dac Hoa. —TrishHeckmann
---
2009-02-08 20:04:16 The pho is the best that I've had in town, especially for the price. Bun is also good. As others say, stay away from the pad thai. —JohnHavard
---
2009-02-24 11:18:16 Went here for the 1st time Saturday night. Small place but nice staff. Really should call ahead if you're bringing more than a few people. The Wonton soup is amazing. —PeteB
---
2009-05-15 00:53:33 I think I've become obsessed with the fried squid appetizer at this place. One of the tastiest dishes in town, period. —JohnHavard
---
2009-06-07 23:41:16 Seconding JohnHavard - best squid appetizer in town...seriously. A close second is Lento. —OneLove
---
2009-08-04 22:43:47 The Pho here is as awesome as everyone else here says it is. Really savory and subtlely spiced broth filled with a variety of tender cuts of beef, rice noodles, and veggies. This is deeply satisfying comfort food without the calories or heavy feeling. The super cheap price only sweetens the deal. $6.50 for a bowl of pho that will probably fill you up before you can finish it. And like everyone else says, yes, the squid appetizer is top notch. —AlexD1234
---
2009-08-21 04:27:41 All I can say, is that having a better half from Vietnam knowing what real Pho should taste like, this is by far one of our favorite places to go. The food is very good, and extremely well priced cosidering all that you get. The staff from wait staff, to the owner"s themselves are great people with an abundance of hospitality. When dining out, I find myself craving vegitable spring rolls, and beef Pho at Sea quite often. —Murphy76
---
2009-09-24 20:27:06 After a long hard days work I figure getting take out at the SEA noodle place. I have always ate the pho here before but after tonight never again.
So I call in a take out order of the Beef Special Soup.
Pick it up paid 7$ even left a 1$ tip for take out.
Get home and to my surprise I get 1 meat ball cut in half. IN HALF! thats all the MEAT FOR A BEEF SPECIAL?
I then call the SEA place and the women asks what did I order? I said the beef special, then she says oh okay. I get if she didnt pack the noodles but you would think a sorry do you want to come back for the rest of your Meat would be her response.
At this point i am more SAD then MAD. So I Drive back to the resturant to get a REFUND, which I do get.
lastly, I am still missing the apology.
After writing this post I think we are even now. —yellowguy

---
2009-11-01 12:09:53 I find no fault with the food; the pho is fantastic. What stops me from coming here more often is the music. WVOR, or some other office-safe soft rock, is constantly blaring from their stereo. It's like eating in a cubicle at work and it sets my nerves on edge. —MarkTichenor
---
2010-01-05 11:37:56 There is some variability in exactly how much meat you do get in your pho from one visit to another, but the quality is always satisfactory, and the broth is not overly fatty. For the price, pho is almost always a great deal. Perfect hangover food. Not the best Pho in the world, but close enough to being the best in Rochester that if you live nearby it's the place to go. —ErikReinert
---
2010-05-02 02:15:11 This place ain't bad, but their pho has too much meat, and lack noodles. I was disappointed when they didn't give me some peppers on the side. I came back for some phai thai and was again disappointed. This time the noodles lacked flavor, it was like drinking water... —philA

---
2010-06-15 17:38:27 This is our comfort food. We stick to the calamari and pho with chicken and extra steamed vegetables. So heart-warming, so well seasoned, so perfect on cold nights or rainy days. Great price and consistently excellent pho. —StellaRegulus
---
2011-04-17 17:19:13 Possibly the best place where you can get pho in Rochester. I usually get the beef pho (big bowl). The broth is flavorful and there's a decent amount of sliced beef, tripe, tendon, and noodles in the bowl. The seafood pho however, is a little lacking. While the broth for the seafood pho is flavorful, they'll skimp on the contents of the protein. There's literally one or two pieces of shrimp, fish cake, fish ball, and imitation crab. —chunkylover53
---
2011-04-28 21:40:02 I agree with chunkylover53's commentes about the seafood pho. Certainly not up to par with the Beef and Chicken. That being said.... this is one of my favorite restaurants in Rochester, the waitresses are very nice and attentive and the pho is super delicious and well priced. I eat here at least every other week for lunch. I find the fried squid to be very tasty as well and grab an order if I am dining with company. Also the hot tea is complimentary... Great addition to the neighborhood check them out. —WindyPig
---
2011-04-29 22:28:17 First time tonight to SEA Restaurant. I had the eye of round steak and meatball Pho with yellow noodles and it was fantastic. My boyfriend had the brisket and steak Pho with rice noodles and enjoyed it greatly. We look forward to going back very soon for more. —MerCDotes
---
2011-06-14 21:19:22 I decided to try it again and the second trip was much better. While not the best Pho i've ever had, it is not bad for Rochester. I'll try some other dishes sometime. —jberna
---
2011-07-30 22:53:30 Don't know why I waited so long to come here. Tonight, I finally did with my girlfriend. So good, we couldn't stop eating our big dishes! —Bammerburn
---
2011-09-27 13:50:36 While I absolutely LOVE their Pho, this restaurant by far has the WORST customer service. The two girls that work the front dining area are RUDE, UN-WELCOMING and plain UNFRIENDLY. While I have been there many times with friends, co-workers and family members, we feel that after being LOYAL customers, we should not have to put up with their un-professional and down right snotty behaviors. The last two times we had went, they never even bothered asking us how our meals were, or if we needed anything, and we were seated "first", yet served last (we had ordered the Pho Tai, no appetizers) and ours still came out after two other tables. Needless to say, we will no longer be returning. —R
---
2011-09-27 16:15:01 Wow R, we've been there several times with groups of differing size and never had a problem with service. —PeteB
---
2011-10-20 19:52:35 Extremely weak tasting pho. —morgdaug
---
2011-10-24 14:15:54 R, and PeteB, Southeast Asian concepts on service and "friendliness" are VERY different from American ones. Personally, I hate the attitudes I've received at almost every southeast Asian restaurant I've ever had (with notable exceptions) but I understand that it is a cultural thing and it's just not seen as important to be all friendly or accommodating with the customer (and in fact our system seems quite fake and insincere to them). —BlakeR
---
2012-04-15 20:25:29 Salty Lime Soda FTW! —xanthm
---
2012-12-17 13:32:03 Sooo good! sooo cheap!!! the food comes out quickly and i always leave stuffed! —CMonkey63
---
2013-10-29 16:56:30 It's been years since I've been here, and I wish that I'd come here more often. The pho broth is much better than I remembered it was in the past, and the price is good, as well.
The dining room, unfortunately, is cramped and uncomfortable, so I would consider than to be more of a take-out place. I will not comment on service, because, frankly, I have no desire to sit down in the dining area.
Where the food falls a little short is on the spring rolls, which I found to be just a bit dry. The peanut sauce offered was quite tasty, but a lot thicker than others I've had in the past. I think that this may have been due to the noodles being a bit overcooked and sticky that day (the ones they gave for my pho certainly were..). Maybe I just caught them on a bad day?
The next day, I had the house vermicelli noodles, which I really liked, except that I thought they put in far to many bean sprouts, and once again, wished that it was a bit juicier. I added a bit of fairly thin hoisin sauce to the peanut sauce at home this time, and was more than pleased with the results.
Parking IS sometimes an issue, and at certain times of the day, bums will be panhandling outside (they are right across the street from a liquor store, so whaddya expect?). Still, it's close to 490, so even the laziest suburban douche shouldn't find it too inconvenient to drive his Escalade to....
---
2017-03-27 10:52:50 Love this place, delicious pho (I like the rare eye round beef the best, but all the meats are good), always packed, perfectly priced. —KatieSchmitz