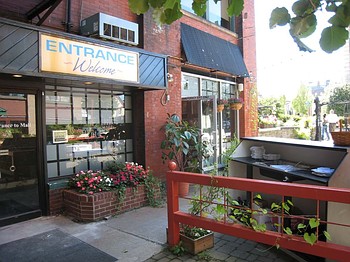 Lento entrance off the courtyard, 8-2008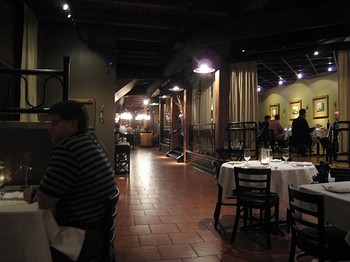 Lento interior, 9-2008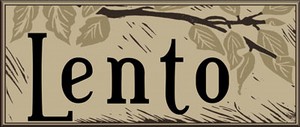 Lento is a casual fine dining restaurant in the Neighborhood of the Arts that focuses on farm to table, local, seasonal and sustainable food. The menu changes daily based on what is in season and can be had from area farms (entrees $12-$30).
With the vast wealth of farms around Rochester and the Finger Lakes region, Executive Chef and Owner Arthur Rogers has developed relationships with farmers who share his vision.
Parking is available after 5pm across the street at the Rochester Works building, additional parking is available in the various Village Gate lots.
The restaurant opened June of 2007. They are located in the Village Gate complex.
Comments:
Note: You must be logged in to add comments
---
See Archive Page for comments prior to 2011.
---
2011-02-06 17:04:39 Had an absolutely ruinous experience here last night and am really sad that we did not enjoy our trip, as the reviews have been so positive, overall. Our group of 7 people enjoyed our appetizers but the main courses were less pleasant. The steak was burnt, and my entree (sweet potato pancakes) was overwhelmingly redolent of pepper and inedible. After managing to eat one of the pancakes and splitting another with the rest of the group (to ensure its awfulness), I let the waitress know that the food was pretty awful. The took the dish but did not return with any options. I then went up to speak to the manager who seemed well aware of the situation but noted that since "more than half" the dish was eaten, he could do nothing. Being accused of trying to mooch was pretty embarrassing, especially when we paid our $300 tab and left a nice tip. I'm glad he had time to see how much was left on the plate - it's a very important job - even more important than making sure that the food tastes like food, not pepper. No one really enjoyed their main dish - burnt steak, tasteless brisket, etc. We really wanted to like the experience! For such pricey food, one expects that it will at least taste better than what one can make at home. We were all going to chalk it up to a bad night, but after the "you ate too much" experience, none of us will be back. —RocDoc

---
2011-02-06 17:13:05 Lento has been on our list of good restaurants for a while, but our last experience there was kind of a let down. Service was fine, appetizers were good, but both entrees were a little off. One had a leek/potato pancake that was overdone and hard on the bottom, and the other was duck breast which was too rare (and we like rare). The duck was actually better as leftovers after we cooked it just a little bit more. This restaurant seems to have started out great, but slipped a little in the past year or so. Hope they get things sorted out and get back to their original game. —DottieHoffmann
---
2011-02-09 13:14:58 I love Lento for a million reasons which I won't bother listing since most of the reviews below cover them. The only thing negative I can say about the place is that I really miss the old style vegetarian menu that seems to have disappeared in the last year. It used to be its own section on the menu and was always huge and varied and exciting. Where did it go? —PamKeebler
---
2011-03-26 22:49:02 The food and the service are not what they were when the restaurant first opened. The vegetarian selections used to be a separate section of the menu, and there were always several interesting selections. Tonight, there were only two options. Both were risotto dishes, essentially the same dish with a different sauce. We ordered one of each and found both to be bland. The only other option was a pasta dish that was sold out, and we noted that several other items on the menu were crossed out. We also ordered an appetizer (as the entrees are generally small), and although the cheese was good, the banquettes were stale. It was a disappointing experience, and it's unlikely we'll go back anytime soon. —TimYoungman
---
2011-04-11 16:19:11 We haven't been to Lento in about a year. While it's always been one of our favorite restaurants I was hesitant about returning because of some of the negative reviews. Happily, it still lived up to our expectations. Our appetizers and dinner were superb. The service was outstanding and I'm positive that we won't wait so long before returning. This is a great restaurant and I'm frankly surprised at some of the comments. —SueZee
---
2011-04-16 21:35:39 The menu looked very promising, unfortunately the food itself was nowhere near as good. Very bland - an overall mediocre meal. The service was very slow. The cocktails were good. Food and drinks were extremely expensive. There are better restaurants in town. —MarcusKroll
---
2011-04-17 15:43:39 Had dinner at Lento last night - really, the best place in Rochester for seafood! We had the clam and tomato soup, salmon, and scallops - all the seafood was tender, not overcooked, and enhanced by the side dishes. Excellent! —CatheMac
---
2011-04-24 09:29:30 I don't know where all the complaints about Lento's service and food. I had a great experience there! I went there about a month ago, and had the best service ever, even though it was packed...but that's what we get for going on a Friday night without a reservation. The hostess was very apologetic for making us wait for 30 minutes, but we were fine, because the cocktails were phenomenal while we waited. I was informed that the menu is very volatile, so I was glad I came on a day that they had swordfish. There was only one other time that a piece of fish melted in my mouth. It was so delicious, I devoured it within minutes. My gf is vegetarian, and the chef was gracious enough to vegetise (is that a word?) one of the salads for her. Her main entree was a risotto, and she said it was one of the best she's had, but i could tell by the way she scarfed it down like she'd never eaten before. I've only been to Lento a few times since it opened, but I need to frequent it more. I kind of wish there were more vegetarian/vegan meals so that the missus could enjoy more without having to ask to modify what's already on the menu, but regardless, the cooks definitely have a keen imagination, and I'll look forward to whatever the next menu will be! —JosephBrians
---
2011-05-03 10:23:11 I'm disappointed, after giving an earlier review, that I will have to take some of those comments back.
With the departure of the vegetarian chef, the options at Lento are few and far between. I once waxed poetic to my friends about how AMAZING the vegan/vegetarian options were, but now that is really not the case. The vegetarian options are still good, but will just one or two dishes keep me coming back?
What happened to the extended veggie menu on Wednesdays? What happened to the creative and delicious options like the sesame crusted tofu or the fantastic empanadas? Now it's usually just pasta options. Local, sustainable and fresh are what the restaurant stands for, aren't vegetables the epitome of that idea rather than seafood flown in from far away?
Don't be me wrong, I will still come back occasionally. I love the drinks, the service, and the atmosphere. But as far as the vegetarian dishes now, I will try not to get too excited.

---
2011-05-18 13:48:48 Best ****ing meal I've had in Rochester...but yeah, it would be great if they had more vegetarian choices. Not for me; for the hippies. :-) —ChrisThompson
---
2011-05-21 20:07:52 Went for the first time last night...the blackfish is amazing as are the duck fat fries...the salmon tartare was terrible. The service and atmosphere were wonderful and we will be back. —sjgray8
---
2011-10-11 15:59:59 I love Lento and didn't think it could get any better than the Duckfat French Fries. But then we tried the Poutine. Butternut squash fries, duck sage gravy, and cheese curds. Yes, that Poutine - the knock your socks off, comfort food on steroids Poutine. We actually ordered a second plate after we quickly finished the first. If you haven't tried it, you must. I hope they let it stick around for a while. —MerCDotes
---
2011-11-01 12:07:19 SO disapointing! I thought this was going to the best place in Rochester only it seemed to be the worst. i should have sent my food back but didn't want to be that person. my gnocci was burnt and there was no sauce just dried pieces of gnocci. and the duck sausage was dried out and terrible. my husband got the steak and he said it was ok. not $35 dollars worth though! t's too bad, we never get out because we have small children and i couldn't even sleep last night i was so mad we wasted over $100 here! NEVER GOING BACK! —mabelphilips
---
2011-11-05 13:03:10 The food was ok. The service was ok. I was hanging out at the bar on a Friday night. The restaurant was half empty. I asked to move to a table so we could eat. "Do you have a reservation? You have to speak with the front desk." Same response. "Reservation? Oh, you don't have one? Well you'll have to wait. Other people are ahead of you. Oh actually, you can have a seat at any table over there." I sat myself. Not sure why I was asked, then told to sit. The server couldn't explain the difference between any of the oysters. Did not check back to ask how anything was. Never asked if we wanted another drink. Service should match the prices. Not really sure if I wanna go back for dinner anytime soon. —VinceC
---
2012-02-23 08:15:08 My husband and I have been to Lento several times and have always received excellent service and wonderful food, however, last night was the first time I was disappointed with the service and a diner in our party received cold fish. Our server was inattentive, so much so that another server saw we had empty water glasses all around and plates stacked up on the table and came to our assistance. I like to give servers the benefit of the doubt, what they do is not easy, but our assigned server was stretched too thin perhaps (?). Luke, the "server savior," was excellent, professional and friendly. We will be back because our other experiences have been so great, hopefully we will be seated in Luke's section. —Quinoa
---
2012-04-15 20:27:42 Best place for oysters and cocktails. With they were open more often. —xanthm
---
2012-04-16 11:01:39 Great food, Great Service, Great Bar. Lento is a standout among the Village Gate restaurants. —LynnMilla
---
2012-05-05 16:17:53 A true Rochester gem. Local and interesting food. Always delicious and the drinks are amazing - made by a top notch bartender. You will NOT be disappointed going here. It's a fun atmosphere with friendly staff, great lighting and located in unique Village Gate. Great for date nights, dinner with friends or for happy hour! —lauralancaster
---
2012-06-14 09:25:20 Big fan of Lento, and was really excited to go for lunch. Food did not disappoint, but was suprised at how quiet it was! Very small crowd. Hope word spreads about the new hours and they get the clientele they need to keep them. —jbeez
---
2012-06-28 21:47:33 If you eat meat Lento is a great place to go. Locally sourced organic food is very important. HOWEVER if you are a vegetarian this is not really the best restaurant to go to. There are few options (especially if you dont eat fish). Thats fine but it should not be advertised as a vegetarian friendly restaurant. I went here for my birthday dinner and was very disappointed. —jcs3636
---
2012-09-19 09:59:14 I went for dinner last Saturday (9/15). It was a great experience from start to finish! The hostess was pleasant and our table was perfect! The cocktails were amazing and the food was as great as I remembered. Fruit crostata ended the meal perfectly! —Evanhammond
---
2012-10-28 00:37:43 I had a birthday dinner here on a Saturday night, the food was a big disappointment for me after seeing such good reviews. I can't say it was cooked wrong, but the recipe was just bad or poorly executed. The cocktail from their menu of cocktails I had was either done incorrectly or the recipe was bad too. It wasn't undrinkable, but it wasn't great either. I could of made a better cocktail and dinner at home, considering the premium prices they demanded for everything I ordered I kind of expected something to be impressive. The best item I had was the beer, and that I could buy at the grocery. —Damiankumor
---
2013-04-22 16:54:45 Probably has been almost a year since my last visit, but was so excited to return to Lento for dinner a week ago. Used to go monthly, but since having kid #2, adult dinners out have become scarce, so I was thrilled to pay a visit unexpectedly thanks to my in-laws. We got reservations for 7pm and were seated shortly after arrival. First up was the foccacia bread. Except..it wasn't like it used to be. It was hard, cold, and dry. Hmm. Must be a bad batch I figured? Either way, after one piece each, it sat untouched. Then I realized that the menu was different. Wasn't really seasonal. We were told there were no specials. Also a whole new section for burgers and hot dogs? I asked our waitress and she said the new menu came out last summer, and was so popular with 'people wanting a quick bite, or with kids' that they kept it. Hmmm again...not why I go to Lento..but okay. We started with the poutine which was good.
I ordered a salad, and my husband got the cavatelli. Salad was ok. The cavatelli was $21, and for being meatless, was definitely underwhelming. I got the carrot cake ice cream for dessert, and after we finished our drinks, we headed out.
Used to be my favorite place to eat, but seeing how they've changed (trying to be like other restaurants in Village Gate?) it will be a long time until I go back. :( —jbeez

---
2014-03-29 11:32:20 Wanted to add a more timely review to this page. My wife and I have been going to Lento a few times a year since it opened. As a disclaimer: We now know the owner, he's a neighbor, and I know he'll read this, so I'll try not to suck up! My wife and I have had many wonderful meals here over the years, but last night's meal was our best ever. I had the crispy duck breast, she had the New York strip. Both were perfectly cooked, the sides were amazing, and the sauces were very complimentary. We started with the winter salad, which was made with the most tender Tuscan kale we've ever had. Dessert was mind-blowing. We had the lemon panna cotta, which was prepared with a poached pear, whipped-cream, black currants, and fig compote. Holy shit. So good, I'll have dreams about it. Apparently their pastry chef, who was on sabbatical, has returned. We also remarked at dinner how lucky they are to have this great space. The restaurant is spacious, and the tables are far enough apart that you can have an intimate meal with your date. The ever-changing menu still has a strong emphasis on locally grown and raised vegetables and meats, and is therefore, consequently, still seasonal. The service was also very attentive. I'm trying hard not to sound like a sycophant, it's just a great restaurant, and I always encourage friends to go. —ErikReinert
---
2014-09-06 08:28:05 Went to try Lento for the first time on Thursday. Walked in....and waited. And waited. No host/hostess in sight. Made eye contact with the bartender, who didn't appear to be that busy. 2 servers walked by us without saying a word. After waiting 5 minutes, we turned around a left. I was really excited to try Lento and ended up extremely disappointed with the poor customer service. I would be hard pressed to go back. —dmarie
---
2014-10-24 21:31:20 Just like the review above, we sat, and waited, and sat, and waited. We had a bad experience here a couple years ago, it took us that long to give them another try, and they blew it again. We walked out, and went to Edible's for a great dinner. We will never set foot in this restaurant again. —DottieHoffmann
---
2014-11-21 15:55:58 @ DottieHoffman- We are so very sorry that your experience was far from acceptable. Please know hat the problem was addressed. We hope that you will give us another try in the future. Please feel free to contact me if there is anything that we can do for you. Mitchell McLaughlin-General Manager —MitchellMcLaughlin
---
2015-02-28 11:35:35 ;Went for dinner last night , excited for; sparkling wine, poutine and oysters. Arrived at 9 and sat at the oyster bar where there were 2 couples finishing up their service. I ordered their specialty sparkling drink and asked for menus. Waited. My partner came in and ordered a drink, we waited. Waited. The bartender that took our order left to talk to a table about wine, there still appeared to be 2 other's behind the bar. A different bartender brought drinks 20 minutes later, one being incorrect, she made comment of being confused as to why other staff asked her to make 2nd drink and quickly responded by making correct drink right away. We sat another 20 minutes without further response or inquiry as to orders. I was aware they closed their kitchen at 10 and not wanting to have orders so close to closing time with little interest or response from staff in taking our orders time was approaching for the kitchen staff. At 9:40 we finished our drink , left money and left. I posted a review and comment on facebook, which was deleted. We wound up at AVVINO where Janine and her staff took fabulous care of us for appetizers and steaks for the night. I love Lento's poutine and raw oyster bar unfortunately, since Luke has left, service has not been as kind. To say that last night was disappointment does not cover it. —nightlifecher
---
2015-03-15 08:57:05 Once was enough. We both found the food (duck and Clam Fra'Diavlo) to be rather bland, possibly overcooked
---
2020-10-01 14:33:03 We went last night and had excellent cocktails, poutine, vegan eggplant, scallops, shrimp cocktail. Would go again! —SaraNeale