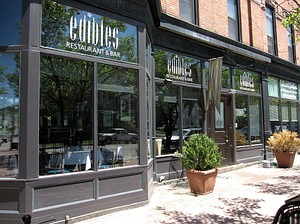 Edible's on a sunny day
Edibles is an upscale bistro located in the Neighborhood of the Arts. It has a full bar and mid-size wine list. The menu is eclectic, with many salads and a few rarely-seen items like duck and pierogies. Physically, Edible's occupies a narrow building in the triangular area immediately East of where Atlantic and University meet, so chances for a table overlooking one of the two streets is good. In warmer months they offer outdoor seating under trees strung with lights.
Comments:
Note: You must be logged in to add comments
See Archive Page for comments prior to 2008.
---
2008-02-04 15:30:12 I was there a few weeks ago with a group from work. Everything was great from the apetizers to dessert. Great wine selection and decent beer selection. I had the braised beef in red sauce over noodles (forget what it's called on menu, something carne) and it was great. Our server was very friendly and knowledgable about the menu and specials. —MickMann
---
2008-03-17 12:38:40 Great ambience and the chicken is very good. The pomegranate martini is vaguely cherry flavored, and was a bit of a disappointment. Their vegetarian entrees are underwhelming. But nevertheless, it was a charming evening. —SmitaRao
---
2008-03-31 18:25:51 I love the way this restaurant is decorated, the lighting is perfect, I like their wine list, the service is always friendly and attentive and the owner is often there and always says hello.
The problem?-the food. Its is very hit and miss...and most of the time its a big miss. I got sick of laying out $100 for a dinner I can make much better myself. Its a real shame because I would go there all the time if they had a decent chef. I want this to be a great restaurant but it just isn't. —JamesPatrick

---
2008-04-01 08:32:23 Someone recently told me that Edible's was under new mgmt with a new chef, so I went back last week to check it out. While the appetizers were a tad small, we had the black bean dip which could have easily been eaten with one spoonful, they were tasty. My partner had the salmon special, which had a raspberry mustard glaze...amazing. And I had the crab cake stuffed tilapia, which was cooked perfectly. The creme brulee had been in a fridge and just had the sugar glaze on top, which was a bit odd, but it was still delicious. I understand any restaurant can have an off night, luckily, that's never been the case for me at edibles. —MarcVera
---
2008-07-04 16:50:11 Cozy ambience. simple and tasty menu. reasonably priced for their portions. Would recommend giving them a try. —LorenzoServantes
---
2008-12-23 15:13:05 Nice place for lunch. Food is always hot and fresh. Never had to wait long to be seated. waitress was very nice too. —SaRoyal
---
2009-03-28 10:50:46 Edible's is a decent restaurant but not one that makes me want to run back for more. The ambiance is perfect and the decor is wonderful. I've always found the service to be friendly and the right mix attentiveness without the annoying "hovering" aspect. If only the food were just as good... The last time I went there was a few months ago for a friend's birthday. Despite the restaurant being empty (I'm not kidding here, there was only 1 other table filled) we waited a REALLY long time for our meals. This didn't bother me so much...it's was a celebration and we had a great bottle of wine to occupy us while we waited. When the food came out, I was shocked to find that it was only lukewarm. The chef had only 2 tables to cook for and he/she couldn't even ensure the food was hot?? Anyway, by this point I was so hungry that I didn't send it back and ate it anyway. The food was decent. Good flavors but not enough to make me say "wow". A coupon helped soften the blow for the expensive and mediocre food but I can't say that I would be willing to pay full price to eat here again soon. I would definitely go there for drinks though. One interesting and great feature: they will allow you to bring a bottle of wine from your own collection for a small corkage fee (we paid $10). —dmarie

---
2009-05-20 15:02:17 i love this restaurant. the food and service are fabulous (except they've taken my favorite chicken roulade special off the menu for a while). the ambiance is quiet, intimate and "homey"—great for a date. i think this is an underrated restaurant, but maybe i've just had better luck than others. —Leisel
---
2009-07-24 11:42:50 I went here the other night for their Thursday buy one get one drink special. While this seems like a great idea I realized after one drink that I will never go back, someone roofied me. Thankfully my friend drove me home. Don't go here. —Mr.Stephen
---
2009-09-09 14:15:08 Wound up here on a recent Friday night and was very happy with the overall experience. The service was prompt ,helpful , and friendly. Thought the bar did a good job on the drinks. Entrees were a Scallop special and the Pork Loin of of the regular menu. While both were very good , they didn't really live up to their discriptions. Menu is seasonal so I am sure we will return. I would recomend trying it to anyone who hasn't. —almorinelli
---
2010-10-03 02:19:40 Went here tonight with a friend. I've been for drinks, but never for dinner. The food is spot on. Portioned well, cooked and flavored nicely. I had the seared tuna with a mushroom sauce, fingerling potatoes, and cooked fennel. Really good. My friend's meal was also delicious; the fish special and the Borscht soup. Service was knowledgeable, and attentive without being overbearing or rushy. I need to go back and try more of the menu. Definitely a great little place for dinner and drinks. Relaxing and ambient dining area. Worth visiting for sure. —VinceC
---
2011-01-01 04:00:50 After having had many fantastic experiences at Edible's, I figured I'd finally share some love on RocWiki. After having a mishap with our original dinner plans on New Year's Eve, I and seven friends managed to get reservations for a table here on about 45 minutes' notice. This in and of itself was impressive, given the harried state of most restaurants on New Year's Eve.
The food, drinks, and service as usual were fantastic. The drinks are always inspired and well priced considering their quality. The holiday menu was well planned and the food was delicious as always. The food was somewhat slow in the preparation, but this was understandable considering the fairly small restaurant was packed to the gills. It simply provided us more time to enjoy each other's company over drinks. Once everything was served we had ample time to enjoy ourselves while being attended to well by the waitstaff, who managed to strike that delicate balance between effective service and 'hovering.'
We were able to salvage our evening in spades. My only regret is that borscht was not on the menu tonight :-p —AlexK

---
2011-01-01 21:52:49 I don't understand the love in some of these reviews. I went there with my wife and parents for a birthday dinner and nothing was good. The vichyssoise had the texture of pudding and had a terrible, fake flavor of sour cream and onion dip. My short ribs were cooked well but were majorly fatty, which is not something I usually mind but there was easily 1/4 of the portion was gristle. Gross. No one else's dishes were good either, they only seared one side of my wife's scallops. The bread basket was good, but that's about it. —jberna
---
2011-02-13 19:27:32 Went on Friday with friends and we LOVED our drinks and food! However, the service was HORRIBLE. We waited probably 30 minutes before our server came back to take our meal order and we had to ASK for a bread basket. Maybe he was just swamped, but the service left MUCH to be desired. However, like I said, the food and drinks were delicious! We'll probably go back... in hopes that we'll get a server that is more attentive. —Acarp
---
2011-06-26 21:47:06 Had dinner here on a Monday evening with my boyfriend and it was disappointing to say the least. I understand that Monday nights are not the most phenomenal nights to eat out, but I expected a little more.
The biggest letdown was the service. We made our way through 2 drinks before receiving our appetizer, a much longer wait than one would expect. Our server forgot our bread - we had to ask for it after seeing other tables given bread by a different server. We were given a lame excuse as to why we did not receive it until she was prompted; Something about Edible's not providing bread unless the diners specifically requested it. Not something that has happened at any other restaurant I've even been to.
I ordered the Roasted Chicken for my entree. Rather than roasted, it had clearly been tossed in a deep fryer - perhaps an old piece of "roasted" chicken from the weekend that needed to be used? It was a very bland dish, and as a result, the next day I couldn't even remember what I had. The braised leek were unremarkable. Overall, the dish was boring and clearly cooked poorly. A roasted chicken entree should not involve a fryer, and should have character and flavor.
My boyfriend ordered the pork chop. It was cooked nicely, very juicy, however it was overwhelmed by sage. The accompanying briased chard and apricot chutney helped mellow the dish. Overall it was a better experience than the chicken.
After being underwhelmed by dinner, we elected not to try dessert. I do not think we will return to try again. —MerCDotes

---
2011-09-30 12:40:16 Not that I have ever had a bad meal, I think they change chefs way too often. All in all the place is worth checking out and forming your own opinion —AndrewSimone
---
2012-03-10 09:27:23 The drinks/bar is great. That's about it. I ate here a few weekends ago and was sick with food poisoning for probably the next 2 days straight. Will probably never order food here again, especially for the price. Wait staff is usually very nice, but if they find out you have a coupon/groupon/livingsocial/getmyperks/restaurant coupon, don't expect anything from them anymore. Service drops like a rock. —AGoldman
---
2012-04-05 21:49:51 Recently had lunch which was my first time there. Food was boring and uninspired. Veggie burger was on par with frozen Morningstar or equivalent. Tater tots were pretty good. Black bean dip was okay. For the price, food should be better. I won't be back. —karlos
---
2012-08-28 18:53:28 Service was dreadful, slow. Good thing I wasn't paying/tipping. Truffle oil tater tots are probably one of the best things I have ever eaten. —marcuskroll

---
2013-10-18 18:40:46 We've been going to Edibles for nearly five years, and have rarely been let down. The staff is usually on top of things and quite accommodating. The wine selection is very nice, and the cocktails top notch. Being a bit a beer snob, I can't really rave about that selection, however. Above all, the reason we go, is the food. Their meat and fish dishes are to die for, and I hear the pierogis, and house made pasta are fantastic as well. Foodies should give the place a shot. It's about quality. Not quantity. I'm sure there are plenty of Olive Gardens out there, if you are looking for a deal:) —dsapplegate
---
2014-04-17 21:08:51 Went here for Dinner last night. Service was awesome and the food was even better! I had the scallops wrapped in bacon which were cooked perfectly. It was my first time there, but not my last. —rlsmith
---
2014-09-06 16:33:57 We have lived near here for years and never tried it, since what we had heard about it was always mediocre. Finally went over with some friends. We understand that they have recently revamped the menu, and apparently they went in the right direction. (So keep in mind that some older comments about the food don't necessarily apply anymore). Service was good, cocktails were excellent, and we call enjoyed our meals. We will definitely be back to try this again.
Edit - A second good experience was had October 2014, good cocktails, attentive service, and a great meal, after a disappointing start to the evening at Lento. Skip Lento,go here. —DottieHoffmann