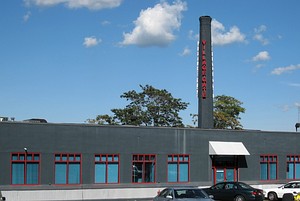 Smokestack with neon, looks great at night, 8-2008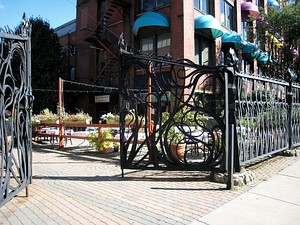 Courtyard gates, 8-2008
The Village Gate is an old factory complex owned by Stern Properties which was converted a pseudo-urban-mall-like area in 1981. It had previously been home to Stecher-Truang Litographic Co., one of the world's largest lithographic plants.1
Today, the Village Gate is home to various independent shops, restaurants, salons, offices, and loft residences. Located in the Neighborhood of the Arts and only about three blocks from the Public Market, you will find it where North Goodman runs north from University Avenue to East Main Street. Not far behind the Village Gate is the Legal Wall, a popular graffiti spot named for the fact that the landlord has granted permission for it to be tagged.
Commercial businesses are on the ground floor, which opens to a very pleasant courtyard. The upper floors house chic modern offices and some wonderful art installations, as well as an atrium available for corporate events, private parties, and weddings.
Note: Although the Village Gate is usually thought of as the building at 274 North Goodman Street, it in fact consists of several buildings. These include 277 North Goodman, 302 North Goodman, 316 North Goodman, 320 North Goodman, 346 North Goodman, and 176 Anderson Avenue.
Controversy
The Village Gate at 274 North Goodman used to be bustling with several mom-and-pop stores of different varieties (including book stores, vintage clothing stores, etc.) and artist/musician studios on the upper levels. It was also home to the Gay Pride Mural on the western interior side of the building on the third floor. However, in the late 1990s the landlord began evicting tenants on the upper levels and ripping out walls and structures to renovate the space. The Gay Pride Mural was also painted over in an attempt to "freshen it up" according to the owners. It should be noted - to be fair - that the annual Gay Pride March used to end at Village Gate (until 2007). The owners are to be commended for their support of the GLBTQ Community.
The controversy revived in 2011-13 with the eviction of prominent longtime tenants Ricky's Place, The Bop Shop, Comics Etc. and Yankee Peddler Bookshop due to the Gate's new focus on restaurants. These developments have raised
concern among some members of the community over the evolving character of the Village Gate from a funky indie destination to a high-end eatery. It should be noted, however, that some non-food-related businesses - such as Wosa's, the Nitty Gritty, and Mythic Treasures - have received expanded spaces, while others - such as Mood Makers Books, Pair a Dice Games, and Outlandish - are remaining put. Meanwhile, new tenants have included a gift shop called Nova Home Essentials and an eclectic educational service called Rochester Brainery.
Despite any recent changes, the Village Gate remains a unique asset to the city.
Fire
On August 23, 2014 there was a fire at the Village Gate from an electrical malfunction that destroyed an apartment. However the water damage from putting out the fire shut down several businesses while cleanup occurs.
2
Establishments
See the
website for a full directory.
274 North Goodman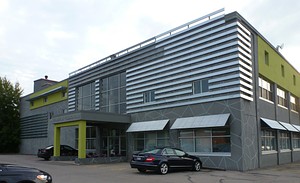 Entrance to the lofts at 274 North Goodman.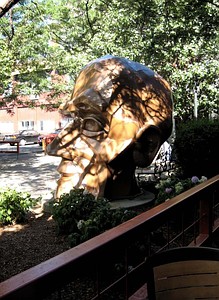 Sculpture in the courtyard, 8-2008
Other Buildings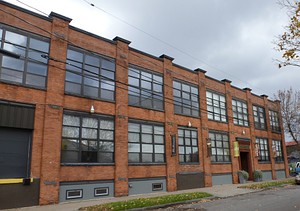 176 Anderson Avenue
Currently residing outside the Village Gate
See Also
Comments:
Note: You must be logged in to add comments
---
2010-11-13 08:57:10 Simply put, this place is a true Rochester gem. I've been coming here since Salena's occupied the current Gate House location and have happily seen it grow and prosper. May it live longer and continue to prosper! —BatGuano
---
2011-12-05 18:34:54 Very concerned....I've heard from several reputable people that the non-eatery shopowners are being pushed out so that the entire first floor can be restaurant-type businesses only. —PeteB
---
2011-12-05 18:40:07 From what I've heard, it's the stores with windows, of which there aren't many. Places like Far Out Vintage, Mood Makers Books, Mythic Treasures, etc. are all staying. The Bop Shop is staying as well because of seniority. (Which raises the question of why Ricky's is being forced out since she's supposedly older?) —EileenF
---
2011-12-05 18:47:50 Note: The gay pride PARADE hasn't ended at Village Gate for at least 4 years. It's been ending at the parking lot behind the Auditorium since I believe 2008. Please, update. —Alex-C
---
2011-12-05 20:53:15 Did something change for the Bop Shop? Last I heard he was being forced out to make room for a Brazilian themed restaurant that will be owned by the Gate House Cafe people. According to a news article in the D&C, in November, the owner of Bop Shop said they were looking at moving to Brighton on Monroe Avenue. They were offered a place of the third floor of Village Gate but he thought that was to off the beaten path. —ScottHendler
---
2011-12-05 22:47:03 According to Tom of the Bop Shop, they are moving to a location near Max's Chophouse. The move is scheduled for the week between Xmas and the New Year. —RxScabin
---
2012-01-21 18:58:48 Far Out Vintage is leaving too for Monroe Ave. Is the Village Gate just emptying out now? —EileenF
---
2012-08-08 08:46:15 I have enjoyed my visits to this Village Gate when I stop by Yankee Clipper. The last time I talked to the owner he mention he was moving (not sure if he still in Village Gate but will update when I talk to him again). —bonnev659
---
2012-08-08 12:52:06 I assume you mean "Yankee PEDDLER"? Do he mention that he move? —alex-c
---
2012-08-08 12:56:07 @Alex-c Yankee Clipper sells sports cards, comics, vintage toys, and other misc items, he was across the hall from the record store —bonnev659
---
2013-01-09 15:27:55 The Houghton Book Shop closed. Now I've heard Comics Etc. has been handed an eviction notice....what is up with the owners? They're dumping popular businesses. —peteb
---
2013-01-09 21:48:03 I heard Houghton closed because they just weren't making money. They had dedicated volunteers who loved books but just weren't business savvy. —EileenF
---
2013-02-02 14:38:04 @peteb do you know what new places are moving in since a few more places have left here? —bonnev659