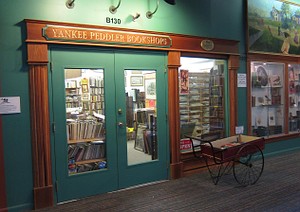 Old Village Gate location in May 2011
Yankee Peddler Bookshop is a used bookstore that specialize in rare and antiquarian books as well as some autographs, photos, and maps. It also has a great selection of Rochester; namely specific books, history, and postcards. They also carry a cheap paperbacks and old magazines, including the occasional Analog and Asimov's. They don't buy many titles published after about 1980, unless it's a very significant book, and they do appraisals and book restoration.
The store is owned by John Westerberg, who has been in business for over 35 years. They are a member of the Rochester Area Booksellers Association.
Yankee Peddler was previously located in the Village Gate. As of June 2012, they are online only.
Comments:
Note: You must be logged in to add comments
---
2007-04-17 09:50:45 I like leafing through the old Rochester histories and surveys at the front of the store, and periodically (harhar) purchase an old magazine or two. —RochesterGuy
---
2009-01-31 16:32:02 I found Milo Ketchum's Structural Engineer's Handbook from the 1920's in the stacks here and didn't blow my bank account purchasing it. This is a gem of a bookstore and I my only wish is that it was open later at night (when I normally go the Gate). —BatGuano
---
2012-01-12 16:05:42 This is my place I go to when I like to escape the world and just relax and brows the racks, maps, pictures....etc. This is def a hidden gem! —limeylimer