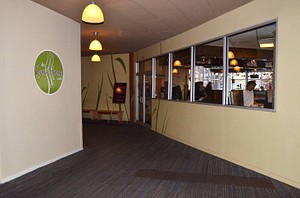 Mall Side Entrance, Dec 2011 Upload new image "gatehouse.jpg"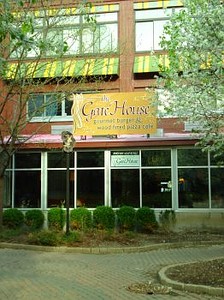 Gatehouse (5/2008) - Photo by Tricia Seymour
Gate House is a cafe in Village Gate previously in the old Salena's location on North Goodman Street. On July 8, 2016 they expanded and moved to the former Espada Brazilian Steak location. They feature gourmet burgers and wood fired pizzas along with several salads and appetizers. All burgers can be done with Kobe beef (additional $5) or chicken. They also have a kid's menu and a bar area for hanging out.
Awards
Voted "Best Gourmet Burger" by City Newspaper's 'Best of Rochester' Awards in 2013 and 2015.1
Comments:
Note: You must be logged in to add comments
See Archive Page for comments prior to 2010.
---
2010-04-03 23:45:22 We have gone here numerous times and have never been disappointed. We love going here because the appetizers are fantastic, the burgers are the best I've had in Rochester, Pizzas are excellent and they have a nice selection of beer and wine. I would recommend this place to anyone, the food is delicious and the prices are very reasonable. The nutella and vanilla ice cream milkshake is also not to be missed. —MarkRizz

---
2010-05-04 14:34:58 i've been here a couple of times and the food is always fresh and delicious! i esp. love the Highland Park Salad! —AmyVball
---
2010-06-02 05:04:19 After passing this place for ages while heading to Salena's or California Rollin' for dinner, I finally had the occasion to give it a shot. Fantastic! While waiting for our group to assemble, I had a perfectly mixed Manhattan, which I followed with a burger. All the previous reviews are right on the ball: the food is perfectly done and plated attractively, the decor is excellent, and the service was attentive without hovering. Plus the prices were extremely reasonable- comparable to similar "gourmet" burger joints like Red Robin, but so much better! I'll be returning without a doubt, and bringing friends! —AlexK
---
2010-07-13 09:21:48 We had dropped by here a few times in the past just to get their excellent pizzas to go, but never dined in. After an awful experience at Pomodoros, we came here for dinner. Wow - so glad we did. We were seated immediately, and our waitress came by with water. We had time to look over the menu and wine list before she promptly returned. We had the excellent Sangria, which was mixed just right, and came with a LOT of fruit! The appetizer of sausage rolls were enough for three people, with excellent light pastry. The menu is mainly salads, burgers and pizza, but this works to their advantage, as they do these very well. I got the lamb burger, which I asked for well done, and they managed to accomplish this without turning the outside to charcoal, as so many places do. The black and tan onion rings were cooked to perfection - much lighter taste and texture than the usual greasy fare served elsewhere. My wife had a pizza, which was delicious and provided lunch for the next day. My mother-in-law got a burger, and was able to subsitute the beef for grilled chicken, which is a really good touch for those of us who want to eat healthier. Unfortunately, we were so stuffed we really couldn't even look at the desserts, but I am sure we will be going back. The waitress was attentive without being intrusive, and timley with food and the check (which was also very reasonable). The decor is cozy and cosmopolitan, and provides the ideal atmosphere for casual dining.
After feeling invisible and insulted at Pomodoro's it was a delight to come here and actually feel like they wanted us there and were glad of our business. While we will still drop by for their great take out pizzas, we will also be coming back to dine here. —Dlacy

---
2010-10-24 13:12:48 Last night I had an awesome experience at the Gate House! I was seated in a section where a wonderful lady named Natalie was our server. She was very friendly and polite, and knowledgeable in her suggestions for wine and with her recommendation of one of the specials of the night - a butternut squash lasagna with a basil béchamel sauce. Wow was that good! The flavor, texture, and portion size was fantastic! I really hope this dish gets added to the menu! My girlfriend had a burger where she could substitute chicken for beef, which is a really nice option. Our salads were delicious and the wine was from a winery in NY. Thank you for a great time! —Jfisher

---
2010-11-12 23:47:59 I had dinner here tonight with a friend and had a BLAST!! The food was awesome, plentiful, and cheap (we shared "The Auditorium" pizza, the mac & goat cheese, and the onion rings - ask for the sriracha mayo dip (Erin told us about this, and I'm eternally grateful!)!). The drinks were great too, and were greatly enhanced by the awesome bar staff; Melissa and Erin (but especially Melissa!) are amazing hostesses and truly made everything taste better. I'll totally be back again soon. —MaryMalone
---
2010-12-04 14:01:21 Went last night for dinner, short wait to be seated. Everyone was very friendly and the food was exceptional. We had the bruschetta two-ways for an app, and the MAG and the Duffy for our entrees. Definately will return! —mbetush
---
2011-01-06 18:15:49 Love this place!!
The burgers are a nice size and the rosemary garlic fries (shoe string type) are pretty tasty. My friend tells me veggie burger is an option with any burger on the menu and she was very happy with it. We had their "gate plate" which is just a fancy garbage plate. It was good, but with all the other options on the menu I will opt for something else next time. I had the butternut squash lasagna as an entree and it was AMAZING. Check out their website (nicely done) for photos of the food and pricing.
I have gone to this place a couple times (most recently on 12/22) and have loved it every time! I have also recommended it to several friends and they have all come back with positive reviews and experiences. If you enjoy Pomodoro definitely give this place a try. The exec chef here used to be the exec chef at Pomodoro. Compliments to the chef! —kchiang

---
2011-06-12 21:05:17 For the first time after many visits I had a negative experience. It was a busy Saturday night during the Jazz festival. After a short wait our group of four was seated. After about 10 minutes our server took our order and then it took over an hour for our order to get served. The waiter did tell us the kitchen was slow because of some large parties, which was fine. What bothered me was during that hour we noticed that other tables who were seated and ordered after us had their food served before us. In fact one of those tables was almost done before our food came. As a result, they now have lost a customer. —ScottHendler
---
2011-06-29 15:59:21 Very good burgers and the rosemary fries are excellent. I wish they had a larger selection of salads though. 8 out of 10 —jess25
---
2011-07-19 08:39:52 I love this place. My kids love this place. The food is excellent, the service friendly and attentive, the atmosphere relaxing. I have never had a bad meal here (we have been here lots and lots) and I recommend it to everyone who asks! —MamaK
---
2011-07-24 21:45:53 I realized tonight that I have been to the Gate House 3 times in the last 11 days. I honestly love this place. The food is fantastic and I have never been disappointed with anything that I have ordered. I love that you can substitute chicken or a veggie burger for any of the sandwiches on the menu. The rosemary garlic fries are heaven! The drink menu is excellent and they have a good list of different wines, beers and cocktails. The wait staff is friendly and efficient. My only complaint is that the dining room can be noisy at times. —dmarie
---
2011-11-21 16:43:10 This is a review I originally posted on Yelp:
It's been a few months, but my experience with this place was anything but impressive. The waitstaff was generally surly and incompetent (serving me 5 minutes after my partner was served), and was nowhere to be found otherwise. I had a garbage plate burger, and the hot sauce on it was awful! My partner had a pizza, and it was overcooked and greasy. As if that wasn't bad enough, the overwhelming noise from all the 20-somethings getting tanked up on beer at the bar made conversation nearly impossible.
One thing I thought was odd and/or pretentious was the option they had for 'upgrading' your burger to one with Kobe beef (all for a mere $8 addition). I could not imagine WHY anybody would do such a thing. Kobe beef is supposed to be lean, and you need fat to make a burger juicy. People who've chosen this option have reported to me that all they got for their $8 was a hockey-puck for a burger. I haven't tried this (and never will), but just a word of advice for those tempted to do so.

---
2012-03-10 09:07:48 Almost never have a bad burger here (though it really depends on the chef/cooks you have that day), other dishes also usually delicious (of note: butternut squash lasagne, bleu cheese dressed boneless chicken strip appetizer), fries are freshly cut and seasoned extremely well. Love going here whenever I get the chance, and I hear the weekend brunches are excellent too! Though haven't been to one in awhile —AGoldman
---
2012-09-10 11:14:27 the cover to their menu lies- the hamburgers are not hand-pressed on site. the gate house gets their burgers frozen and pre-pressed from detroit. the lamb burgers are pressed there; however, i am unsure if the lamb is fresh or frozen. i know this because i was jonesing for their version of a garbage plate, but noticed that the menu description had changed- rather than 2 small patties, it now came with one cut into half. i asked about it, and after some back and forth with the waitress and the kitchen, the manager came out. he gave me the skinny. he admitted that the menu cover was misleading. so, alas, we had to go elsewhere, because i won't spend money at an establishment that knowingly misleads its customers. —jeanettejeanette
---
2013-01-15 19:22:34 I LOVE their bleu cheese and bacon burger, I think it is called the Gollisano, but I may be wrong. This sounds dramatic but it is literally the standard I compare other burgers to. Also, I can't order bleu cheese and bacon burgers anywhere else anymore, none of them are nearly as good. The garlic "frittes" (tiny french fries) are also great and they give you a ton of them. I can't personally speak about the other food there as I am addicted to the burger, but everyone I have been with has always seemed to be very happy with their meals. The staff is normally attentive, the bar staff is especially so. —badfish
---
2015-06-12 19:05:46 Went here on the 8th for a birthday celebration: ordered the Buffalo chicken fingers and was so disappointed with them that I sent them back for a burger, which was ok. Everyone else was happy with their burgers, but the one kid didn't like his mac n cheese, which was totally flavor free. Did not try the pizza, and may, if we come back, but honestly, I wasn't wowed. And I thought the meal was expensive for what we got. Granted, we came on a Monday, so maybe they were training new kitchen staff, but still.... —KatieSchmitz