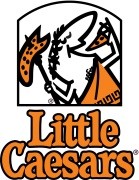 Locations
Phone
2394 Lyell Ave, Rochester, NY 14606
585 247 3211
975 Ridge Rd, Webster, NY 14580
585 216 1215
10 Cobblestone Court Dr, Victor, NY 14564
585 223 2340
3743 Dewey Ave, Rochester, NY 14616
585 865 0069
525 Titus Ave, Rochester, NY 14617
585 342 2901
515 Monroe Ave, Rochester, NY 14607
585 244 1940
1297 Chili Ave, Rochester, NY 14624
585 235 2400
2200 Penfield Road, Penfield, NY 14526
585 377 0009
Hours (as of December 2008)
Varies by location
Accessible
Info Needed
Website
http://www.LittleCaesars.com/
Facebook
Little Caesars Pizza is a national chain pizzeria with seven locations in the Rochester area: Chili Avenue in Chili, Lyell Avenue in Greece, Ridge Road in Webster, Cobblestone Court Drive in Victor, Dewey Avenue in Greece, Titus Avenue in Irondequoit, and Monroe Avenue in Rochester.
The Little Caesars Dancer Guy on Monroe Avenue
The aforementioned individual began his dancing campaign in 2011. The "Little Caesars Dancer Guy," whose real name is Christopher McGuire, was a young man in an orange tee and a fluffy orange wig carrying an arrow-shaped sign advertising the "$5 Hot-N-Ready" special available at the Little Caesar's Monroe location. He was seen most weekdays from 3-9 on the corner of Monroe and Goodman, and occasionally on the corner of Monroe and Alexander, performing a variety of silly dances. During his tenure he became something of a fixture, boasting two Facebook fan pages (now defunct), as well as coverage in the Democrat & Chronicle (article
here) and YNN. Alas, he quit his position in early January 2012 due to alleged verbal abuse from his supervisor and is now employed by Texas Blues BBQ. McGuire has also done work for Royal Crown Pawn.
A profile of him in City newspaper may be read
here.
Comments:
Note: You must be logged in to add comments
---
2010-04-28 11:07:54 Webster location: The cheese is a bit too fake/bland tasting for me and I'm not really picky about this sort of thing. If they used less cheese and cooked it hotter or longer it would better. Could use more sauce as well. They are so close to getting it right. —DamianKumor
---
2011-10-15 15:16:32 Christopher McGuire, the sign whirler for Little Caesar's of Monroe Ave, is the man! —Bammerburn
---