Location
3635 Dewey Avenue, Rochester, NY 14616
Hours (as of September 2013)
Wednesday - Saturday: 10:00AM to 7:00PM
Phone
585 473 7296
Wheelchair Accessible
Info Needed
Email
<dttribunella1 AT yahoo DOT com>
Royal Crown Pawn is a pawn shop in Greece. They have been in business for over 25 years and pride themselves in providing a "convenient fast solution to your need for short-term cash." They pawn anything of value, including firearms, and offer check cashing and fixed loans at a low rate. No credit checks are performed. Jewelry repair is also available.
In 2011 they opened another location at 676 Monroe Avenue. To advertise their business they employed the famous "Little Caesars Dancer Guy" to perform a similar dancing service for them. He wore a king's robe and velvet crown. This location went on hiatus in 2012, however, and closed permanently by January 2013.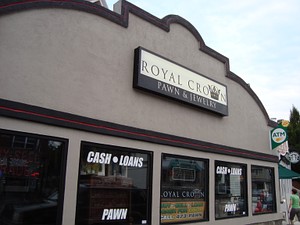 Defunct Monroe Avenue location in Sept. 2011.
Comments:
Note: You must be logged in to add comments
---
2013-01-14 21:15:48 They have two other locations. Not sure if those are closed or not. —EileenF