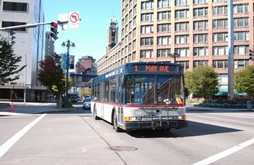 The #1 Park Ave. bus makes its way down East Main St courtesy rocpic.com
Headquarters
1372 East Main Street, Rochester, NY 14609
Phones
585 654 0200 - Headquarters
585 288 1700 - Customer Service
1 888 288 3777 - Customer Service Toll-Free
Wheelchair Accessible
Yes
Email
<rts DOT customerservice AT rgrta DOT com>
Website
http://www.RGRTA.com
Facebook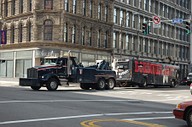 RTS bus not on a good day - by Andrew88
The Rochester-Genesee Regional Transportation Authority (RGRTA), a corporation under New York Authority law, operates bus services centered across a seven county area. Buses centered out of Rochester operate as Regional Transit Service. Other systems serve Batavia, and Livingston, Wayne, Wyoming, Orleans, and Seneca counties. The Authority also operates Lift Line for the physically disabled, commuter Park & Ride, and bus services and programs for the University of Rochester, Rochester Institute of Technology, and area SUNY schools like Monroe Community College.
To reduce demand for driving and parking, the Authority helps coordinate
Ride Share carpools. All buses can carry bicycles on front-mounted external racks. For the unemployed, they offer
free rides to interviews.
The RTS Transit Center, located in downtown Rochester, is the central hub for all RGRTA buses.
See also:

Their website includes a neat
trip planner, and an
online store selling passes, including 1-, 5-, and 31-day unlimited passes.
Comments:
Note: You must be logged in to add comments
---
2005-08-04 17:21:48 So, how is the bus system? I'm considering the feasibility of commuting on the bus. I love my car, but damn, it's eating into my booze-and-women money these days. —RyanTucker
---
2005-08-05 06:30:19 it depends on where your going and when, of course. but if you can commute easily with the bus then do it! :) —RyDahl
---
2005-08-05 09:02:34 I submitted a routing request last night; let's see if it's possible. Toronto has spoiled me. —RyanTucker
---
2005-08-09 18:39:54 ... still waiting. Hmm. OK, anyone know how to get from Field/Clinton to Bushnell's Basin and back? ;-) —RyanTucker
---
2005-08-09 18:48:58 The bus system actually works very well when you use it as intended. The intent is that downtown is the hub for all bus transfers. You can almost use the bus system with any planning this way: get on a bus in the downtown direction (I think all buses are either going to or coming from downtown). Get out at downtown, then look at the signs in the shelters to figure out what bus to get on next. I think the downtown-centric layout of the bus system is quite anachronistic given that downtown is no longer the focal point of Rochester that it once was. —TobinFricke
---
2005-08-09 18:53:16 Yup. It's inefficient for passengers, but without a rapid transit backbone, it's really tough to do anything else. I'll start working on a route to see what's workable... time passes OK, looks like I can catch the bus at the corner a bit before 7am and get to work around 8:10 or so, which is pretty good. If I miss it, I get to work at... 9:45. I'd have to not miss it I suppose ;-) —RyanTucker
---
2005-09-16 11:21:28 The online trip planner has crashed already. —TobinFricke
---
2005-09-16 14:04:12 The URL may have been a little session-specific, so I updated it. Seems to be working OK at this particular moment... —RyanTucker
---
2006-09-10 20:59:09 I used to take the bus to work when I was broke (I wasn't lucky enough to be given a car after graduation). I am really grateful for it. I used to the the #7 and transferred to the #16. It was interesting to see a lot of your regular business type people take the 7 and get off downtown. It reminds me of NYC. But when I would transferred to the Crosstown #16 and head to Greece, I would usually be the only person on the bus. —EmilyYang
---