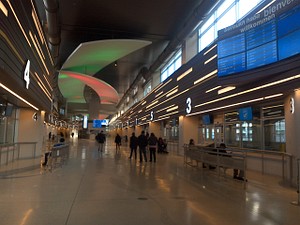 Interior on a quiet Sunday morning.
Location
Mortimer Street, Rochester NY, 14604
Website
MyRTS.com
The RTS Transit Center is the RGRTA bus station in the St. Paul Quarter downtown. It is the central hub of the Rochester area's bus system and has thirty bays that can accommodate 100 buses per hour. The center is fully enclosed and climate-controlled. Other amenities include:
A customer information desk


Electronic displays of departure times


Heated floors


Indoor bike racks


On-site security


Public restrooms


Ticket vending machines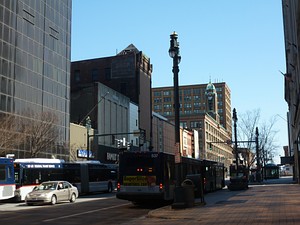 Before the transit center, when the buses lined East Main Street. The RTS Transit Center opened in November 2014. Previously, the buses congregated on East Main Street in the Midtown District and people waited outdoors in all sorts of weather. The long line of buses created the unfriendly illusion of a wall and made the street inhospitable to bicyclists. The construction of the transit center occurred at a time of great redevelopment of Rochester's downtown, including the rehabilitation of the Sibley Building and the old Midtown Plaza site. Removing the buses allows for the implementation of the Main Street Streetscape and Pedestrian Wayfinding and Enhancement Project. According to the
2014 Center City Master Plan:
This project will design and construct a revitalized streetscape along East Main Street, generally between the Genesee River and Liberty Pole Plaza. The new streetscape will consist of a full sidewalk replacement, installation of recessed parking areas, new and selective replacement of existing street trees, new planters or other forms of landscaping, new bike racks, benches, trash receptacles, etc. Existing lighting and benches will be preserved and relocated, as needed. The project will incorporate green infrastructure practices, including permeable pavement and porous tree pits, to reduce stormwater runoff.
There was also a proposal to rename Mortimer Street "RTS Way." This idea was soon abandoned after community outcry.
Zagster has a station there.
External Links
Comments:
Note: You must be logged in to add comments