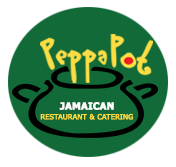 Location
522 East Main Street, Rochester, NY 14605
Hours (as of January 2016)
Tuesday - Saturday: 11:30AM to 7:30PM - Gregory Street
Monday - Saturday: 11:30AM to 9:00PM - Main Street
Sunday: Noon to 6:00PM
Phone
585 546 7500 - Main Street
Wheelchair Accessible
No
Alcohol
No
Email
<peppapot AT ymail DOT com>
Website
http://eatatpeppapot.com
Facebook
Reviews
2012-05-01 City Newspaper
Peppa Pot Restaurant is a Jamaican restaurant originally in the South Wedge. One of their specialties is oxtail stew.
It opened in early 2011. They moved in the East End in September 2018.
Comments:
Note: You must be logged in to add comments
---
2012-01-21 19:03:19 My husband and I ate here tonight. We probably won't return. The meat was decent. My goat had a whole lot of tiny slivered bones in it that you need to watch out for. The rice and beans are bad but not inedible. The rice tasted like uncle bens minute rice. The fried plantains were right out of the refrigerator. They tasted like leftover french fries. Over all it was nothing to write home about but certainly not the worst restaurant in Rochester. If the place had more business I am sure it would be better. The only truly awesome thing I had was the bread pudding. —mrsdoran
---
2012-01-28 12:01:12 Having just spent a month in Jamaica, I can say truly that Peppa Pot is *real* Jamaican food, and it's right up there with the best I ate in Kingston (where the owner is from)! I have to disagree with the reviewer below — the food was fresh and flavorful, had clearly taken time to make, and was just delicious. We had "brown stew", a chicken dish (and yes, watch out for bones — cooking things "bone-in" is also very typical of *real* Jamaican food) with rice and beans, veggies, and a dumpling (that was actually a little more like Jamaican festival, a fried dough, than a dumpling, but was so good!) We also split a fresh sorrel juice — made from flowers and ginger, it's a Christmas favorite. The sorrel was actually better than any I had while in Jamaica! Go to Peppa Pot — Rochester is so lucky to have it!
Peppa Pot is currently cash only as well — important to know! —AliMcGhee

---
2012-05-12 18:57:55 Being part Jamaican, I checked this place out with my husband last week. I have to say I was impressed. The decor isn't the best, and the food could use a bit more seasoning, but this is now one of the best places to get Jamaican food in Rochester. My husband's curry goat was tender and tasty (and goat's a tricky meat; either it's good or it's horrible, in my opinion) and my oxtail was really tender. Peppa Pot is now a fine addition to the city of Rochester's rather small Jamaican food scene. —kthurman
---
2012-06-20 22:25:16 I am into Jamaican food and I must try a Jamaican place in every city I visit. I ate in Brixton, Manhattan and DC but this is the best I have ever been to. Ox tail was awesome, my wife had curry goat and she really enjoyed it. It came with rice beans and fried plantains plus we shared a sorrel juice that was perfect for today's 90 degrees. Too bad they had no Ackee and just finished bread pudding but the chances to taste both will be a lot, as I intend to go back many, many times. —AldoMey
---
2012-12-01 14:26:13 This is definately a "no-frills" dining experience - 5 formica tables, the owner watching her favorite TV show in the back, and all of the food coming off the steam table. But the proteins have such a depth of flavor it makes you forget all that. The brown stew chicken was rich, flavorful and comforting. The jerk pork was moist and tender with just a kiss of spice. Portions were generous, prices were quite reasonable, and the owner and staff are friendly. My only regret was not getting there before 6:45PM on a Friday evening as they were out of oxtail, and several other things. The next visit I will stop at lunch time and probably get my order "to go". —jgerek
---
2015-04-30 15:31:47 Excellent no-frills Jamaican food, as good as anything I've enjoyed on the island. The ox tail and curry goat were tender and flavorful. The menu is short, just the way it should be. Prices were very reasonable. Decor is simple, everything in the dining area and the kitchen appeared very clean. —jasons